The Evolution of Women's Attitudes: Sexual Harassment And Sexual Violence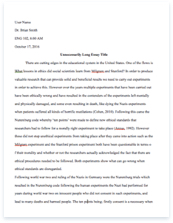 The whole doc is available only for registered users
A limited time offer! Get a custom sample essay written according to your requirements urgent 3h delivery guaranteed
Order Now
For over many decades, the Selective Service and the enlistment necessity for the youth of America have served as a reinforcement to provide labor to the U.S. Military. President Franklin Roosevelt signed the Selective Training and Service Act of 1940 which made the nation's first peacetime draft, establishing the Selective Service System as an independent Federal organization. From 1948 until 1973, during both peacetime and times of conflict, "men were drafted to fill vacancies in the military which couldn't be filled through voluntary methods" (Gerhardt 1971).
As of recently, it has been debated if women should also be required to volunteer for the draft. This opens up the discussion of "To what extent would women begin required to sign up for the selective service benefit the United States?" Throughout history, women were perceived in a lowly manner, only having to care and tend for their family. Men, however, were seen as more dominant thus having to work and fight. Recently, women have been gaining equality in terms of the labor force. Prior to that, because women were not forced to participate in the draft, women did not often die in battle; but in the draft, women may change. Activists believe that before women participate in the draft, women need to work on improving ways to handle sexual harassment and rape cases against women officials.
They believe that women should not be adopted until the army becomes a safer place for women. Examining the drafting history along the selective service, the synopsis of this debate was initially started because of gender discrimination. Although a common problem to military, the military system should set up separate facilities and ground forces for women to prevent sexual harassment as well as sexual violence.
As already stated, women in relation to the draft has brought up a stir within society today. Historically, society has institutionalized men as the protectors of our nation. According to the Maryland Journal, "When the term woman is entirely absent, we should not assume, as many of the Universal Declaration"s drafters did, that neutral phrases delivered gender-friendly outcomes. This skepticism is one to keep to the fore as we reflect on the influence of the Universal Declaration on social and legal realities in which it is believed to have influence." Gender neutrality greatly challenges society's patriarchal system.
Because of this norm and the assertiveness of male dominance, women were frequently seen as inferior to men. Thus, women's attributes and problems were often overlooked. This article implies that traditionally, women were perceived as only mothers. Furthermore, this kind of thinking is reflected upon the nineteenth century that may have been challenged in the 1940s. Supporting this initiation, Erin Blakemore states that "as the norm, women were expected to walk away from military service. Men would mainly be given the dominant positions and women were rarely chosen to participate on the battlefields: rather the sidelines." However, with the initiation of WAAC (Women's Army Auxiliary Corps), women were able to become active in their duties. As a result, women began to have the same earnings, influencing the U.S Navy and U.S Coast Guard to transpire.
However, once their service was over, they were stigmatized and accused of trading their bodies to move up the ranks. In 1948, President Truman signed the Women's Armed Services Integration Act into law to permanently allow women to serve: in actuality, the act restricted women's service. As women were often excluded, society evolved where women achieved full status in the military. That milestone then raised the issue of whether women should, like men, be required to register for the draft. As evident, gender discrimination was widely known in the past but very little was done to assess the problem, creating norms for society to have that men are conceptualized to be more powerful and intelligent.
Another essential point was the reaction women had during the time of gender discrimination: arguing that excluding women from the Selective Service was a clear indication solely based on sex.
Related Topics