The Debate over Retirement Age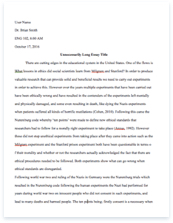 The whole doc is available only for registered users
Pages: 3
Word count: 709
Category: Debate
A limited time offer! Get a custom sample essay written according to your requirements urgent 3h delivery guaranteed
Order Now
1. Should all pilots have to retire at the age of 60? As I read the article it seems to be an interesting point that has risen. Several questions come in to play when considering if a pilot should retire or have the capability of remaining working. As one would see it on one side. There are pros and cons to either way you look at the situation. Looking at the history of implementation of pilots being forced to retire at age 60, it was first introduced back in 1959, (Hayes, 2012). With the increase in technology, it would make one try and research if this policy needs to be revised. First, if you were to agree with retirement at the age of 60; the article explains there are health issues that come up around this age. But, after further research doctors who has examined and tested pilots who are over the age of 60 call the retirement rule unjust, (Hayes, 2012).
So, it really makes you think does the Federal Aviation Administration (FAA) just want those individuals to retire due to possible liability issues? These are questions that need to be addressed. Those individuals who are in disagreement with the mandate of pilots retiring over the age of 60 feel that the FAA wants seasoned pilots when it comes to being in the cockpit. "Experience comes one day at a time," says Rodney Russell (airline capital), (Hayes, 2012).  So, in actuality the airline pilots are saying a seasoned pilot comes with experience in the field. In order to gain experience pilots need have the capability of working past the mandated age of 60. So, in terms of if I believe that pilots should retire at the age of 60, it would be wise for one to disagree. There have been no significant data or information that indicates pilots over the age of 60 have a decline in a pilot's cognitive function or increase of sickness and illnesses.
2. How would you study this issue to raise the age to 65? Looking at the issue of mandating pilots to retire by the age of 60 is a policy that was implemented in 1959 by the FAA. During this time, pilots were probably not taking health serious. As research has showed, "we're jogging more, we're drinking less, we're smoking less," says Rodney Russell (airline captain), (Hayes, 2012). So, one argument would be in 1959 individuals did not understand the importance of taking care of their health and the affects of not maintaining a healthy lifestyle would do. Many pilots feel they will be at their best at the age of 60 due to lifestyle changes. According to Alicia Munnell, the average retirement age in the United States is 64 for males and 62 for females, (Munnell, 2011). With the steady increase in the national retirement age, it seems necessary to address the issue with pilots having to retire by the age of 60.
Another factor that needs to be examined would be if there are increases of accidents with the pilots as they get older. If there is no significant evidence that implies pilots over the age of 60 are liabilities due to accidents the increase of the retirement age need to be examined even deeper. Then, one thing for certain is people are retiring later in life due to the availability of Social Security at age 62. With not having access to Social Security until at least age 62 may bring financial stress on families who rely on those benefits. So, first with the study of raising the retirement age to 65 I would do would be to study the health of pilots nearing the 60 year old plan, secondly I would investigate or research/study would be if individuals nearing the 60 year old mark are less cautious when it comes to accidents, and finally I would research the financial stress mandating pilots to retire would play on a family.
References
Hayes, E. (2012, February 19). Pilots Fight Mandatory Retirement Age. Retrieved December 10, 2012, from ABC News: http://abcnews.go.com/WNT/story?id=131220&page=1#.UMY3dOTAdqw Munnell, A. H. (2011, August). What is the Average Retirement Age? Retrieved December 10, 2012, from Center for Retirement Research at Boston College: http://crr.bc.edu/wp-content/uploads/2011/08/IB_11-11.pdf
Related Topics