The Boy in the Striped Pajamas Theme analysis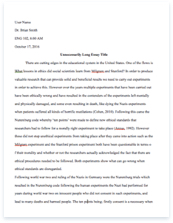 The whole doc is available only for registered users
A limited time offer! Get a custom sample essay written according to your requirements urgent 3h delivery guaranteed
Order Now
Several themes are portrayed throughout The Boy in the Striped Pajamas by author, John Boyne. From start to finish, the book is packed with meaningful themes. The themes in the book are friendship, ignorance, and discrimination. The themes in this book are what make it such an emotional journey from page to page. The sensitive stories in The Boy in the Striped Pajamas about the treatment of Jews during the Holocaust gives the readers a better understanding of the horrors that took place. Out of all of the several themes found in the book, the theme of friendship sticks out more than any other.
The theme of friendship is carried out among the entire book, The Boy in the Striped Pajamas. This friendship is shared between a German boy, Bruno and a Jewish boy, Shmuel. Bruno meets Shmuel at the gate of Out-With Camp where they immediately have a connection. After, Bruno makes it a necessity to visit Shmuel daily despite his parents' demands. He always makes sure to sneak Shmuel food because Shmuel is barely fed at the concentration camp. It is a very risky move, but Bruno believes it is worth doing for his friend. Bruno and Shmuel are such good friends because they have so much in common. They are the same age, have the same birthday, and both have to start a new life in Poland. When Bruno first moves to his new home, he hates the house. None of his friends are there, and he has no way of having much fun. When Bruno meets Shmuel, his outlook on the new town changes. He wants to stay there because he has found his best friend. "We've been talking to each other for more than a year and we never got to play once. And do you know what else?
All this time I've been watching where you live from out of my bedroom window and I've never even seen for myself what it's like," (103). This is an example of how great of a friendship Bruno and Shmuel have. Bruno is telling Shmuel that after a year of being friends, he has no idea how Bruno even lives like. Bruno knew he found his best friend because even after a year of not playing with Shmuel and only getting to talk to him, they are still very close. Bruno makes a promise to Shmuel that he will help him find his father. When the time finally comes, Bruno is more frightened than ever, but he cannot let his friend down.
Bruno knows this is a dangerous decision before entering the camp, but still decides to take the risk. They end up being led to a gas chamber where they are forced to strip off their clothes and wait to die. An example of their friendship is shown when they are in the gas chamber and Bruno says, "You're my best friend, Shmuel, my best friend for life" (213). The best friends die together that day, but they both die happy because they are finally together and not separated by a fence. This shows that being a good friend and having a good friend is the most important thing a person can have in their life. A friend that will do anything and risk anything for another person is the type of friend everyone should have.
The theme of friendship is not the only theme found in The Boy in the Striped Pajamas, but it is the most evident. It is a theme that continues during the entire story. This book has a very deep and serious subject, so the theme of friendship lightens the mood and gives the readers something to relate to. Throughout the book, the two boys prove that you can be friends with a person that is completely different from you. The Boy in the Striped Pajamas tells the story of a devastating time in the World's history for the people that did not live to do so themselves.
Related Topics