The Best Predictor of Success in Second Language Acquisition Is Motivation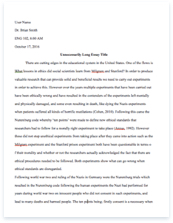 The whole doc is available only for registered users
A limited time offer! Get a custom sample essay written according to your requirements urgent 3h delivery guaranteed
Order Now
The following essay will look into the importance of motivation as a predictor of success in second language acquisition. The report will critically analysis some popular theories of motivation and allow of a better understanding to the different types of motivation. Moreover, the report will use the scholarly journals of other scholars who have actively tested and proved some of the popular conceptions regarding motivation and its importance in successfully acquiring a second language. Those findings will be supported further by personal evidence to support the topic.
It is relevant in order to support topic, one must be able to define motivation itself in relevance to second language learning. Earlier work on defining and categorising the different types of motivation experienced by second language acquirers was carried out by Robert Gardner and his colleagues. . Gardner proposed that in order to understand why learners were motivated, it is necessary to understand the learners' ultimate goal or purpose for learning the language, (Liuolienė and Metiūnienė, 2006). Two terms of motivation were derived by Gardner, INSTRUMENTAL MOTIVATION (in simple context, the student is driven by external influences such as business or practical goals. It refers to learner's desires to learn the language in order to accomplish some non-interpersonal purpose such as to pass an exam or to advance a career.) and INTEGRATIVE MOTIVATION (more of a personal driven motivation; a will to learn about another's culture; to promote personal growth. This is a very communicative based form of motivation). The underlying theory of second language learning motivation is based on the definition of motivation as "the extent to which the individual works or strives to learn the language because of a desire to do so and the satisfaction experienced in this activity" Gardner, (1985).
Although Gardner's theory was well defined, Dörnyei developed another framework of motivation. Dörnyei's model dealt specifically with the phases of motivation rather than categorising motivation in different forms. The first phase, 'choice motivation' refers to getting stated and setting goals, the second phase, 'executive motivation', is about carrying out the necessary tasks to maintain motivation and the third phase, 'motivation retrospection', refers to the students appraisal of and reaction to their performance, Zoltán Dörnyei (cited in Lightbown & Spada, 2006). Dörnyei's main critique of Gardner's theory was that he believed that motivation was determined more from external factors, ie, from how a teacher conducts a lesson; rather than Gardner's argument that motivation is more retrospective and relevant to the individuals desire to learn a language whether it is instrumental or integrative. Although both theories focus on a different direction, Dörnyei and Gardner both agree on the significance motivation plays in learning a second language.
Moreover, in many of the scholarly journals written about the direct correlation between the students motivation and the success of their second language acquisition, the authors debate on what models are more suitable rather than debating the effect motivation has itself. (Dörnyei, 2001) Most research however suggests that greater success in second language acquisition is related to a student's integrative motivation rather than an instrumental motivation. Early research in various school settings has indicated that integrative motivation and/ or its components are related to various aspects of second language learning. Many studies have reported significant correlations with measures of achievement in a second language such as objective tests and course grades (Gardner, 1985) Further research also conducted by Gardner et al (1992), Cantos Gomez (1999) and Hernandaz (2006) all suggest that students acquire a second language more successfully through integrative motivations.
Instrumental motivation can be a useful tool in language acquisition but it is highly affected by the external environment. In an experiment done by Gardner et al (1992), students were given a monetary reward for superior performance on a learning task. Students of course responded positively and spent more time studying however when the monetary reward ceased, so did their studies. As long as the possibility of financial gain was present, instrumental motivation was effective in increasing study time, but it is however, very dependent on external influences making it a less reliable source of motivation and thus, not as strong an indicator to second language acquisition success as the integrative motivation.
Integrative motivation refers to a constellation of attributes. It is not something that some people have and others don't. What our research has indicated clearly, I believe, is that if an individual is highly motivated to learn another language, has an open and accepting approach to other cultural groups and/or a strong emotional interest in the target language group, and has a positive evaluation of the learning situation, then we might describe that person as being integratively motivated to learn the language. We would probably also find that the person is very successful in learning and using the language. In order to support the importance of integrative motivation and the importance it bears on the acquisition of a second language, I would like to critically analyse the results from a survey personally completed in a background study of students in an English Language School. Briefly, to fulfil my own interest in the subject of student motivation I compiled a questionnaire to give to students in an English Language School (Figure.1.0). The questionnaire was also translated in several other languages to avoid misinterpretation.
Welcome to English Language School We are happy you have chosen to learn English with us. We would love to know what English Means to you. Please tick the box most suited to your opinion.
The survey was conducted amongst 280, mature age (18 years and over) students from various nationalities. Although at the time the survey was never intended for critical scholarly analysis, it is interesting now to relate the student's success to their form of motivation. Upon targeting the students who sat there IELTS test (32 students) and comparing their IELTS test result compared to their response to the survey it is very interesting to see an emerging pattern. Students who favoured highly in the categories of choosing to study English for personal enjoyment and who look forward to studying English (a form of integrative motivation) had a higher test average then students who related more to studying English for career advancement or that English had been forced upon them by their parents (prevalent mostly in East Asian students). While there is substantial evidence to support the credibility that motivation, and in particular, integrative motivation, is the best predictor of success in the acquisition of a second language, it is also important to discuss the vulnerability of motivation itself.
Motivation is a tangible factor in second language acquisitions and very rarely can a person maintain the same level of motivation throughout acquiring a second language. As discussed previously, external factors are heavily interactive with one's instrumental motivation. Even though, as based on the individual studies of Gardner et al (1992), Cantos Gomez (1999) and Hernandaz (2006) integrative motivation proved the founding and most successful way a student was motivated to acquire a second language, we should not disregard the students motivated on an instrumental approach. A particular example of a student's instrumental motivation to learn a second language was because of business and the opportunity to prosper in another country. It is important to understand that this mode of motivation is highly dependent and therefore fragile in the relation to the prosperity of a country. A good example of this is the emergence of China as a leader in world trade. In a clear example on how instrumental motivation can vary ones decision to learn a second language, in 2005, 117,660 non-native speakers took the Chinese Proficiency Test, an increase of 26.52% from 2004, Xinhua News (2006).
Adversely, a country that is experiencing a stagnated economy will also lose its attraction for non-natives to learn that countries language. The Australian Department of Education, Employment and Workplace Relations last year, found that the proportion of Australian students studying a foreign language had decreased significantly since 2000, particularly in Japanese and Indonesian, (Sydney Morning Herald, 2011). In conclusion, several sources of research show motivation is a major factor in successful second language acquisition but can we regard it as being the best predictor of the success? First and foremost it is important to understand that, quite simply, its motivation that will always drive us to learn a primary language in the first place. Language is necessary to expand our one necessity that all humans require; communication. We are automatically driven to communicate so motivation to learn a language is already pre-determined; however, when we look at this in the context of second language acquisition then learning is a little more complex. To critically answer that it is important to understand the diversity of motivation itself.
Although there is not as strong an indication as instrumental motivation being a significant predictor of success in second language acquisition, there is a substantial amount of literature and research to support ideas that students can acquire a language effectively through integrative motivation, (Gardner, 1985), Cantos Gomez (1999), Hernandaz (2006) along with personal reference. As identification can be made into the importance of motivation then one can argue that more discretion should be used when teaching a student a second language to ensure that student remains motivated. A "top down approach" to learning is considered to be the best method of motivation. Richard-Amato,( 2003) This can be done with interesting, real events that have purpose for the learner. Then, the students are motivated "to make sense of text" that gives them the power to use it. Richard-Amato,(2003).
Basically Richard – Amato's theory to learning is to create integrative motivation by introducing the learner to the culture that language is native to. Graham Crookes and Richard Smit (cited in Lightbown & Spada. 2006) point to several areas into increasing student motivation. Some of these examples include; making the classroom a supportive environment in which students are stimulated, engaged in activities which are appropriate to their age, interests and cultural backgrounds, and using co – operative rather than competitive goals. By understanding that motivation is predictor of success in second language acquisition, the adjustment of the classroom environment in turn can contribute to positive motivation, leading to a greater success in second language acquisition.
References
Cantos Gomez, P. (Jul 1999): Motivation in Language Teaching/Learning: Focus on the Postulates of Gardner and Lambert. Trabalhos em Linguistica
Aplicada34. July-Dec 53-77.
Dörnyei, Z. (2001). Teaching and Researching Motivation. Harlow: Pearson Education.
Gardner, R. C. (1985). Social psychology and second language learning: The role of attitudes and motivation. London: Edward Arnold Publishers.
Gardner, R C; Day, J B; MacIntyre, P D. (Jun 1992): Integrative Motivation, Induced Anxiety, and Language Learning in a Controlled Environment Studies in Second Language Acquisition14. 2 197-214.
Hernandez, T. (Jan 2006). Integrative Motivation as a Predictor of Success in the Intermediate Foreign Language Classroom. Foreign Language Annals 39. 4 605-617
Lightbown, P., & Spada, N. (2006). How Languages are Learned. New York: Oxford
Richard-Amato, P. A., (2003). Making it happen: From interactive to participatory language teaching: theory and practice. White Plains, New York: Pearson Education.
Sydney Morning Herald (February 7, 2011). A nation lost in translation, < http://www.smh.com.au/national/education/a-nation-lost-in-translation-20110206-1aifl.html#ixzz1c2eB1KZG >
Xinhua News, (January 16, 2006)."汉语水平考试中心:2005年外国考生总人数近12万", (Chinese Proficiency Test Center: 2005 total number of foreign candidates nearly 12 million)
Related Topics