The Amerimunc Position Paper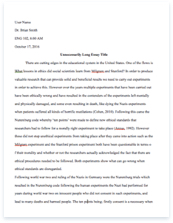 The whole doc is available only for registered users
A limited time offer! Get a custom sample essay written according to your requirements urgent 3h delivery guaranteed
Order Now
Some form of prison is generally accepted as necessary that institution that every civilized society must have to function effectively. That being said, if prisons truly do need to exist, they need to be devoid of corruption and unjust treatment. Currently, there are copious amounts of people are met with horrid prison conditions worldwide due to their race, sexual orientation or gender. Every human being, regardless of their sexual orientation or gender have rights which need to be protected under international law.When compared to heterosexual men in prison, It is the United Nation's job to make sure that these things do not happen, or at the very least are minimized.
That being said, the United Nations needs to be aware of the fact that this is a sensitive topic. The United Nations simply cannot attempt to set into place regulations as it could upset many countries which are members that would take it as an insult. Australia, like many countries in the world, have prisons that are overcrowded. Despite this, Australia still does its best to protect LGBTQ members in its prisons. Australia has been making efforts to lower the amount of sexual assault in prison. Generally, if one has undergone sexual reassignment surgery or started taking hormones, even when put in prison Australia will allow them to continue even when behind bars. Additionally, if it is believed that one's safety is threatened, then they will not force you to be in the prison with members of your birth gender.
Unfortunately, while Australia has signed legislation in order to protect LGBT people serving prison sentences, as of yet it has not been finding very much success. Australia has made a point to remove all any laws that were once in place which were misogynistic or anti LGBT. Australia as a whole is a progressive nation with progressive ideals which would not treat an ethnic group poorly because of their beliefs. The last of Australia's laws which were anti-homosexual were removed. All of these things considered, Australia has no cultural or religious reason as to why it wouldn't be in its best interest to support legislation to reform international prison laws, specifically laws that would reform unfair treatment of minorities. During this meeting of the United Nations, Australia intends to work with fellow delegates to reach a solution as to how to solve the issue of unjust treatment and denial of the basic rights of prisoners for seemingly no reason.
Related Topics