The Ability to Compromise Is Important When Responding to Conflict?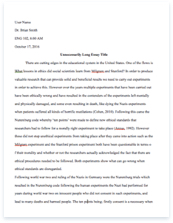 The whole doc is available only for registered users
Pages: 3
Word count: 716
Category: Conflict
A limited time offer! Get a custom sample essay written according to your requirements urgent 3h delivery guaranteed
Order Now
"Peace cannot be kept by force; it can only be achieved by understanding'. This is one of the famous quotes commented by Albert Einstein. When encountering conflict, it is a decisive factor whether the ability to compromise can be applied to the conflict situation. There are many different ways of responding to conflict. Of them, the ability to compromise is one of the factors that can resolve encountering conflict efficiently. The ability to compromise can be shown by self confidence based on cultural supremacy, recovery of self-esteem and reacting to violence by nonviolence.
Self confidence based on cultural supremacy gives a leadership for people. Cultural leadership lays down the foundation that can put together people's energy and spirit. Adrienne could achieve to find leadership for the women in the prison by her artistic ability with music. In the circumstance of the hardships in the prison which made women prisoners edgy and vulnerable, Adrienne brought her resourcefulness and showed how strongly they could unite by their participation in the orchestra. Barak Obama could be the first black president of America with his self confidence in his identity. Obama said 'my father looked nothing like the people around me that he was black as pitch, my mother white as milk-barely registered in my mind'. With his struggling with reconciling conflicts of his multiracial heritages, he had to go through lots of mental confusion and couldn't find a way of compromising his parents' legacy. He fell into the habit of relying on alcohol and cocaine during his teenage years. However, from recognizing his father's intellectual supremacy, he regained his self-confidence, which laid down the spiritual basis for becoming President of the U.S.A.
Recovering self-esteem from inferior complex gives new perspective from which to re-evaluate their past. The ability to analyze their own past from a different angle gives some space in which they can compromise their past, present, and future. This provides a wholly different quality of life for them. 'Turn your wounds into wisdom'. Oprah Winfrey is an American talk show host. She is one of powerful and strong brands which can move the America. She overcame her hard time of childhood and could achieve superb career. It is not too much to say that her sure-fire recipe for success is her painful past memories and honest confession. Oprah Winfrey's seeing her past memories from a different point of view was only possible when she escaped from self-deprecation and regained self-respect. Through this psychological victory over her own past, she reached the stage that she could share her painful memories with all the women who suffered similar pain and agony. Oprah's compromise with the past gave millions of women courage and freedom to confront terrible conflicts they are experiencing.
Reacting to violence with non violence leads to conflicts lessoning and a real solution coming close. Reacting to violence with violence is apt to make conflicts worsen and lead to total destruction. It rids us of room to compromise and improve the current situation. In Paradise Lost, Adrienne and women prisoners respond to brutal violence of the Japanese soldiers by compromising through classical music, their European cultural heritage. During the preparation and performance of the music concert, they became united and expressed their strong opposition against ruthless treatment and terror. In India, Gandhi resisted England's violence and terror with non-violence which drove all the people in India united in the hope for the total independence from their ruler. Gandhi's ability to compromise violence with non-violence has changed not only the history of India, but also that of the world. Coping with conflicts with nonviolence shows the way where you could respond to and solve conflict in a way that it should be solved.
Conclusion
How you can deal with conflict is pretty much dependent on how you compromise it with cultural supremacy, self-esteem, and the attitude to try to adopt peaceful methods. Confronting conflicts with instant emotion and response can deepen and deteriorate the degree of them. Great heroes like Obama, Oprah, and Ganhi compromised those conflicts with their intellectual resourcefulness and changed the course of the history of mankind. Carrying out the competence to compromise in a critical situation when you have to face conflict can assist us to reach the best solution.
Related Topics