Technology: Consuming Our Lives?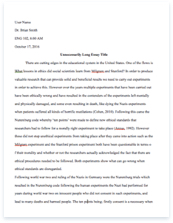 The whole doc is available only for registered users
A limited time offer! Get a custom sample essay written according to your requirements urgent 3h delivery guaranteed
Order Now
Today, many of us use technology for just about everything in our daily lives. There is no longer a need to shop at a physical store or crack open a book. There is no need to turn on the television or radio for weather and news or even to watch television shows. There is no longer a need to dial a phone or send a letter to contact anyone. People are spending more time on a computer than ever before; some even believe it has become a case of addiction. So the question comes into play, Is new technology consuming our lives? With the growth of new technology and the Internet, many people prefer to take their work home with them. This becomes a problem when separating the work life from the home life. Kelton Research found that 65% of U.S. consumers are spending more time with their computers than with their significant others ("8 in 10"). This statistic is far too high. Technology cannot, and should not, replace human interaction. What does this do to the face to face connection we have with our families; or in that matter, with people in general?
Many people find themselves using the computer for a good portion of their day and admit that their computer use is as much a part of their daily routine as going to the bathroom or sleeping. I fear that as the years progress and technology follows its current exponential growth, this number will continue to rise, and personal interaction will be lost. The existence of technology at your fingertips can also be dangerous, not just to your relationships, but to your health and well being. Due to increasingly easy access to the Internet, warnings are often heard to enforce the practice of internet safety. Because the internet is available to everyone, one can never truly know who might be on the other end. Children are often warned about online predators and scams. Cell phones come equipped with built-in social networking sites that encourage people of all ages to chat, share pictures, and share personal information with virtually anyone on the Web. It seems even bullies prefer to practice their hurtful ways online as well as in person; and access to cameras at all times poses a danger to privacy in the hands of young children.
Today, cell phones and personal computers pose a danger in the form of those who decide to drive and surf the web or text others. It seems that there is no point in our daily lives when technology is not a temptation that is so easily reached. Because technology is so readily available, and children start spending so much time on computers at such a young age, these new dangers are becoming hazardously worse. Addiction is a strong yet, acceptable, word to describe the connection one finds with a computer today. With the ability to take a computer virtually anywhere, the urge to check one's email, talk to people, and check social networking Websites is almost too much to fathom. People are immediately heading to the computer when they wake up and are often turning them off just before they go to bed. Society is becoming so dependent on technology that we have started to rely on its existence to get through our day. It has become a necessity instead of a benefit, that many find trouble tearing away from. Next thing you know, elementary children will be seen surfing the Web on their cell phones during recess or instant messaging each other from a few feet away.
This problem has become so severe that the International Journal of Applied Psychoanalytic Studies has warned, "Some people are definitely hurting themselves by their addiction to computers and cyberspace. When people lose their jobs, or flunk out of school, or are divorced by their spouses because they cannot resist devoting all of their time to virtual lands, they are pathologically addicted" (Suler). Although I would have never guessed it possible, this trend is becoming more and more common. While it is true that technology helps our lives run more smoothly with word processors, the Internet, and instant messaging, these luxuries can have a negative effect. With so many applications and programs to make our lives less stressful, we become reliant on them to do once-simple everyday tasks. If these programs were to suddenly be gone, or an unexpected shutdown was to occur, and using these programs was no longer possible, what would be the outcome? Could you write and send a letter without spell check? Would you unconsciously abbreviate "talk to you later" as "ttyl" at the end of your letter? Society would actually be set back in time, because we use technology so often in all of our tasks.
Even though technology is a great help and can make life easier in so many ways, we need to realize what is becoming of our society. At what cost do these benefits come? We must take a step back and ask ourselves what we would do without a computer. Try to go an entire day without using a computer, without sending an email, or checking your Facebook. Take the time normally spent online and call someone, go have lunch with a friend, or spend time with your family. The computer is not an evil device, but should be used with extreme care. Be a good influence for your children, and get up, move around, and take back control of your life.
Works Cited
Suler, J. "Computer and Cyberspace Addiction." International Journal of Applied Psychoanalytic Studies, 1 (2004): 359-362. Web. 24 June 2010. "8 in 10 Americans More Dependent on Their Computer than 3 Years Ago" Lincoln Tribune. Lincoln Tribune Newspaper, 22 Jan. 2007. Web. 24 June 2010
Related Topics