SWOT Analysis: Macy's vs. Bloomingdale's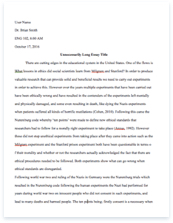 The whole doc is available only for registered users
A limited time offer! Get a custom sample essay written according to your requirements urgent 3h delivery guaranteed
Order Now
E selling and E-marketing these days is ever changing, always dynamic. Technology is advancing faster than we can think. As every day more and more consumers decide to do their shopping from home, whether it be groceries, personal items, or toys, web sites are changing significantly in order to meet their customer's needs. Being an avid online shopper, I always look for a few things in order to fully trust a website's content and after purchase resources, which include; estimated time of delivery, estimated shipping price, product packaging, and their return policies. These are only a few of the many key services a customer can take into consideration when dealing with an online store, but by no means are the only things that a potential e-customer should be aware of. Using the SWOT Analysis, as a guideline, I came to the following conclusions when I visited the Macy's and Bloomingdale's online stores. An online store's navigability should be very simple and to the point. This all begins on their homepage, were all the important information is centered.
It should use very big links, and buttons in order to facilitate a customer's shopping experience. It should also provide enough information and a descriptive photo of the item, so the customer can make the right decision and will be happy with it. In this critique both websites were equal, making this the strength of their websites. A weakness that I found for the Macy's website is they did not offer an "About Macy's" link, where people can retrieve information on their history, press releases, and new stores. A second weakness to the Macy's online store is in their customer services. It seems that their discount ads are the biggest and the services they offer are all left on the bottom of the page and in a smaller font size. One weakness that I personally found for the Bloomingdale's online store is their lessened line of ads, or discount ads. But then again I don't think Bloomingdale's customers are looking for that in the first place.
The weaknesses that each online store holds can then be turned into opportunities for the rival store, which they have taken advantages of that. Macy's caters more to middle class people, offering discount ads and inexpensive items. Bloomingdale's, on the other hand, caters to the upper class, in which they are trying to grab your attention with a line that reads "Like no other store in the world" and they also add that they're the only department store that has hosted a Queen of England. Bloomingdale's also offers the "About" page that Macy's does not, by which they're giving a sense of attentive service.
Threats for both of these stores are certainly other online stores. If a person would make an online search for a men's cologne, for example, they would receive thousands of links to online department stores. In this era of e-shopping, people of the upper class can now shop through a lower end department store, or bargain site like e-bay, without ever having to place one foot in any of these department stores, and no one would never know.
Related Topics