Summary of Clinical Trail and Systematic Review Acupuncture and Pregnancy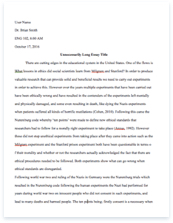 The whole doc is available only for registered users
A limited time offer! Get a custom sample essay written according to your requirements urgent 3h delivery guaranteed
Order Now
Introduction
This research article was selected because it explored a deeper understanding regarding the efficacy of acupuncture in treating pregnant women during labour and delivery. Acupuncture is commonly being used today to help with labor and delivery despite contradictory results from studies evaluating its effectiveness (Mattensson, Kvist & Hermonsson, 2011). There has been more evidence to support the use acupuncture in pregnancy labor. In addition, it is interesting that the research article is longitudinal study rather than cross sectional or diachronic study. This paper will provide a detail summation the research article in terms of research design, interventions and results for the summary clinical trial. In closing, I will provide a detail summation of clinical review system article focusing the limitations and results findings in acupuncture and pregnancy.
Design Analysis
Design Approach
The research article used a longitudinal randomized controlled experimental design. The study population were pregnant women under midwife care from November 2008-October 2011at two hospital in Sweden delivery wards. The inclusion criteria of the study consist of healthy pregnant women with normal single pregnancy, fetus in cephalic presentation admitted to the delivery ward in an active or latent phase of labour, after a spontaneous onset of labour (Vixner et al, 2014). Those pregnant women excluded were those who receive pharmacological pain medication with a 24-hour period. The women were randomized by computer into three of the following groups manual acupuncture (MA), electro-acupuncture (EA), or standard care (SC) in total 253 participated in the study.
Intervention
The women who participated in the study all had access to all  pharmacological and non-pharmacological analgesia. The only group who did not  access to acupuncture treatment in the study was the SC group. The women in the MA and EA  groups were treated with 13–21 needles, at 3 bilateral distal points and 4–8 bilateral local  points, all within the same area of the cervix and uterus for a 40-minute duration  (Vixon et al., 2014). The women were given VAS analog pain scale regarding their intensity  of their labor pain and relaxation level.
Results
In conclusion, the study finding showed there was no significant reduction in women's labour pain, neither with manual stimulation nor with combined manual and electrical stimulation. However, the study did show that fewer women in the EA group used epidural analgesia. There is still evidence informed research showing the effectiveness of acupuncture during pregnancy for various pregnancy conditions (Pennick & Liddle, 2013).
Summary of Systematic Review Article
This system review research article was selected because of my interest in acupuncture and pregnancy. In addition, the community I serve is over 65% women from ages 18-55. My integrative practice specializes in women health especially pregnancy pre and post care. There have been some evidence-based studies on the safety of acupuncture and pregnancy. There lacks rigorous research in area adverse event that may have occurred in studies of acupuncture and pregnancy. According to Park et al. (2014) five Korean research databases were compiled, reviewed and screened additional research studies up to February 2013. The studies that were excluded acupuncture for delivery, abortion, assisted reproduction or postpartum conditions. Then total number of studies were 105 but only 27 studies had actual reports of AE from several different countries which included, Sweden, Brazil, United Kingdom, China, US, Australia, Switzerland, Italy, Spain and Korea. The study design was broken down case reports/series (51.4%) followed by RCTs (40.0%), CCTs (5.7%) and surveys (2.9%) (Park et al., 2014).
Limitations
The result of the systematic review found that the majority of AEs associated with acupuncture and pregnancy were not reported or were very rare. The AE's reported in the studies reviewed in acupuncture treatments during pregnancy was not caused by acupuncture but by some other medical factor. In 2014, Park et al. reviewed the statistical data in pregnant women to be estimated at 193 per 10,000 acupuncture. According to this statistical provide in the review, the values are comparable to less those investigated in the general population of patients receiving acupuncture treatment.
Results
The clinical systematic review did present three limitations. The first limitations were the lack of pertinent information regarding obstetric complications. The second limitation was the unpublished trails gave more information on AEs than published trails (Hemminki, 1980). Overall, the studies that were reviewed focused on the benefit of acupuncture and pregnancy and not the risk of AEs.
References
Hemminki. E. (1980) Study of information submitted by drug companies to licensing

authorities. British Medical Journal, 280,833–6.

Martensson, L, Kvist, L.J., & Hermonsson, E. (2011). A national survey on how acupuncture is

currently used in Midwifery care at Swedish maternity unit.

Midwifery,1,8792. https://www.ncbi.nlm.nih.gov/pubmed/20092915/

Park, J., Sohn, Y., White, A., & Lee, H. (2014). The safety of acupuncture during pregnancy

systematic review. Acupuncture Medicine, 32(3), 257-266.

https://www.ncbi.nlm.nih.gov/pmc/articles/PMC4112450/#R3

Pennick, V.& Liddle, S.D. (2013). Interventions for preventing and treating pelvic and back

in pregnancy. Cochrane Database Syst Rev 2013;8:CD001139.

Vixner, L., Schytt, E. Stener-Victorin, E., Waldenstrom, U., Pettersson, H. & Martenssun, L.
Related Topics