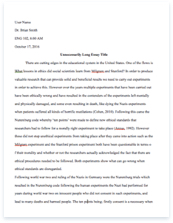 The whole doc is available only for registered users
A limited time offer! Get a custom sample essay written according to your requirements urgent 3h delivery guaranteed
Order Now
Specific Purpose: To inform the audience about the advantages, disadvantages, and the best time to go abroadCentral Idea : The information about the advantages, disadvantages and the best time to go abroad will help the students to decide whether to further their studies overseas INTRODUCTION
There are several things that we can get from getting involved in the new cultures. For instance, observing the way how they lived, how they communicate with each other, even the simplest thing like what can or can't during eating. Obviously it can help us in the future. So, how we can learn it? One of them of course by studying abroad. So, I'm gladly to introduce my topic for today which is study abroad I once have been offered to study abroad around 5 months ago. I have decided to give up on it only not because I don't want to but because of lack of money to go there. I have applied several of scholarships but the result is disappointing. Well, that's the reason why I didn't study abroad. My friends also have the same fate as me which is unfortunate. Well I didn't say that study abroad is bad though, actually, it can either both, the positive side and the negative side. In this very good afternoon, I would like to inform you about the advantages, disadvantages and when is the best time to go study abroad. (Transition: Let's move on to my first point, the advantages of studying abroad) BODY
There are several of advantages of studying abroad
Experiences other culture
There are other word can describe this which is "Multi-Culture" experience. Many ways and perspectives that we can gain based on this experience for example like learn different culture, enlarge your horizon, enrich your chances to get better job. It can open our eyes to a whole other way of thinking which is from observing and experience other culture and it can give us an effect on the world that we live in. Enjoy new culture, people's thoughts, values, behaviors and the way people live are all first-hand to you. Different languages, food, appearances, and personal habits. Can increase your adaptability. Increase job opportunities
Self-motivated, independent, willing to take challenges, able to cope with diverse problems and situations. Make you different than other local employers with your experience of living and studying in a foreign country, negotiating with another culture, and acquiring another language. Very easy for you to adapt a new job when you got the job from other country. Give advantage to your resume. It shows your experience abroad, flexibility, curiosity, adaptivity, pro-activity, and your additional language skills. Develop some sort of skills
It is used to be about learning other languages and some just basic and content knowledge but now it is more than that for example, developing a skill set and the only way to learn it is through experiential learning, and meet different people than us. Most of the programs are designed to make sure that students have those different if experiences and as a result, it can give a big advantages to the students in the future. It can push students outside of their comfort zone.
(Transition: Now, let's take a look at the disadvantages of studying abroad) The disadvantages
Using a lot of money
It is really expensive depending on what course that you take, the country, and the place where you live. Most countries do not allow foreign student to work, so it is hard for student to find additional income for their study. According to the Education Abroad Center, studying abroad in China costs $8000. Italy, $10, 000. Paris, $15,000. Far away from your family
You will feel alone, sad and of course, homesick. It will affect your progress of study. It is hard for you to adjust yourself in order to adapt in other country. So, sometimes you will feel excluded that will make your morale down. (Transition: Last but not least for my very last point, I will tell you about when is the best time actually to go abroad) From my research, the most people think is when you are in college is the best time to go abroad Which semesters are more valuable actually?
Based on the professional opinion, it is believed that it depends on the individual itself for example, what is their goal after that, or when they want to pursue their career in the future. All semesters have their own pros and cons which are all of them are offer equally the same value. Many programs will help to organize your study abroad
It is much easier when you're in young age because of they are preferred student who are fresh graduate from school or diploma. Our country is more prefer to help and sponsor or offer scholarship to students who are fresh graduate from their school. Most of overseas universities offered better courses and can attract students to pursue their future career. You can test whether you can make an international career or not. Usually during college programs abroad don't take too long to finish them. Once you have finished your study, you can make decision whether you want to stay there or not. Most student want to take the advantages of during college
It is because of most students during the college year who meet the standard requirement for instance like get average grade pointer, made progress through their major, and good discipline. Get the chance to adapt themselves in a foreign culture without any difficulties, easily learn the new experience, experiencing the new culture, and meeting new people. CONCLUSION
In conclusion, you have to think deeply before make a decision. Make some research and always alert and be careful, sometimes it can give us so many disadvantages if we didn't make decision well. Actually, it is depends on ourselves whether or not that we are suitable to study abroad. Some of them can survive but some of them are don't. Those are survive of course can get the advantages while studying abroad while some of them are just unfortunate and really can't adapt with the new environment. Mine of course are opposite what I have expect before but I just think that maybe I'm more suitable here but how about you? Who know isn't? So why not try it out? Before the pressure is on. Thank You.
BIBLIOGRAPHY
Pierings (2012) Study Abroad (advantages and disadvantages). Retrieved from http://www.essayforum.com Maria, A (2009, November 12) Advantages of studying abroad. Retrieved from http://www.mariaabroad.com Cai, H, Wang, L (2010, April 23) Advantages of studying abroad. Retrieved from http://www.personal.psu.edu Jennifer, L (2011, November 20) Choosing the best time to study abroad. Retrieved from http://www.bcheights.com/features/choosing-the-best-time-to-study-abroad-1.2711793#.UZtSVrU_s75NPR, S (2012, 9 August) Studying Abroad: Is It Really Worth It? Retrieved from http://www.npr.org
Related Topics