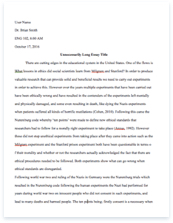 The whole doc is available only for registered users
A limited time offer! Get a custom sample essay written according to your requirements urgent 3h delivery guaranteed
Order Now
Before discussing plans, control system, and quality management in relation to motivation in achieving anticipated outcome,  review of the key components or variables in this paper is essential (Pearce, Robinson, 2004). These key components are plan, control system, quality management and motivation.
Plan
It is virtually next to impossible for an organization or an individual to function or do something without at least some goals and plans.  Goal is referred to as future intention that an organization wishes to attain. Mostly goals may be used interchangeably to mean objectives.
It's important to note that goals are major elements of planning process. Whereas goal is future target or end result that an organization wants to achieve, a plan is the mechanism formulated in attempt to reach a goal. At this point it is worth noting that planning is a management function that involves setting goals and creating best possible mechanism of achieving them. Proper goal setting and developing plans results to goal attainment which eventually leads to organization efficiency and effectiveness.
According to Bartol and Martin, the uses of goals in planning have several benefits. These include increase performance, clarification of expectation, facilitate control function and increase motivation (Kathryn M. Bartol, David C. Martin, 1991)). Increases in performance due to creating challenging goals frequently range from 10 to 25 per cent, and they are sometime higher. When goals are set organization members are most likely to have clear idea of the outcome that they are expected to achieve (Pearce, Robinson, 2004). Working without goal can be likened with a situation whereby rowers independently rowing the same boat in different directions and together making very little progress. Goals provide benchmarks against which progress can be assessed so that corrective action can be taken as needed (control function).the added motivation develops from meeting goals, feeling of accomplishment,  receiving recognitions and other rewards for reaching targeted outcomes.
In much the same way that there are level of management, plans and goals also vary according to the level in organization. Thus there are strategic, tactical, and operational goals and plans.
Strategic planning
Strategic plans can be defined as a well detailed action steps illustrated out to reach strategic goal (Pearce, Robinson, 2004). Strategic planning is a process that addresses issues such as how to respond to changing conditions, how to allocate resources, and what action should be taken to create a unified and powerful organizationwide effort ultimately aimed at strategic goal (Syed H. Akhter, 2003). Strategic goals are broadly defined target future or end results set by top management.
Strategic planning is mostly undertaken by the top management in consultation with the board of directors and middle management. Strategic plans are usually referred to as long range plans because they cover relatively long time horizon that may range from 3 to 5 or more into the future.
Tactical plans
Tactical plan are mainly formulated to support implementation of the strategic plan and achievement of the tactical goal. Tactical plan tend to focus on intermediate time frames, usually range between 1 to 3 years. For most part, tactical plans are developed by middle level manager, who may consult lower level manager before making commitment to top level management.
Operational plan
Operational plan is the means devised to support implementation tactical plan and achievement of operational goals (Pearce, Robinson, 2004). Operation plans are usually referred to as short range plans simply because their undertaking take relatively short time frame of less than a year, such as few months, weeks or even days. Plans at this level are usually formulated the lower level manager in conjunction with the middle level management. Unless operational goals and plans are achieved in organization, tactical and strategic plan will not be successful and goals at this level will not be achieved.
Goals developed using MBO as part of planning process is the core of management at Wal-Mart. The top level management provides guidelines in profits and growth related areas, which in turn are used as basis of creating goal at division and store levels. Through its reward system, motivation is given to the implementer of the goals and this majorly aimed at ensuring that target is reached or even exceeded.
Organizational change
Change may be defined as modification of the status quo. Organizational change can be termed to be a product of planning because planning facilitates alteration of key components that form an organization. Planning leads to alteration of structure, technology, culture and human resource components of organization (Kathryn M. Bartol, David C. Martin, 1991). These components usually interrelate; change in one component may lead to slight or major change in other components. Managers who want to bring1 organizational always face resistance from people. People usually resist change even when it appears to an observer or implementer of the change that the change is in the best interest of those affected.
People will resist change if they perceive that the change in question do not address their interests. If change is seen to negatively and adversely affect individual interest then the high resistance it will get.
Change may be resisted due to misunderstanding and lack of trust. People frequently resist change when they misunderstand the nature of change. Low level of trust between manager and employees, contribute to misunderstanding of the change agenda thus create a good ground for resistance (Kathryn M. Bartol, David C. Martin, 1991).
Change is also resisted due individuals' low tolerance for change. Some people fear change due to the fact that it will take them a considerable amount of time to adapt to skills or technique required to necessitate change.
Assessment of organization's strengths, weakness and competencies
Planner can identify strengths, weakness and competencies of an organization through a thorough assessment of the internal characteristics that constituent the organization (Pamela Babcock, 2004). Strengths and weakness of organization can be through conducting functional audit. This auditing involve exhaustive appraisal of organization and its businesses by assessing the important positive and negative attributes of each functional areas. For instance, this audit may asses how appropriate to segment and target markets for marketing department.
Distinctive competence is a potential source competitive advantage that an organization can have. This is so, because it is unique strength that a competitor can not imitate (Syed H. Akhter, 2003).
Organization assessment makes it possible to develop organization synergy, in this scenario two units or more units work together to have a greater impact than it is possible when each operates independently.
Functional audit usually address many aspects of each department putting the rest of the departments into consideration. This assessment is important as it help augmenting all internal characteristics in formulating organizational strategies and plans.    N.V Philips, an electronic company based in Netherlands, went through massive change in 1980s. This is due to change of growth in both business and profit as a result of success of the Japanese electronic firms like Sony and Hitachi.
 To revamp the situation, by reorganizing the structure and centralized product decision making. This led to executives reviewing their current technology level which forced the firm to upgrade its production methods through recruiting and training competent staffs. These efforts generated positive result especially in the product areas as it gave Philip competitive edge in sale of chips and compact disc player in U.S market.
Mission statement and change
Planning process is essentially built on the organization mission. Mission in this case can be described as the major purpose or the fundamental reason of the organization existence. Mission statement is therefore a broad declaration of the basic unique purpose and scope of operation that distinguishes the organization from the other of its type (Pamela Babcock, 2004).
For manager, mission statement defines benchmark against where to evaluate success. For employees, it defines a common purpose and nurture organization loyalty. Success of an orgasation depends on the good ideas that are stipulated on mission statement, accompanied with specific organization goal and a well configured organization plans.
The process of change is influenced by internal forces in organization and external forces. The changes that result from internal force can be planned for, unlike the ones results from external forces which may be difficult to plan for so manager tends only to react to them.
Planned changes can be termed as  changes that involve action based on careful thought out process for change that  anticipate future difficulties, threats and opportunities (John M. Bryson, Robert C. Einsweiler, 1988). Planned change will always be consistent with the organization mission and mission statement in order to eliminate conflict interest in organization.
Unplanned change, which is also termed reactive change- This change occurs when someone takes action in response to perceived threats or opportunities. Since one is reacting to events or situation, there is often no sufficient time to analyze the situation carefully and prepare well-conceived response and this is mostly carried out organization mission context (John M. Bryson, Robert C. Einsweiler, 1988).
Control system
Controlling is a .process of regulating organizational activities so that actual performance conforms to the expected goals and standards (William C. Bean, Ellen Domb, 1995. Since most of organization activities ultimately depend on human behavior, controlling is mainly directed towards ensuring that organization member behave in ways that facilitate reaching the organizational goals. Hence controls both address needed behavior and discourage unwanted behaviors.
 Control system can be described as a set of mechanisms that are formed to increase the probability of meeting organizational standards and goals. Control system help managers to cope with uncertainty, detect irregularity, identifying opportunities and handling complex situation (John M. Bryson, Robert C. Einsweiler, 1988).
Quality management
Quality can be defined as the totality of features and characteristics of product or service that bear on its ability to satisfy stated or implied needs (William C. Bean, Ellen Domb, 1995). Deming's 14 points are keys eye-opener toward understanding quality management.
Create constancy of purpose towards improvement. That means short-term out, long-term in.
Adopt the new philosophy from top to bottom. Cease dependence on inspection. You don't inspect quality into products and services – you design it in and check only by statistical quality control.
Move towards a single supplier for any one item. Playing many suppliers off against each other is a mug's game.
Improve constantly and forever. However good you are, you can always do better. Institute training on the job" – the best place to learn.
Institute leadership – going well beyond supervision and its quotas and targets.
Drive out fear, which makes for bad work – and bad management.
Break down barriers between departments: no more "silos" and "tubular bells".
Eliminate slogans. Exhortation is another counter-productive substitute for real management.
Eliminate management by objectives. Relying on production and other targets is also counter-productive.
Remove barriers to pride of workmanship. The key to superior quality lies here – and in the Fourteen Points, which all encourage performance.
Institute education and self-improvement- which should go without saying.
The transformation is everyone's job – and Deming really meant everyone, from and including the top planning is a very key component for success in all spheres of life.
References:
Syed H. Akhter (January/February 2003): Strategic Planning, Hypercompetition, and Knowledge Management. Business Horizons
Pearce, Robinson (February 2004): Strategic management: formulation, implementation and control, 9th edition. McGraw-Hill
Kathryn M. Bartol, David C. Martin (1991): Management. McGraw-Hill Series in management
Pamela Babcock (May 2004): Shedding Light on Knowledge Management. HR Magazine
 John M. Bryson, Robert C. Einsweiler (January 1988): Strategic Planning: Threats and Opportunities for Planners. Chicago, American Planning Association
William C. Bean, Ellen Domb (September 1995): Strategic Planning That Makes Things Happen. Human Resource Development Press
Bernard Taylor (January 1988): Strategic Planning: The Chief Executive and the Board. Taylor, Deb, Bernard C. Harris Publishing Company
Related Topics