Statement of Purpose Persuasive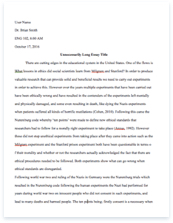 The whole doc is available only for registered users
A limited time offer! Get a custom sample essay written according to your requirements urgent 3h delivery guaranteed
Order Now
"Education is a companion which no future can depress, no crime can destroy, no enemy can alienate it and no nepotism can enslave" It is this maxim that urged me to think higher right from my young age. Science has always been a fascination and more of a miracle to me. The wonders that science and technology have unfolded before us are not limited to time and space. My aim in life is to accumulate this diverse knowledge from all over the world. With this cherished goal in my mind, I wish to state in the following paragraphs, my viewpoints and the rational behind my application to the graduate studies program in Mechanical Engineering at your university. The knowledge acquired in schools and colleges, I believe is not an education, but the means to it. It is this belief that makes me 'a student to the end of my days': the obvious direction being curiosity towards exploration. I used to wonder (and I still do) how a gramophone record gives out such a melodious sound; I had been worried (but I don't now) what would happen to an aero plane flying so high up in the air when the wind stopped pushing it; and I could never understand how the petrol in a container kept in the back of a car burned in the engine placed in the front and moved the car when you just turned a key on the dashboard!
These simple things which can be explained easily now used to be very puzzling questions in my early school life. I used to ask my classmates, teachers and parents, getting some of my questions cleared at times and getting some of them more complicated most of the time. That might be the time when I decided to learn more and more about 'Engineering' so that, at least, I might be in a position to solve some of those puzzles on my own. One of the memories of my childhood I deeply cherish is that of my first day in school. I distinctly remember my eyes watering as my parents bade me good-bye leaving me in an alien environment. We were made to draw pictures of familiar objects, my teacher recited rhymes in a soothing voice and by the end of the day I began to love school. I was fortunate to have begun with a good early education and as I grew, my interests and ability were inclined towards the physical nature of the universe. Science unraveled many a mystery for me math challenged me and gave me joy. Learning itself became key to my life. After completing my high school, I felt that Engineering would be the area, which would give me the opportunity to learn and explore how the fundamentals of science are applied to create technology for practical and real purposes.
Moreover, my innate strengths have always been creative abilities and the power of imagination; which made me take up a discipline that would allow me to channel them in the best possible way. Thus, Mechanical engineering was a direct consequence of my convictions. Subjects like Manufacturing Process, CAD/CAM, Machine Tools, Machine Design, Industrial Management, Kinematics & Dynamics of Machines, Automobile Engineering, Applied Thermodynamics etc., revealed to me limitless horizons in the field of Mechanical Engineering. My undergraduate study was a richly rewarding experience. The pursuit for knowledge has been the supreme goal in my life. We are in an era of global and technological changes where boundaries are fast disappearing and the greatest challenge tomorrow holds for us is to manage continuity of change. To satiate my curiosity and to fulfill my ambitions I have decided to pursue a master's program in Mechanical Engineering. I would like to get involved in research work in this area. Although there is a vast scope for research in this area, the scope for research in India is limited. The need for exposure to a wider environment has prompted me to seek an opportunity to study in the United States. The ever-increasing part played by computers in every discipline of Engineering and their synergetic role in manufacturing process.
To tell you more about my interest, the final year project "Efficient Utilization Of Concentrated Solar Energy For Domestic Cooking Using Auxiliary Heat Source (BOILER)." which aims at incorporating few features was an opportunity to gain knowledge in Mechanical Engineering. The four years degree undergraduate course has not only provided me strong fundamentals, but also has encouraged me to learn more and guided me to continue research related activities. My immediate career objective is a master's degree in Engineering followed by a PhD and research oriented career in industry or academia. The choice of a good university with a faculty dedicated to teaching and research and an atmosphere conducive to learning, thus becomes extremely necessary. While the undergraduate courses enable a student to grasp the fundamentals involved in a particular discipline of engineering, they do not present the opportunity to learn the ropes with new technologies that are current within the industry.
Specialization becomes a necessity to understand new technologies and to improve upon the existing ones. It is to achieve this sophistication that I set out to pursue my post-graduate studies in Mechanical Engineering. I bring along a strong grasp of fundamentals, an aptitude for team work, a zest for challenges and an enthusiastic desire to learn all I can. I believe that the knowledge I have gained is little and there is much more to learn and relearn. So with the knowledge I posses and desire to learn more made graduate study a natural choice for me. I am sure that a Masters program in your university will definitely widen the horizons of my knowledge and help me attain a milestone in my career. I am a stern believer of attitude, quality and hardwork. I promise to attain meteoric heights and bring glory to your institution, if I am given a chance.
Related Topics