Stanley Fish's view on free speech with a personal opinion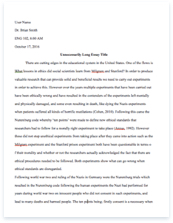 The whole doc is available only for registered users
A limited time offer! Get a custom sample essay written according to your requirements urgent 3h delivery guaranteed
Order Now
In the essay in his recent book, "There's No Such Thing as Free Speech and it's a Good Thing Too," Fish argues that free speech "is not an independent value, but a political prize," and any differences, which the courts have drawn between, protected and unprotected expressions are "malleable." Like any other concept, the principle of free speech is, for Fish, "inherently nothing," but one more noise in the "din and confusion of partisan struggle." Fish, a literary theorist, has brought textual theory and post structuralism into the debate over how to understand legal theory. Fish argues that there is no such thing as an objective legal text that can be applied to law. So, for example, to use a title for his famous essay There's No Such Thing as Free Speech and It's a Good Thing Too because free speech does not and cannot reside in some Platonic ideal. Rather it can only be understood as a reason of politics or in terms of what people and groups can get away with in any particular time and in a given circumstance. Fish analyzed textual studies and legal studies particularly.
This led to his view of "interpretive studies" as the location where meaning is created in relation to a text. Such communities are usually composed of "experts" or groups of like-minded and influential people, such as literary critics or lawyers. Fish also condemns the idea that legal theory can be used in a positive way to guide legal judgments and justice in general. Instead he argues, "theory is irrelevant;" judges, like baseball players or fully socialized members of any other interpretive community, do not apply theory when they are making decisions. They might use theory after the fact to provide a justification for their actions, but at the time of decision-making they avoid theorizing in place of applying the deep interpretive knowledge they share with other members of the community. Thus free speech, like every other aspect of the law, is inherently political. Fish notes that free speech will always be limited somehow. There will always come a point, relative to some "assumed conception of the good," that a given community will refuse to allow certain speech "not because an exception to a general freedom has suddenly and contradictorily been announced, but because the freedom has never been general and always been understood against an originary exclusion that gave it meaning." Thus there can be no platonic idea of absolute free speech.
The First Amendment was probably intended to protect political speech more than all forms of expressions. Fish fails to note this, but instead deals with how the First Amendment comes to be interpreted. The First Amendment is an important idea and a good principle. Because the Fist Amendment is so broad, it is difficult to make any restrictions on speech at all, therefore careful restrictions are made without political considerations. Fish's ideas would allow for any number of drastic limitations. On the topic of freedom of speech, I believe that is it very vital but it must have certain limitations like all freedoms. These must be acted upon in the context of conflicts with other rights. If people have a right to life, then yelling "fire" in a crowded room would violate their rights. Threatening phone calls are considered harassment and people have rights against such. This list goes on with examples. This is basically the system we currently have in the United States. It does not involve influence on others as a basis for restrictions, as Fish advocates. Influence is far too indirect a way to look at things, as it would leave the door open to far more invasive restrictions that even Fish would probably not enjoy. You could be threatened, harassed, and trampled, as a person thinks it is amusing to yell "fire" in crowds. That is not appealing to me either so my position is more moderate in the philosophy of Fish.
Related Topics