Standard Life – Motivation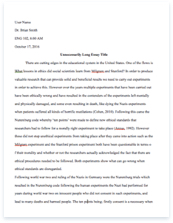 The whole doc is available only for registered users
A limited time offer! Get a custom sample essay written according to your requirements urgent 3h delivery guaranteed
Order Now
An organisation's success depends on the ability of managers to provide an environment which motivates personnel and maintains an environment of productive, happy and satisfied employees. I will explore some different theories of motivation and determine what is involved in creating an ideal state of performance and motivation in the work force.
Firstly, different staff members are motivated in very different ways; mainly this differs through different management styles. McGregor's X and Y theory states that staff that are unskilled benefit from a management style whereby managers are more autocratic in their actions, giving staff more focus and direction with instructions within their jobs. For the unskilled staff within Standard Life (SL) this is likely to create a sense of security, which is currently lacking within the company according to a recent questionnaire carried out. The questionnaire revealed staff felt they are unsure of the focus of the company and the main goals, therefore an autocratic style for the unskilled staff may reapply this focus which currently has been lost, and according to McGregor this will boost staff's motivation levels.
On the other hand however, skilled staff are likely to be benefited in terms of motivation by an opposite approach to management (McGregor's theory Y). Skilled staff are likely to want to use their own skills rather than the skills of others to guide themselves through their jobs in which the view themselves as professional in. Therefore these staff are likely to respect a demographic management style. If staff were continually being guided and given narrow focus upon their tasks rather then using there own initiative and judgment. They may feel this is derogatory towards the skill they are trained in and therefore demotivate them. At standard life it is safe to assume there will be a mixture of both skilled and unskilled staff amongst the workforce. This therefore will mean that to get the most out of staff, managers will have to alter their style when dealing with different individuals in connection with their position in the hierarchy of the organization. If standard life does this it may increase the "employee engagement" within the business which at present is at a low. This lack of employee engagement has fallen in the last two years. One of the reason for this is lack in engagement within the company is due to the fact that staff don't have a overview of where the business is going and therefore what goals to aim for.
A more consultative approach towards staff may make them feel more integrated within the company but of greater importance would give staff a sense of purpose within the company since staff would feel themselves having a larger input or impact upon the business. This is likely to be especially important for SL currently since there appears to be a significant drop in "employee engagement". Becoming more consultative will therefore not only motivates staff but engagement within the company may also make staff feel more satisfied within the workplace resulting in an increase in output due to increased interest and satisfaction. Clearly therefore motivation for will not only solve problems in terms of human resource but will also help SL achieve its overall company objectives.
To add to the nature of staff integration within the company, to implement a training scheme may aid this process. Not only would a training scheme motivate staff since they are enhancing their achievements but may also give staff the knowledge optimise bottom line targets such as profit maximization and output, which are important for any profit making organization. However, in the case of SL of current greater importance since staff are not motivated and do not feel part of a company. As Hertzberg explains in his motivational and hygiene factors, achievement, advancement and personal growth are all things in which motivate staff and clearly a training programme involves these things. Even though this is a very effective way to boost morale as well as adding resources to the business it still is a very costly process for a problem such as low morale. However, the cost may be worthwhile since not only will a staff be more motivated therefore optimizing their working output but furthermore bottom line targets are likely to be benefited also since staff now have further knowledge to achieve these targets more effectively.
Related Topics