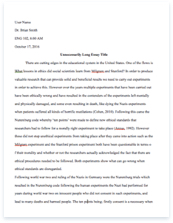 The whole doc is available only for registered users
Pages: 3
Word count: 562
Category: Tennis
A limited time offer! Get a custom sample essay written according to your requirements urgent 3h delivery guaranteed
Order Now
If you walked around McClymonds (Mack), you would think it is an all boys school? It isn't, however that's how it seems to me. I am an 11th grade girl who attends Mack. I noticed that the football team gets all the love, money, opportunities, and support–anything they need is done. On the other hand, girls who participate in sports do not receive the same level of support. McClymonds needs a change and treat all sport equal; same rules and regulations for all sports. You have authority and power so therefore I am personally writing to you for a change.
Cheerleading isn't considered a real sport. What makes a sport real? A sport is an activity involving physical exertion and skill in which an individual or team competes against another or others for entertainment. Cheerleading is exactly what a sport is, and it should be recognized and respected as a sport. It's not the early 1900s we shouldn't have to fight for women's rights. The girls on the cheer team have to pay for their uniforms, and,if they're lucky, they have to share a bus with the boys teams. Otherwise, they have have to wait til the bus driver drops off the boys and come back for their team. I know if I were to pay and couldn't even get a bus to transport us, I wouldn't be on the cheer team as that isn't fair. You're human, use your heart.
Girls Tennis isn't taken seriously. I'm not a tennis player, but I know for a fact that you at least need a tennis net to play tennis and Mack doesn't even have that. The tennis team have to fundraise for any and everything. No penny to waste. Just like the cheerleaders they have to find a way to their games. That's unbelievable! When games are scheduled you think they're going to walk to their games or fly there? Busses are needed, the tennis team shouldn't have to struggle to get to every game.
Opportunities aren't the same either. They ask for resources and people to come, but they're only offered to the boys. We receive rare opportunities; we get the doggie scraps from the doggie bowl while the boys get to eat big plate steaks. Scouts come all the time for the football players. What about the girls ? We don't get no love. I personally don't play sports at Mack because of what I noticed. Most girls don't play sports at Mack because they aren't taken seriously. Girls use to be involved with sports until football became Mack's greatest achievement.
Connect the dots, girl sports or sports for girls just doesn't go right at McClymonds in no way. If I was the principal I would actually tend to the problems at McClymonds. But you know, since the girls are girls, not boys who are tall and athletic they have to experience the poor way of being an athlete. I don't think it's right. Would you want your own child to experience what the girls at McClymonds have? There's a change needed fast.Not next year, not tomorrow it's needed now. As the principal, I think you should recognized and provide opportunities for the girl sports successfully. Step in and help try to provide more resources, look for more connection, funding and any type of support.  
Related Topics