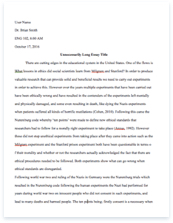 The whole doc is available only for registered users
A limited time offer! Get a custom sample essay written according to your requirements urgent 3h delivery guaranteed
Order Now
The first step to resolving issues tied to disruptive parents is to educate the parents. No parent is intentionally harming their child, so the parents might not understand the implications of their actions. Once educated the parents will fully understand how their actions impact their child's interpretation of their entire sport experience. To stop the current parent disruption, I would hold an immediate mandatory parent intervention session. In the educational intervention session parents would be educated on their expected roles, the coach's role, the child's role and the responsibilities and implications of each of those roles. The parents would also learn about the coach and any trainer's qualifications, the philosophy and goals of the league, team rules, and any expectations such as promoting good sportsmanship that the league has. At the end of the educational intervention parents would need to sign the "Sport Parent Responsibilities and Code of Conduct". To prevent parent disruption like this in the future I would establish this parent meeting as a mandatory orientation session prior to every season. If budget and staffing allow, I would also institute an assistant coach or a parent liaison to help mediate and structure communication between parents and coaches.
At this point in the season I would hold a team meeting to set new goals for the remainder of the season. After losing ten games our goals and focus should shift away from outcome-based goals like winning toward task-based goals like athletic outcomes. The team would collectively set goals for themselves rather than me setting goals for the team. I would research and implement fun new practice drills in order to vary the content of practice and spark interest. I would make sure to be giving both verbal and nonverbal praise, and to reward players for performance rather than for just winning. For future seasons I would focus heavily on performance and task rather than on outcome. I would start each season by having the team collectively set task-based goals that are challenging yet still realistic. We would meet regularly to adjust the goals when necessary and to celebrate achieving some of the goals. I would continue to be careful in the future to provide for successful experiences by focusing on performance rather than just on outcomes, and give rewards based on performance as well. I would be sure to give both verbal and non-verbal praise. I would also learn and implement new practice drills so that the team is not repeatedly doing the same old drills.
I would us the interactional approach in order to fill my coaching vacancy. Since the program is not task-oriented, or concerned with winning, a relationship-oriented leader would better serve the school. I would be seeking a coach that emphasizes good interpersonal relationships, communication, and social interactions rather than a coach that just wants to have their team win. Additionally, I would take into account the Leadership Scale for Sports, and would seek a coach that fits the social support dimension of the scale since this dimension is concerned with the individual athlete's personal development regardless of their performance in sport.
In order to build group cohesion within this new hockey team I would hold a team meeting prior to the first practice. For the first half of the team meeting we would go through team-building exercises in order to help the girls get to know each other a little bit and break the ice. After everyone is a little better acquainted we would collectively set performance based goals that are challenging yet still realistic. Holding this meeting would also serve to start the season off with an atmosphere of open communication not only between teammates, but also between the coaches and players. In this meeting we could also hand out hoodies or jackets that would encourage group identity. The clothing articles should also identify the subunits in some way in order to facilitate pride not only in the team itself, but also within the subunits. In order to help maintain long-term cohesion I would periodically hold team meetings in order to keep communication lines open in order to resolve any conflicts that may arise. I would also treat each girl the same in order to attempt to prevent cliques from forming within the team, and rotate the girls should cliques begin to form. Lastly, I would identify the team leaders and establish meeting to gauge the team climate. 
Related Topics