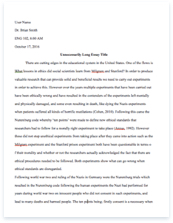 The whole doc is available only for registered users
A limited time offer! Get a custom sample essay written according to your requirements urgent 3h delivery guaranteed
Order Now
Larry is a good employee. No change in his work performance has been noticed and his job performance is pretty decent. The manager already knows that Larry has drinking problem and has an unstable home life as well. Many of the workers have claimed that they have smelled alcoholic breath of Larry. Manager has also smelled alcohol on Larry's breath once. Manager has already confronted Larry and Larry denied drinking at work. It is a Construction Company, and construction work is considerably a very dangerous job and workers need to be attentive all the time at the construction site. Safety at work is employer's biggest responsibility. If an accident happens due to Larry's drinking, it can hurt him or any of his fellow co workers. In that case employer can be held directly or indirectly responsible and employee can still collect workers compensation. Court can say that employer could have avoided this. Therefore, it is in employee's best interest to start inquiring the issue to avoid any unwanted incident. Workers compensation is not the only issue here, there is also negligence law (Story2009 & Power Point).
Not only other workers but manager himself also smelled alcohol on Larry too. This gives manager an opportunity and reasons to confront the employee. However, manager needs to play it safe. He cannot jump into conclusion that Larry in fact drinks at work because he smells like it. We have to take this fact into consideration that Larry has never been caught drinking at work. But, there must be steps that managers should follow at this point. Manager can follow discipline approach like counseling. If the employer suspects alcoholism, manager must inform the employee of counseling services as well.
Alcohol testing and drug testing are used by many employers, especially following an accident or some other reasonable cause. There are many types of drug testing like urinalysis, radioimmunoassay of hair and fitness-for-duty. These tests can distinguish individuals under the influence of alcohol use or other drug. Larry can also be given fitness-for-duty test, which is usually used to detect work performance safety problems before letting him go to construction area. It is well known that Larry has drinking problem. It is also mentioned that manager knows that Larry has unstable family life. A variety of emotional health issues that may arise at work must be addressed by the employer. Many emotional/mental illnesses are considered under disability under the ADA. Beyond communicating with the employee and providing work accommodations, employer can contact HR staff, which can intervene and suggest outside sources for employee though implemented employee assistance programs (Course Book pg. 478-479).
To avoid any risks, manager can make sure that Larry and all other workers know the company policy on alcoholism and other drug usage. The goal of this phase is to heighten employee awareness of their company policies and rules. The policy should be written in detail and it should be distributed to every employee and also made sure that everyone reads it too. The way manager reminded Larry of company policy might be very affective as it was oral reminder (Story, 2009, Course Book pg. 509& Power Point).
TO WHAT EXTENT SHOULD THE MANAGER GO TO TRY TO CATCH LARRY DRINKING ON THE JOB?
Manager cannot go too far to catch Larry drinking as it could result in invasion of privacy. However, manager can adopt different and safe routes. Manager can put Larry in job rotation. If Larry does not have a limited job description, then manager can make Larry work in the office for few days in order to observe his behavior closely.
There are safe routes that manager can follow. As being a private employer, company can conduct a drug testing of current employees, under random testing of everyone at periodic interval. This test is reasonable because construction working is a dangerous job and safety sensitive positions argument can be used here. This was Larry can be tested and because policy is for all employees, it is safe route to follow. It will be a fair treatment as well (Power Point, Dimoff, 2000 & Course Book pg 510).
WHAT ACTION, IF ANY, SHOULD THE MANAGER TAKE IF LARRY CONFESSES TO BEING AN ALCOHOLIC?
Alcoholism is protected under ADA. It should be made sure that the individual poses no risk to the health or safety of others. First employee will offer counseling to the employee, and if alcoholism continues then employer can offer Larry to get some time off and get treatment. Proper accommodation should be made which would help Larry.
Reasonable accommodation that manager may offer Larry may include proper counseling, periodic alcohol or drug testing, modification of job responsibilities and/or increased supervision. If Larry does not work on his alcoholism problem even after proper accommodations, previously talked about, then, manager should perform progressive discipline which is proper application of corrective measures by increasing its degrees, Larry can be motivated to change his behavior. Manager can make Larry sit and explain the situation to him that he is very good employee and company appreciates his hard work and contribution. He can be told that company expects him to become a role model to other employees because he is a senior worker and has very good performance record. This kind of conversation can motivate employee improve his situation (Course Book & Power Point).
DOES THE MANAGER PRESENTLY HAVE SUFFICIENT PROOF THAT LARRY IS WORKING UNDER THE INFLUENCE OF ALCOHOL?
Not one but many workers have noticed Larry's alcoholic breath. Manager also himself smelled alcohol on Larry's breath. There are chances that Larry might be working under the influence of alcohol but there are good enough chances that it might not the true. It is also mentioned that Larry's work performance was very good even during the rumors of him drinking at the job. Article does not tell us about the full conversation between manager and Larry. I wonder if manager have asked Larry about the time when manager by himself smelled alcohol on Larry's breath and weather Larry had any reasonable explanation for that, based on Larry's response to it, manager could make a good decision. If an accident has not happened yet, then it does not mean it will not happen in the future (Course Book & Dimoff, 2000).
CRITIQUE THE FIRM'S ALCOHOLISM RULE:
Drug policy is very brief. Company policy should clearly spell out consequences of using drug and alcohol at work or working under the influence of drug or alcohol. Company should keep record of every route that it follows while dealing with suspicious behavior of employees. Company might want to put a warning system into place. Article does not say anything weather manager has documented Larry's conversation with him. Even casual conversation like why Larry buys two cokes every day, should be documented as a warning. Even if manager suspects' driver of drinking in company truck, manager needs to make sure he does not drive that truck under influence of alcohol use. The discipline rule system of the company only states that working under influence of alcohol or drinking alcoholic beverages will result in dismissal. Policy statement should clearly state what actions will be taken towards employees who are under suspicion of using alcohol beverages at work. This should include drug testing requirements too.
In order to deal with drugs in the workplace, company should write a clear and thorough company policy on drugs, including drug-testing procedures. Implementing a pre-employment drug-screening program can substantially help the company. After implementing a policy, communicating the policy to all employees via a live or audiovisual presentation is a crucial part of the process. It is very important that every employee knows and understands the drug related policies. As we have mentioned earlier there should be a thorough investigation into reported drug usage by an employee and company should document all the signs, evidences and conversations with the employee about them. If there is a clear cut policy in placed, you will know what you next step will be after you confront the problem employee (Dimoff, 2000 & Course Book).
REFERENCES:
Timothy A. Dimoff,"How to Recognize Substance Abuse," substance abuse at work, Chap.10, Css Pub Co: March 2000.
Quendra B. Story, "Employee draining at work," JLC: The journal of light construction, Issue: November 2009.
Related Topics