Speech on Satire – "Family Guy"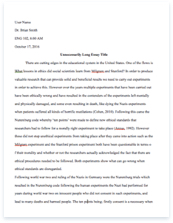 The whole doc is available only for registered users
A limited time offer! Get a custom sample essay written according to your requirements urgent 3h delivery guaranteed
Order Now
1. Satire is a literary technique of writing or art which principally ridicules its subject, often as an intended means of provoking or preventing change.
2. The text I have chosen for this speech is and episode of "Family Guy". "Family guy", much like "The Simpsons", is a satire on the middle class society of America. Some could go as far as to say that family guy, to a certain extent is a parody of The Simpsons. For those of you who do not know what family guy is, here is a brief over view.
3. "Family Guy" is an animated television series set in the town of Quahog, Rhode Island. The title character is the head of an Irish-Catholic lower-middle class family, frequently beset by the consequences of his antics. As a situation comedy, the premise closely mirrors that of The Simpsons, but the delivery of laughs is brought about quite differently.
4. Brief cutaways and flashbacks to various points in history, geography, and reality involving the characters and their ludicrous actions are a staple of the show's unique brand of humor. Seth MacFarlane, who voices many of the characters, created the show.
5. The show revolves around the adventures of Peter Griffin and his family. Peter is an incompetent production line worker at a toy factory and a bumbling, drunken father, yet still a dedicated family man. His wife, Lois, is a stay-at-home mom/piano teacher and the daughter of wealthy socialites. Their children are the socially awkward and
6. status-conscious, Meg, the mentally slow, yet artistically gifted Chris, and the diabolically super-intelligent baby Stewie. The family also lives with an intelligent, cynical, alcoholic, talking dog named Brian.
From this description it is easy, again to a certain extent, to see how family guy is a parody of the Simpsons,
7. each main character in family guy can be mirrored in a certain way in the Simpson's, the similarities are subtle yet still convincing.
The particular episode of family guy I have chosen is, "I never met The Dead Man" Basically in this episode Peter teaches Meg how to drive, but on the way home, Peter crashes into a satellite
8.dish and knocks out cable TV in Quahog. He tells Meg that if she covers for him, he'll buy her a car. Peter now has to get used to life without television, but starts to go crazy. Lois finally gets him to make sense of the situation, and tells him he should use this time to spend with his family. Unfortunately Peter starts to drive his family mad with his wanting to go out with them all the time.
9. Family Guy leans more towards comedy, however it is he underlying storylines and plots, which relate it, back to satire. In "I never met the dead man" the thing the producer is ridiculing is the fact that people watch too much TV and that as a result of TV being destroyed people would go crazy. McFarlane Is trying to subtly change the way in which society views television.
10. To get the message across, MacFarlane uses a number of different satirical and comedic techniques the main ones including, Exaggeration, Burlesque and Parody.
11. Family Guy as a whole uses exaggeration to full effect in most episodes as a form of humour. However in this episode, exaggeration is used when peter goes crazy and makes his own TV. Would some who hasn't watch TV for a week really go that crazy? It is clear that exaggeration as been used to reinforce the point that people should really spend more time with family then watching TV.
12. Burlesque or use of mocking, is also used extensively in the Family Guy Series. In "I never met the dead man" The producer mocks society in regards to people spending to0 much time with watching TV with hope to reform the morals of society so that it does not rely so much on Television.
13. Maybe the most obvious parody in the episode is that of William Shatner. McFarlane mimics William shatner, the famous actor from Star Trek, with comedic genius. Even if you are not aware of who Shatner is you still find the parody of him funny which is in this episode the main point.
14. Family Guy, like many other animated sitcoms, is an issue of taste. Some may argue that it is not a comedy and it is not a satire, but I believe it is.
Related Topics