Special Education Entitlement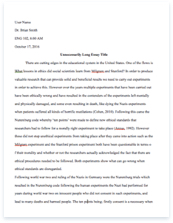 The whole doc is available only for registered users
A limited time offer! Get a custom sample essay written according to your requirements urgent 3h delivery guaranteed
Order Now
There is a much higher rate of youth with intellectual disabilities in the juvenile justice system than in the general population. In 2000, the Office of Special Education Programs (OSEP) reported the commonness of disabilities among school age children in the United States as 9%, compared with a conservative estimate of 32% in the juvenile justice system (Stenehjem, p. 2005). Youth in correctional facilities who received special education before their incarceration is at least three to five times higher than youth in public schools have an intellectual disability (Kvarfordt, Purcell, & Shannon, 2005).
An intellectual disability is significant limitations in intellectual functioning and in adaptive behavior as expressed in conceptual, social, and practical adaptive skills that originates before age 18. The term disability is an umbrella term for limitations in human functioning (Wehmeyer et al., 2008). Human functioning includes all life activities, body structures and functions, personal activities, and functions. Wehmeyer et al. (2008) explain the multidimensional model of human functioning encompasses intellectual abilities, adaptive behavior, health, participation, and context.
Burrell (2000) finds that incarcerated youth confined in institutions have an incredibly low level of functioning in regards basic living skills for living in the community. About one third of inmates are unable to perform tasks as locating an intersection on a street map, or identifying and entering information on an application. Only about one in twenty can do things such as use a schedule to determine which bus to take (p. 10). It is evident that youth with disabilities need extensive specialized support in order to enhance their abilities to make every day choices.
Special Education Entitlement
In 1975 the federal government passed the Individuals with Disabilities Education Act (IDEA) which authorizes federal funding to states to provide early intervention services for infants and toddlers with disabilities and developmental delays and special education services to school-aged youth with disabilities. There are several requirements such as states and local school districts must offer free, appropriate, and inclusive public education to all children with disabilities from age 3 to 21. States and school districts must identify, locate, and evaluate children with disabilities without regard to the severity of their disability to determine the need for special education and related services. Once a child is identified as having a disability, an Individualized Education Plan (IEP) will be created describing the youth's specific educational and service needs and they must be educated in the least restrictive environment. While the IDEA is a federal law, the statue allows discretion and flexibility for many of its components (Lipkin & Okamoto, 2015).
Government special education services in public school programs apply to schools in juvenile detention programs. Although youth with disabilities in correctional facilities have the same rights to special education services under the IDEA 1997 as students in public school settings, numerous obstacles present regarding youth actually receiving those services. Scott et al (2002) indicates that the requirements of federal law and regulations conflict with the realities of the facilities. Correctional facilities have goals of rehabilitation and punishment and the philosophy can take priority over the educational needs of a child.
Characteristics
Studies indicate that there tends to be characteristics of juvenile delinquents that require a range of human services including, special education, mental health interventions, and child welfare services (Scott et al., 2002, p. 534). There are early indicators that may lead to more risk-taking behavior amongst youth. Also familial and cultural influences may also contribute to juvenile delinquency.
Behavior. Researchers have identified demographic and behavioral characteristics of youth that contribute to their involvement in the justice system. Studies indicate that specific disabilities (attention deficit hyperactive disorder, learning disabilities and emotional and behavioral disorders significantly increased the risk for delinquent behavior (Scott et al., 2002). Deficits in executive functions have also been linked to impulsivity and delinquent behavior (Carroll, Hemingway, Bower, Ashman, Houghton, & Durkin, 2006). Youth's inability to regulate self-control is also found to lead to more risk-taking behavior.
Violence exposure. Ko et al. (2008) explain that violence exposure is associated with decreased intelligence quotient (IQ) and reading ability, lower grade point average, increased absence from school, and decreased rates of high school graduation.
Foster care. Children in the child welfare system, especially those in foster care, have a higher prevalence of mental health problems than the general population (Ko et al., 2008, p. 397).
Family stresses. Living in poverty or single parent home has been found as contributor to delinquency. Inadequate parental supervision (laidback or inconsistent parental discipline), tough family interactions (physical abuse, substance abuse (self or family), living in a high crime community, and criminal or delinquent relatives or peers were also found to be characteristics that could effect delinquent behavior (Scott et al., 2008). Low-income and ethnic minority youths are particularly vulnerable to the adverse effects of trauma because they disproportionately experience violence and academic failure (Ko et al., 2008).
Gender. Over 80 percent are males and that 40% of youth in detention centers are African American (Burrell, 2000).
Transition age. There is a large number of transition age youth involved in the juvenile justice system. It's important to be aware that transitioning and making decisions is a contributing factor. There is significant changes in educational, vocational, and relational roles including reduced family influence and changing social networks (Zajac, Sheidow, & Davis, 2015).
Related Topics