Special Ed Class Observation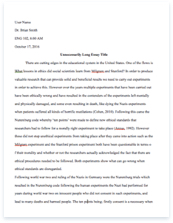 The whole doc is available only for registered users
A limited time offer! Get a custom sample essay written according to your requirements urgent 3h delivery guaranteed
Order Now
Special Education classes have always fascinated me. I was always left in awe with the kind of patience that its teachers and mentors have in dealing with the students. When I was finally given the chance to observe a special education class, I was ecstatic. Finally, my dreams of witnessing this one of a kind interaction would be a reality.
            As I learned about the experience, I was very excited. I have worked with children with disabilities before, so I basically had an idea of how to deal with them. I taught two autistic boys how to swim, and I was also a volunteer for the Special Olympics. Working with these special children made me feel very competent as an educator.
               The classroom set up of a special education class was a lot different as compared to a normal class. In this class, there were fewer students, and chairs were not lined up perfectly. For this set up, the chairs and tables were strategically placed in the manner wherein the students would be able to concentrate with their studies. The time spent in school is also shorter as compared to a regular school to give way to the attention span of these special children.
   For this particular class that I have observed, there were three students. Landri was seven years old, and was autistic. Initially, she was mainstreamed in the Kindergarten class twenty minutes a day. Until now, she is not potty trained, so her teachers are working hard to teach her this simple but important deed. Landri has using Picture Exchange Communication (PEC) for a couple of years now, but her teachers said that there has not been much progress with her for the time being. The only picture that she correctly answers all the time was that of a Koosh ball. She adores the item very much, leaving the teachers clueless as to how she can identify the picture all the time, as compared to the other pictures.
     Landri also uses the STAR Program for Autistic Children. She is able to match the correct objects with each other, but unfortunately, she cannot match colors. While studying, Landri had to be buckled to a chair so that she could remain seated, for she is fond of standing and running around the room.
            The second student I noticed was Gretta. She was eight years old and was diagnosed with Rhett's Syndrome. Unfortunately, she was on the last stage of the disorder, causing her to seize frequently. It was saddening to know that she cannot walk nor stand, and can sit only on the floor. She feels comfortable rocking her chair back and forth, with the teacher taking her hand and helping her play with a toy. When Gretta gets excited, she rocks her chair faster, and the teacher then takes her out of her wheelchair, allowing her to lie down on the floor and do her exercises. Gretta cannot chew properly, so her teachers are always cautious and watch everything that she eats to avoid any problems.
            The last of the three students in the room was Joseph. He is three years old and is also autistic. Like Landri, Joseph also uses the PEC system. Regardless of his disability, Joseph is very smart. He can put puzzles together and can communicate with others using pictures. During Learning Center Time, Joseph is mainstreamed into the Pre-Kindergarten class, where he is able to develop his skills more. I was attached to him more than the others for he was a very sweet boy. He showed me his affections by touching my cheek most of the time.
            From what I have observed, the teacher used the Promethean Board in helping the students learn. Although young, Joseph likes to go up to the board and use the pen. Landri on the other hand, loves to hold the pen in her hand while she stands on the chair. I have also observed that Landri loved holding things with her hands. All throughout the lesson, she was holding a string, and seems to enjoy the way things feel.
            Creativity was also one of the trainings given to the children. For art class, the children made a flower out of torn construction paper. Since Joseph was only three, I assisted him in tearing the construction paper. On the way to lunch, the teachers made the three children carry their notebooks. Landri was uncomfortable carrying her books, making me carry them at one point. I told her that she needs to carry them for herself. She only carries the notebook with her thumb and pointing fingers all throughout  the walk to the lunch room.
        As I look back at the four hours I spent in the classroom, I felt that the knowledge that I could impart to these children were vital in their lives. I was not only helping them with their growth, but also giving a part of myself to them. At times I pitied them, but I fought it out of my system for I knew that I should learn to accept these children for who they were.
    People with disabilities should also be treated with utmost respect, regardless of the way they interact with normal people. Like us, they are also human beings who have feelings. They may be mentally incapable to do the things that normal people do, but in other aspects, they shine. Some become very good with other, while others exhibit talents that are beyond our control.
As I ended the experience, I realized that it takes special people to work with special children, like Joseph, Gretta, and Landri. More energy and affection are needed to teach these three students, than it is to teach a classroom filled with eighteen students. Dedication, hard work and excessive patience are definitely the key factors in helping these children learn. I also believe that the little things that we teach these children in their lives are enough to inspire us in helping others more.
Related Topics