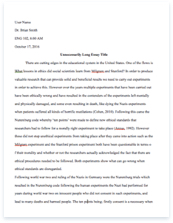 The whole doc is available only for registered users
A limited time offer! Get a custom sample essay written according to your requirements urgent 3h delivery guaranteed
Order Now
The topic I chose to discuss was women, and I took it upon myself to explore more about women's liberation during the years of 1967-1980. During these times there were significant changes being made in favor of women, as far as better opportunities that were just as equal as men, health changes that were placed in effect within the desires that they wanted, as well as employment opportunities being made available, other than sticking to the same routine in either completing or not completing school, which still left most women in the results of traditional roles which were motherly and wifely duties that they were forced to do continuously. This was until time wind down where groups of women gathered around to make differences in the burden roles that they were made to carry.
According to "Women's Liberation Movement" (2008) "In 1961, President Kennedy established the Commission on the Status of Women to examine issues related to women and to make proposals on such topics as employment, Social Security, education and tax laws. At this time, there was a growing interest in women's rights. Courts were also being faced with cases that dealt with the reproductive rights of women. The commission did find that discriminatory actions were being taken against women." Following this attempt there were several acts being put in place to show equality among men and women. As well as giving the opportunity to women to have a voice over their life and decisions they made along the way. With the movement of women having rights to employment opportunities following acts were followed to ensure equal pay amongst men and women.
These acts were very helpful along with groups being formed to protect women and their rights. In the New York Time's it discusses the women movement, and the distraught that was brought upon these women in order to seek happiness and equality. During the years of 1967-1980 the changes that were brought to the table were for the better of women as for equal opportunity, protection, and health related relief to help them withstand throughout their journey of life. With the help of great efforts being placed during those times women has just as much rights as those of men now a days legally, and with the protection with the laws that were passed we are able to go through life in the direction in which we choose in the United States of America.
Reference
Didion, J. (1972, June 30). The Women's Movement. The New York Times, p. . Women's Liberation Movement. (2008).
Retrieved from http://novaonline.nvcc.edu/eli/evans/his135/events/womenslliberation/womensliberation.htm
Related Topics