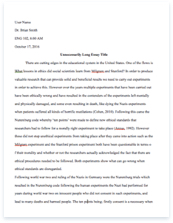 The whole doc is available only for registered users
A limited time offer! Get a custom sample essay written according to your requirements urgent 3h delivery guaranteed
Order Now
One of the leading causes of death among society is smoking. Most people start smoking due to high stress, peer pressure, and personal issues. People seem to believe that smoking relieves their stress and helps them cope. As soon as someone tries a cigarette for the first time, they could instantly be addicted forever. A cigarette has an addictive chemical in it called Nicotine. It is very hard to break the habit of smoking due to this addictive factor. Overall, smoking can cause lung cancer, strokes, and heart attacks.
One common effect of smoking is lung cancer. Doctors believe smoking causes lung cancer by damaging the cells that line the lungs. When you inhale cigarette smoke, which is full of carcinogens, changes in the lung tissue begin almost immediately. At first your body may be able to repair this damage, but with each repeated exposure, normal cells that line your lungs are increasingly damaged. Over time, the damage caused by smoking will activate abnormal behavior in your cells which then will cause the cancer.
Another common effect of smoking is heart disease. Chemicals in tobacco can damage your heart and blood vessels, leading to narrowing of the arteries. Carbon monoxide in cigarette smoke replaces some of the oxygen in your blood. This increases your blood pressure and heart rate by forcing your heart to work harder to supply enough oxygen. Forcing your heart to work harder can push it to its limits and ultimately cause a heart attack.
One last big effect of smoking are stokes. Smoking can cause the blood to clot and if the clot blocks the brain, it can cause a stroke. Smoking can increase the buildup of plaque in blood vessels that lead to the brain. Another way smoking can cause strokes is it can damage blood vessels. All of these things occurring could cause a stroke and could severely damage the brain.
Overall, smoking is a horrible habit that could lead to horrible health problems. Whether its cancer, heart disease, or having a stroke, smoking can impact someone's life forever. Damaging your body due to one nasty habit is not worth it. You can also hurt the people around you due to second hand smoke. Quitting a bad habit is very hard, especially when there are addictive chemicals involved, but killing your body your entire life is not worth one horrible habit.
Related Topics