Small Scale Compared to Large Scale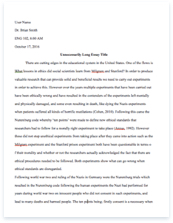 The whole doc is available only for registered users
A limited time offer! Get a custom sample essay written according to your requirements urgent 3h delivery guaranteed
Order Now
The types of experiments that may take place in colleges and schools around the world, differ in many aspects to experiments that although produce the same end product, are done on a much larger scale in industry. The aspects they may differ in are equipment, time taken, and many other things. In this report I will explain how and why laboratory and industrial scale differ using the example of preparation of aspirin. The first difference is that instead of weighing the 2-hydroxybenzoic acid on scales on a work bench in a beaker as you would in small scale, it is easier and safer to weigh it onto scales, in a plastic bag on the floor. This is easier and safer because the chemical is fluffy so it drifts through the air and could harm anybody who breathed it in. so if it is poured slowly and carefully into a bag then the bag stops it from fluffing into the air and harming anybody. Also the scales are on the floor so that you do not have to lift the large amounts of chemical as it is very heavy.
In small scale preparation of aspirin the 2-hydroxybenzoic acid would then be poured into a round bottom flask with 2 openings. But in large scale it is poured from the plastic bag into a large container that sucks the chemical through a tube up into a container suitable for the reaction to take place. Also the people working on the preparation in large scale will have to be wearing full body protective suits as the chemicals involved are harmful in such large quantities, whereas in small scale you would be wearing a lab coat, goggles and possibly plastic gloves as there is less of the harmful chemical so less danger of damaging yourself or others. Next the ethanoic anhydride will be added, in large scale, it will be taken from a tank through a tube which will transfer the correct amount, like a burette, into the tank containing the hydroxybenzoic acid. This is different to lab scale work as you would use a small burette to measure the ethanoic anhydride instead, as you would have less of the substance than in industrial scale. The agitating of the mixture will cause an exothermic reaction so it has to be cooled. In large scale this is done with a cool water jacket around the large container.
Once cool, anti-bumping agents are added and it is heated under reflux, this time with a warm water jacket. The heating and cooling is instead of adding a catalyst, as you would do in small scale, but during a large scale operation it is not safe to use a catalyst as you don't have control over the reaction. Sodium hydroxide would be the catalyst that would be used in small scale, this would work just fine for the small amount of chemicals that are present in small scale production of aspirin. The mixture is then filtered through a filter which is attached to the large container. This is all done without the aid of any human help which is easier and safer than pouring the mixture into a filter manually. The crystals are then dried and weighed, as shown in the pictures below.
This differs to small scale, to filtrate the mixture, it would be poured into a filter under vacuum and rinsed with cool distilled water to try and get rid of as many impurities as possible. The crystals would then be scraped off of the filter paper and put onto a pre-weighed watch glass, weighed again with the crystals on it, then put into a desiccator over night to dry out. So as you can see there are many different factors to consider when wanting to scale up the production of aspirin from lab to industrial size production. Most of the factors rely on safety measures, although others are due to practicalities associated with handling such large amounts of chemical.
Related Topics