Sirius XM Strategic Analysis Capstone Project Proposal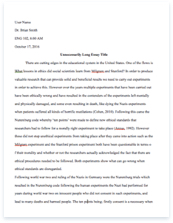 The whole doc is available only for registered users
A limited time offer! Get a custom sample essay written according to your requirements urgent 3h delivery guaranteed
Order Now
I. Introduction.
a. Target Organization. I plan to conduct a strategic analysis on Sirius XM, Inc. I do not have direct access to this company; however, I submitted a letter to the Executive Vice President and Chief Administrative Officer, Dara Altman, requesting access to requested information and data that may not otherwise be available. I will use information from the Sirius XM website, the U.S. Securities and Exchange (SEC) 10-K and associated reports for Sirius XM. I also plan to research as much relevant information as possible from peer-reviewed journals and other valid periodicals through the Capella University Library. In addition, I will research other valid online business journals and websites for information that is relevant to Sirius XM and the Broadcasting – Radio industry.
I chose Sirius XM, Inc. to conduct an analysis because of the consistent evolution of the company's products and services. This company has unique products and services, but there are indirect competitors. It is vital for Sirius XM to consistently evolve.
b. Nature of the Project. I plan to conduct a thorough strategic analysis of Sirius XM, Inc., examining and evaluating the functional operations environment of the company. The study will also include the functional areas of marketing, finance, and administration. The purpose of the study is to examine, analyze, evaluate, and provide feasible courses of action recommendations for enhancing the efficiencies and effectiveness of current and future business operations.
This study will use the collective analysis of all the functional areas of operations to discover potential gaps in the integration of the knowledge, skills, and attitudes of each of the functions as well as the effectiveness and efficiency of the company's collaborative integration of the collection of the functional knowledge, skills and attitudes. This analysis will be used to assess and consider recommendations and proposals for the integration of concepts and ideas to cover gaps in efficiencies for current and future operations. The recommendations will be based on collected relevant data and information and will be presented for the purpose of enhancing the company's operations and net profit.
The analysis will be conducted using Porter's five forces model analyzing the present and future of the industry's competitiveness and profitability (Ormanidhi & Stringa, 2008) and the balanced scorecard, measuring performance from four different perspectives that consists of one financial measure and three non-financial measures (Kaplan and Norton, 1992) (as cited in Bento, Bento, & White, 2013). The study will provide relevant recommendations using the framework of Porter's three strategies of lower cost, differentiation, and focus (Ormanidhi & Stringa, 2008).
c. Rationale for the Project. I am a Sirius XM customer, and I was an XM customer prior to the merger of the two companies. I have always been intrigued by satellite technology, not because I am a technical guru, far from it. Before these companies emerged, I actually thought about how nice it would be to travel and be able to listen to the same radio station for the entire trip. For instance, if I wanted to listen to a football game on the radio while traveling, I would be able to listen to the entire game no matter how far I traveled. The technology, research and development were already in place for the establishment of satellite radio, and I was excited about this new opportunity that was going to significantly change the automobile travel experience.
Although Sirius XM has a variety of competitors, the company has a unique and somewhat exclusive product. In fact, the approval of the merger between Sirius and XM was a 16-month process because there was speculation that the merged company would become a monopoly. Through the merger process, the two satellite companies also had to deal with FCC violations involving interference complaints and land-based signal repeaters (Dunbar, 2008).
Sirius XM is competing in an industry that is consistently changing. This industry is very dependent on emerging technologies; therefore, flexible and responsive strategies are critical to sustained success. It will be a challenge to determine exactly what elements of each strategy should be used, but the amount of competition is certainly not constant. There are always new and emerging competitors in every industry. It is necessary to integrate strategic analysis tools, such as Porter's five forces model, that focuses on competition with emphasis on cost leadership, differentiation, and, or focus on a particular segment (Kaplan and Norton, 1992) (as cited in Bento, Bento, & White, 2013).
It is also necessary to consider all financial and non-financial elements of operations, such as the balanced scorecard. Certainly a focus on the financial perspective of the company is important, but the company must also focus on the customers' perspectives, the internal business processes (how efficient is the company?), and certainly learning and growth. Expertise of the relevant products and services of a given industry is critical to sustainability.
As with all companies that provide technology-based products and services, Sirius XM has to maintain a perpetual state of research and development in order to remain relevant and competitive. In an environment that involves consistent change, there is a critical need for the operations to also consistently evolve. Consistent change can create gaps in operational efficiencies and functional area collaboration. Sirius XM is progressively enhancing its product and considering the development of new products. This study will address those processes and analyze the company's current market and the potential new market opportunities.
II. Outcome Demonstration
a. Apply Foundational Knowledge. In order to apply foundational knowledge of the theories, models, and practices within the industry, this project will include an assessment of the company's current and recommended service differentiation, vertical integration, cost advantage, and overall description of their business model. The study will analyze the current operations functions of the company and provide relevant courses of action recommendations to improve efficiencies that will effectively accommodate growth and change. The study will examine all of the functions that contribute to the foundational operations of the company. This will involve specific analysis of the company's strategies and measuring or evaluating the individual functions to ensure they are in alignment with the strategies.
This evaluation may result in recommendations to adjust the strategies and the functions, particularly keeping a focus on a fluid and flexible arrangement for accommodating opportunities for growth and change. For instance, the processes that are currently in place may be suitable for the current market and provisions of products and services; however, if the current processes are not readily adaptable for growth and new opportunities, the company may face internal stagnation, as well as risks from competition. Because of rapid technological advancements and innovations, competition in the industry will increase and new industries will emerge. It is, therefore, vital to have fluid and flexible strategies and operations environments to achieve and maintain a competitive edge. This study will be accomplished through the application of the writer's foundational knowledge of a company's functional areas of operations.
This foundational knowledge has been acquired through participation in rigorous coursework in the Capella University MBA program. This foundational knowledge is also supplemented by an extensive career as an officer in the U.S. Army. Although, the U.S. Army is not a corporation, there are many parallel applications to managing in a corporate environment. While serving on active duty, this writer worked extensively in the areas of: strategy, operations, human resources, logistics, and budget management. This experience and education have provided an exceptional foundation of knowledge for conducting a thorough strategic analysis and providing optimal recommendations.
b. Integrate Information. This strategic analysis will involve gathering and compiling all available and relevant information and data for Sirius XM, Inc. The collection of information and data will be analyzed and evaluated for efficient integration and utilization of the core functions of the company's operations. This analysis and evaluation will be applied to proposed recommended strategic actions for the company to consider for enhancing future operations. This study will emphasize proposals that allow for maximum flexibility and adaptability. Therefore, it is necessary to obtain and retain the optimum integration of resources and functions. Since Sirius XM, Inc. provides technological products and services, there will be a consistent process of evolving these products and services in order to maintain a competitive advantage.
This writer will incorporate the acquired relevant information, knowledge, skills, and attitudes gained from the variety of courses in the Capella University MBA program. This study involves analysis of all of the functional areas of operations and the integration and synthesis of these functional areas for Sirius XM, Inc. This acquisition of new information, which encompasses all functional operations in a corporate environment, provides this writer with useful resources to accomplish effective analysis and provide productive recommendations.
c. Lead and Collaborate. This study will examine Sirius XM's collaboration with key suppliers to maximize product and service quality and reliability. The study will analyze the strength and reliability of business relationships and determine if there are any gaps in operational obligations or operational efficiencies. It will also evaluate the company's collaboration efforts with stakeholders. The study will evaluate the effectiveness of the communication processes with all stakeholders. It will examine whether the company is providing transparency in reporting information about the present and the future. It will also examine the company's efforts in building loyal, long-lasting relationships with stakeholders.
This study will provide optimal recommendations after compiling data, information, and conducting a thorough analysis of operations. These recommendations will include opportunities for Sirius XM, Inc. to internally collaborate effectively and efficiently in all functional areas of operations and externally collaborate with all relevant stakeholders. The recommendations will also include ideas and opportunities for the company to maintain innovative leadership in the industry.
The analysis and recommendations will be based on all available information. In addition to obtaining information about Sirius XM through online resources, this writer has forwarded a request for additional access to the Executive Vice President and Chief Administrative Officer for accomplishing an effective and relevant study. With or without the additional access of information from the company, there may be gaps when compiling the information and data. This writer will provide thorough analysis and relevant recommendations from all of the information obtained. This writer will communicate the specific gaps in the study and provide the most relevant information possible through the application of acquired knowledge, skills, and attitudes from MBA coursework and professional experience.
d. Integrate Principles. This study will provide an in-depth analysis on Sirius XM's integration of ethics and integrity. Zachem and Palmer (2012) aptly address business ethics and integrity. "Economics, business, and management theory is built upon a rather sophisticated ethical framework, relying on normative ideals— one ought do that which is good, respect that which is right, and act virtuously— to justify and promote a complex variety of market transactions" (p. 11). The study will evaluate Sirius XM's policies and related actions in dealing with matters of integrity and ethical dilemmas.
This information will likely be derived from relevant case studies or published articles. This writer will work diligently to gather recent information on Sirius XM's actions regarding matters of integrity and ethical dilemmas and evaluate that information using the company's published policies and procedures. The study will also examine Sirius XM's involvements in Corporate Social Responsibility programs and evaluate their impact. The study will consolidate all of the collected information on integrity, ethics, and Corporate Social Responsibility and provide relevant recommendations for improvements. III. Data Sources.
For this study, the current availability of data sources will consist of a variety of online sources. Relevant financial data will currently be derived from the most recent U.S. Securities and Exchange Commission (SEC) Annual 10-K Report for Sirius XM, Inc. and a collection of reliable information from reputable financial sites including Yahoo Finance, Forbes, and SiriusXM. The SEC Annual Report provides a wealth of information on each company. This information includes comprehensive financial data, but it also includes information on strategy and operations, new developments, competition and risk factors (SIRI-2013, 2014). Yahoo Finance provides current financial data on publicly traded companies. In addition to providing annual income statement and balance sheet data, this site provides quarterly reports and financial ratios data.
Yahoo Finance also provides industry comparisons, which is very useful for detailed analysis. Forbes.com provides current and trending stories on a variety of relevant content including: information on innovation, investing, technology, and leadership. SiriusXM.com provides current corporate information on the company (SiriusXM Radio, n.d.); however, this information is limited. This site is primarily designed for customers. In addition to the above mentioned sources, this study will include a collection of recent articles and studies relevant to Sirius XM and the industry in which it operates.
These data sources will provide very reliable and useful information for a thorough analysis of Sirius XM, Inc. If this writer is granted any level of direct access to unpublished information and data on the company, this study will contain more detailed data analysis. Gaps in data may exist if direct access is not granted, but the gaps will be minimal and will not affect the reliability of the analysis process. The collection of available and reliable data sources is sufficient enough to support a thorough analysis of Sirius XM, Inc. IV. Projected Timeline.
This capstone project timeline incorporates planned work efforts and assignments for the completion of this product beginning with the completion of this proposal until the submission of the project and presentation. The only barriers to completion of this project will be the lack of availability of critical information; however, this writer will continue the project and provide suitable analysis and recommendations from reliable and relevant information and data sources. This writer is an exceptional planner and manager of his time, so strict adherence to the timeline and assignment feedback from the MBA6900 course instructor will be top priorities.
References
Bento, A., Bento, R., & White, L. (2013). VALIDATING CAUSE-AND-EFFECT RELATIONSHIPS IN THE BALANCED SCORECARD. Academy Of Accounting & Financial Studies Journal, 17(3), 45-55. Dunbar, J. (2008, July 25). FCC Approves Sirius-XM Merger In 3-2 Vote. Retrieved July 31, 2014, from http://www.huffingtonpost.com/2008/07/26/fcc-approves-sirius-xm-me_n_115093.html Ormanidhi, O., & Stringa, O. (2008). Porter's Model of Generic Competitive Strategies. Business Economics, 43(3), 55-64. SIRI- 2013.12.31 -10K. (2014, January 31). Retrieved from http://www.sec.gov/Archives/edgar/data/908937/000090893714000006/siri-20131231x10k.htm Welcome to the world of satellite radio – SiriusXM Radio. (n.d.). Retrieved August 16, 2014, from http://www.siriusxm.com/ Zakhem, A., & Palmer, D. (2012). Managing for Ethical–Organizational integrity: Principles and processes for promoting good, right, and virtuous conduct. New York, New York, USA: Business Expert Press.
Related Topics