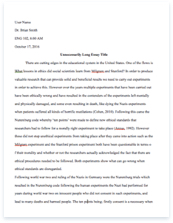 The whole doc is available only for registered users
Pages: 3
Word count: 618
Category: Art
A limited time offer! Get a custom sample essay written according to your requirements urgent 3h delivery guaranteed
Order Now
September 20, 2013
Shaping By Expression
Growing up we are all taught right from wrong, good from bad, pretty from ugly. We are also taught stereotypes and inappropriate judgment. Our parents and teachers tell us to express ourselves but we ultimately express what we've been taught, or what our enslaved minds have been trained to think. We have been taught to think that people covered in tattoos must be dangerous, and that girls who get drunk on a weekly basis must be trashy. The two images written about in "Who Is This Man, and Why Is He Screaming," by Rachel Kadish and "Veiled Threat: The Guerilla Graffiti of Princess Hijab," by Arwa Aburawa, are the perfect examples of how some of us have been able to think differently from our society and work towards change. The way we express ourselves shapes us. The way we help others express themselves shapes our society.
Rachel Kadish talks about her cousin Galai's image and how it was spread worldwide thanks to the internet. Galai's image plays a huge role in how society can change. His image is the true definition of art. It can be interpreted in a million-and-one ways. It was used to express "protest, rage, despair, and fist-pumping populism," in multiple countries around the world (Kadish 261). The black and white contrast of the picture made the story behind it mysterious, therefore letting people use their own opinions and current feelings to make a story for it. The physical aspect of the image does the same. Is he really yawning, or is he screaming at the top of his lungs? Is he mad at himself or the world? Is he mad at all? All of these questions, and dozens more, are considered when analyzing his image, but the conclusion is ultimately determined by our feelings and the situations we might be encountering at the moment. The people of Iran used his image to express their anger toward the government; they interpreted his art as an angry man yelling at the heavens in rage, (Kadish 261). Images like these make it easier for people in our society to express themselves and break the cycle of what we "should and shouldn't say."
Princess Hijab's images do the same thing as Galai's, but in a very different way. Aburawa explains that Princess Hijab isn't trying to be pro or anti anything. She's trying to make society understand that hijabs are a choice, not a command. She uses art, graffiti to be exact, to mask the faces of models with hijabs in advertisements in a Paris subway. She explains that she wants society to change its stereotypical ways so that we may one day treat everyone alike even if we are completely different. PH says that her University days were filled with people using her background and religion to explain why she did or didn't do something, (Aburawa 30). That's the stereotypical society. She wants to show us how to change stereotypical society. She wants to teach us through her art the real meaning behind the hijab, but most importantly that we don't need to be so judgmental of the people who are different from us.
Art is a form of expression whether it is through music, painting, or writing. We are always able to interpret art according to our personal views. Art tells us enough so that we can begin to for opinions but it also leaves enough unsaid so that we can form stories and explanations for each piece of art. Society is taught a lot through different forms of art and we also change according to what we interpret each piece to be or express.
Related Topics