S.R. Nelson's Steel Drivin' Man Reviewed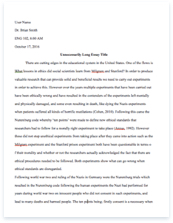 The whole doc is available only for registered users
Pages: 7
Word count: 1541
Category: Prison
A limited time offer! Get a custom sample essay written according to your requirements urgent 3h delivery guaranteed
Order Now
Introduction
Scott Reynolds Nelson examined the life and death of a Mr. John William Henry in the insightful book titled, Steel Drivin' Man – John Henry, The Untold Story of an American Legend. According to Nelson, John Henry was from Elizabeth City, New Jersey, turned 18 in 1865 and stood five feet one and a quarter inches when he first appeared in Prince Georg e County, Virginia in April of 1866 (44). Here, as Nelson began his journey to the truth behind the real John Henry, he encountered many mysteries. Based upon my understanding of Nelson's research compiled in his book, Steel Drivin' Man, this paper will explore only three mysteries that Nelson encountered along the way and how he confronted them.
I will examine the circumstances surrounding John Henry's incarceration, the events that led him to drive steel and finally, the cause of his death. In doing so, I hope to gain a deeper awareness of the life and times of John Henry, whether he be fact or fiction, which can qualify a deeper appreciation of the triviality of some of today's commonplace woes.
Nelson was unable to find any earlier recordings of John Henry until his arrival in Prince George County after the Civil War when the land was still in upheaval (41). John Henry was introduced by way of the criminal justice system. What crime had John Henry committed to deserve this ill fate? In April of 1866 John Henry was arrested for stealing from a grocery store (46). He was arrested for "housebreaking and larceny" and later sentenced to ten years in the state penitentiary. How and why was John Henry's crime of petty theft enhanced to such a degree?
The Freedman's Bureau was established in 1865 to protect the rights of the newly freed blacks in the South and oversee prosecution on criminal matters. Although this seems like it would have been ideal for the former slaves, an invariable hunger for power created a less than favorable outcome (47). At this time, there were virtually no courts or law. The Freedman's Bureau became the rule of the land for a period. (47).
To make matters worse, John Henry was convicted in 1865 when politics were at a peak with regard to race relations. In attempt to maintain control over Blacks, a new set of laws were written known as the Black Codes which limited the rights of the black people and segregated them from the Whites. There were many punishments that freedmen were subjected to if they didn't follow the harsh codes that were stacked up against them. The Black Codes were essentially created as tools for the Whites so they could maintain control over the Blacks. Nelson notes that "sentencing was especially harsh" (53).
While John Henry awaited trial, the Civil Rights Act of 1866 was passed over President Johnson's veto, which prohibited black laws. Yet still, the final decision of one's fate is always narrowed down to only one person—the judge. Nelson described John Henry's Judge, Justice Edward Chambers, as angry and a vivid supporter Johnson (55).
Judge Chambers was known for his elaborate speeches where he would denounce the radicals of the North and perhaps criticize the Civil Rights Act. Judge Chambers would then proceed to open the Court for John Henry (56). The prosecutor was no stranger to the political games either. He knew a charge of burglary was undemanding on its face. Nelson explains how the prosecutor "had the court clerk cross out "burglary" on the indictment and replace the charge with "housebreaking and larceny" thus allowing a more severe sentence (56).
In 1866 John Henry had committed petty theft and was sentence to ten years in Virginia State Penitentiary by simply being the wrong color, in the wrong place, at the wrong time (58). The political temperature served as the catalyst that led to his demise. Measures such as the Freedman's Bureau and the Black Codes were designed to keep Blacks as close to slavery as possible. John Henry paid the ultimate price and most likely never saw another day as free man.
One can surmise that John Henry was dubbed the Steel Drivin Man because he did just that—drive steel. Nelson wondered about how he became acquainted with driving steel (59). What circle of events transpired to bring the hammer to John's hand? Nelson found that John Henry arrived at Virginia State Penitentiary in November of 1866 and was named prisoner number 497 (59-60). Once can assume that he had to acclimate himself to his new environment much like any other man in similar elements.
But outside of the prison walls, political tensions continued to ensue. A power struggle between the North and the South worsened. In response to the newly passed Thirteenth Amendment which ended slavery in all of the Southern states, the Fourteenth Amendment was passed allowing equal protection under the law, no matter what race, religion, sex, or status. Meanwhile, the population of the prison continues to increase. Nelson explained that although the Black Codes were formally eliminated, however; the prison population continued to rise with an alarming ratio of almost ten to one, black to white (63).
The prison was unable to support itself the way it once had (63). Burnham Wardwell was appointed Warden of the Virginia State Penitentiary in 1868 and was appalled by the conditions of the prison. He immediately began to make improvements (66). Convict leasing became the avenue to remedy the monetary setbacks that had been experiencing. The prison could lease the convicts to local industrialists who would pay minimal rates. According to Nelson, John Henry left on December 1, 1969 with fourteen ot her men, fifteen blankets, and thirty rations (69). Thus, John Henry was introduced to driving steel on the railroads being a leased convict, property of the state of Virginia (72). "John Henry told the people,
'You know that I am a man.
I can beat all the traps that have ever been laid,
Or I'll die with my hammer in my hand,
Die with a hammer in my hand"(87).
I recall the tale of John Henry working on the railway with his oversized hammer told to me as a child. It was common knowledge that he died with a hammer in his hand. Nelson took a closer look at the facts to find that the children's tale may not have been too far off from the truth. He explained how Wardwell offered the prisoners to someone who had close ties to the C&O Railroad, Mr. Claiborne R. Mason, who "would drive more than a hundred men to their deaths as he finished the tunnels" (77).
The conditions in which the convicts toiled were treacherous on many different levels. In addition to the danger of rock slides, the dust that is produced while tunneling contains a mineral that is called silica which is lethal when inhaled (83).
When other workers would strike rather than work under those conditions, the imprisoned workers were forced to toil on. All for greed, the rich and powerful valued dollars more than lives (83). Nelson discovered that John Henry "disappears from prison records after 1873" (88). We will never know whether he was buried next to what was referred to as the white house, or if he suffocated due to silica poi soning or perhaps he escaped.
Nelson is certain that John Henry did not die inside Virginia State
Penitentiary and that his body was one of the many corpses that returned to the facility by rail (92). For many years, the most accurate depiction one could obtain of John Henry was delivered through verse. Ballads have been passed down generation by generation from the prison convict workers slaving away on the C&O Railroad to the miners battling it out with the politicians, even by means of our children through modern day cartoons and story books. Scott Reynolds Nelson offers a realistic perspective about a man that most likely did exist. Nelson can account for who John Henry was, how his life took the path it did and most likely even how he died. It is a sad story and an inspirational tale all the same.
The legend of John Henry is a much bigger chronicle—a triumph over adversity, a story of survival. In the era of Reconstruction, the African American population was forced to bear unprecedented persecution. The stories and songs about John Henry offered hope and perhaps even a bit of comfort. By reading Steel Drivin' Man – John Henry, The Untold Story of an American Legend, I have a gained a deeper insight to the suffering that many endured. It has opened up my eyes to the depth of pain that so many felt. I am grateful for my freedom, my family and yes, even my job. I expect we have all got hammers to swing and will until the day that we die, but if John Henry can do it, so can I.
Bibliography
Nelson, S.R. (2006). Th Steel Drivin' Man – John Henry, The Untold Story of an American Legend. Oxford, NY: Oxford University Press, Inc.
Related Topics