Running Head: Strategies for Continuous Stakeholder Involvement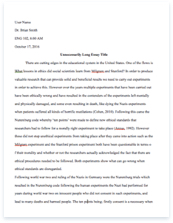 The whole doc is available only for registered users
A limited time offer! Get a custom sample essay written according to your requirements urgent 3h delivery guaranteed
Order Now
Stakeholders are one of the important element for successful completion of business projects. They play key role in continuous engagement of the projects and sometimes act as an important decision makers. Their role is simple and consistent among organization and sometime can change the total decision made by the CEO or business managers. Decision making is an important element and that can make the project successful or can lead to failure of the project. Financial performance of the company can directly impact on stakeholder's investment. As stakeholders are considered as huge investors and they need a solid evidence of the organizations performance and revenue generation. They can either invest or withdraw investments depending on the performance of project or overall fame of the organization.
Protecting them and securing their relations are important for the organizations and to do so there are some commitments to be made. Technology now a days considered as key tool for many organizations for effective engagement of stakeholders. Technology can be used in many ways and stakeholders may be worldwide serving the project. To engage with them effectively many organizations developing their own strategies using technology. "A broad spectrum of stakeholders has a direct impact on your core business, whether you like it or not. In today's increasingly interconnected world, organizations that foster a deep level of connection with their stakeholders are more successful in shaping that impact to their greatest advantage. That's why I call this "Strategic Relational Engagement" (SRE) – because adding the component of fostering meaningful relationships into your business can transform stakeholder fear and/or animosity into understanding, productivity and strategic impact." (Nadine B. Hack, 2017)
Better engaging with stakeholder delivers better consumer satisfaction and can meet user standards. This will in turn help the organizations reputation and improves revenue of the company. Stakeholder's engagement can be direct or through online depending on the geographic location of the company. There are some important aspects to be considered for effective stakeholder engagement and here are some of the important aspects discussed.
Conducting analysis on stakeholder: this is considered as one of the important element because many organizations has different levels of stakeholders helping company and projects. Due to this managers and project head may not know clear analysis on stakeholder. Because of this many problems occur and may result in failure of projects. Stakeholders need to be informed continuously regarding the project and business case need to be clear. Business partners and managers need to identify key stakeholders and need to be engaged for timely analysis.
Outlining the purpose of commitment: engagement with stakeholder becomes meaningful when they have clear vision of ongoing project and managers need to have clear idea about what their involvement is. Stakeholder engagement can define clear view about the project and give a scope on ongoing project. Some of the things that are discussed and analyzed in these meetings are policies, terms and conditions, development, campaigning and strategies. These things differ depending on the business and target market.
Technology and communication: technology and tools play key role in effective engagement of stakeholder. Sharing ideas, dealing with huge amounts of data and project management need proper analysis tools and they should be hands on to the stakeholders so that there will not be any problem when handling tools. "In order for a resolution to be successful, the stakeholder will need to be accountable for their past and future behavior and actions, in relation to their contributions, and how they impact the team and the project. Have the stakeholder assist you in coming up with some solutions that will enable them to re-establish buy-in and commitment to the project. It will also be important to ensure the solutions are implemented and measured, and do not change the desired goals and objectives of the business." (Alexander, 2015)
Walmart gives top importance to their investors by prioritizing them because more profits can lead to better engagement and better activities. Investors require higher profits and they are benefited if the company does well. And their consideration is customer satisfaction as customer play important role for revenue generation. They require better deals with lower rates and Walmart promises them with best deals and wins the trust.
Many organizations now a days are trying to maintain good relations with stakeholders. Depending on the organizations stakeholders can be employees, customers, investors, and end users. Many organizations are developing their own strategies in dealing with stakeholders and some of them were discussed in this analysis. My strong belief is that technology is going to play important role and data as a key element for the analysis. In future even stakeholders were picked up by the analysis and technology being front end. As we seen in above example of Walmart and its stakeholders. Stakeholder's commitment and continuous relation can help projects doing well and improves efficiency of the outcomes.
Related Topics