Rifle Hunting Vs. Archery Hunting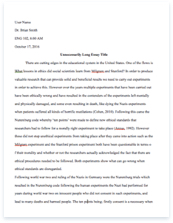 The whole doc is available only for registered users
A limited time offer! Get a custom sample essay written according to your requirements urgent 3h delivery guaranteed
Order Now
Each year in July hunters anxiously wait to find out if this is their year. The year that they get drawn for one of Arizona's big game hunts, and the weapon they will be using. In Arizona there are two main types of hunting. When examining big game hunting with a bow, and hunting with a rifle, one finds there are many differences in the preparation, and hunting techniques, you must use to have a successful hunt.
Before you go out on your big hunt the most important thing you must know is that if it is a rifle hunt, or an archery hunt. There are two totally different ways you must go about preparing for each type of hunt.
An archery hunt is the most difficult hunt. It requires a hunter to get closer to the animal for an accurate shot. With a standard hunting compound bow you can get an accurate shot within 75 yards, which requires you to take a few extra steps. First in preparing for the hunt it is strongly recommended that you scout the area in advance of your actual hunt. You will need to find out where the water holes, game paths and bedding grounds are. Some people like to use tree stands, which are stands placed high in trees, where hunters wait for their game to pass for a shot. When you return to the hunting grounds after your scouting trip, you will already know where the most logical place to find your animal, and a spot to place your tree stand if you decide to use one. When archery hunting, you must be a great deal more patient. You will spend most of your time sitting and waiting for an animal to pass.
When you locate an animal it requires you to stalk it, to get a close shot. You must be sneaky and have all the right gear. Camouflage is a must when archery hunting. You are going to be getting close to the animal so you will need to blend in. You will also need a scent cover. All big game animals in Arizona have really good sense of smell. If you are up wind from an animal it will surely smell you. This is easily covered up with a scent block or the animal's urine which you can find in most hunting and camping stores. Archery hunting also takes a lot of practice. You need to become a good shot because most of the time you only get one, and you do not want to waste it. The best way to practice is to simply set up a bail of hay or purchase an archery target at an archery headquarters.
There is a lot of form involved in shooting a bow. You must keep your elbows level, your hips planted, and never take your eye off the target. Practice is another thing you will need to do plenty of before your hunt. It also depends on what animal you are hunting. If you are archery hunting an antelope this adds extra difficulty to the situation. Antelope are plane mammals that graze over grasslands. The hard part about this is that there is no cover to hide in, everything is in plain sight. An antelope can surely see you within the 75 yards required for a good shot. It is much easier having the range of a high powered rifle which is accurate up to 400 yards. Bow hunting is more ideal when hunting deer and elk in the forests, where you have the cover of trees and shrubs to hide behind to make it easier to stalk your pray..
Using a rifle to hunt adds an easier degree to the sport. There is a lot less preparation required when using a rifle. You will not need to know exact location of your animal, because of a technique known as glassing. Glassing is when you find a high peak or point, and using binoculars try to spot the desired animal. This in my opinion is much easier than waiting around trying to get lucky enough to have an animal pass by. Rifle hunting is also much easier because you are not required to get into close contact with the game you are hunting. High powered rifles are accurate within 450 yards. You could be out of the sight of the animal and still make an accurate shot. In most cases rifle hunting does not even require camouflage. The technique to shooting a rifle requires a somewhat less amount of skill. No strength is really required to use a hunting rifle, which opens up the sport to much younger hunters in the 9 through 13 ranges. For the beginner hunter, I would definitely recommend starting off with rifle hunting.
The characteristics of each type of big game hunting easily points out which one is the easiest. The level in preparation for archery hunting is much greater due to the hunting techniques required for a successful hunt. Rifle hunting is much more a laid back; you do not need to try as hard to have a successful hunt. For the novice hunter I suggest you stick with rifle hunting, when you're ready for a real challenge pick up a bow.
Related Topics