Rethinking Integrity Leader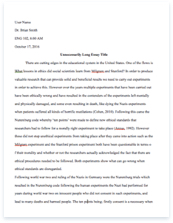 The whole doc is available only for registered users
A limited time offer! Get a custom sample essay written according to your requirements urgent 3h delivery guaranteed
Order Now
After reviewing the article by Sherman, Rethinking Integrity Leader to Leader. I think that Sandwich Blitz needs to do the right think. Doing the right thing you have to even live up to that when no one is watching also. In today's society doing the right thing is really hard because everyone thinks that if they do what everyone else does they will get ahead quicker in life. How can you really enjoy being a successful business by following others? I think that it is there responsibility to call the office that send the inspectors out and let them know what there inspectors are out in the field doing to these business. There is no telling on how many tickets they over looked for there own greed. The inspectors are suppose to be enforcing local law and making business comply by the law. I think by not doing the right thing it will set the company back as far as growing their name and finding future investors if they need to happen one day.
For example, What if Ray Kroc the guy who founded Mcdonalds was doing this type of thing, do you think that he could of sold the name to future investors when he was not around to run the business any longer? By doing the right thing he was able to sell just the name to a lot of people around he world and expand pretty far. I think they should just find a way to comply with the local law and be done with the situation. If they comply do you think the inspector will retaliate in any way? They also need to take responsibility. That consist of acknowledging our complete sole responsibility of our actions. No more seeing others or outside events in the cause of our problems. Blame no one, accept the behavior of others and the circumstances of our lives as givens and more on from there.
With that being said the business just needs to accept the fact that they are not complying with local local and move the trash to a different location to avoid any future dealing with this department. If they give in and accept I think these inspectors will use the for future references to other business to get what they want out of other people. This will probably damage sandwich blitz name for years to come if this happens. In the long run I really think if they do not do the right thing they will also run the risk of having the community not trust them to do business with them any longer . They have to protect the name and what they stand for on this matter.
Related Topics