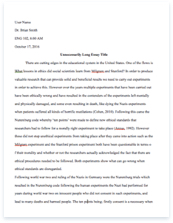 The whole doc is available only for registered users
A limited time offer! Get a custom sample essay written according to your requirements urgent 3h delivery guaranteed
Order Now
Beliefs can come from your personal perspective on things, or the way you were taught from someone else. My beliefs about life are broad, meaning everyday either I gain a new belief or I lose some type of belief about somethings. Religion can be very confusing to me because of the different definitions on the multiple religions. My religion is Christianity! I was brought up around Christian people that's why my beliefs for Christianity are so high.
Beliefs can come from the way you were raised and what you were raised around. I believe that's where some, if not all of my beliefs come from. My belief system includes relationships, family, myself, communication, religion, etc. Believing in those things, helps in many ways throughout life. It's so amazing how sometimes one of my beliefs can lead me to not believing in somethings else.
Having an opinion on somethings is like having a belief about something, everyone is obligated to have their own opinion on things, which sometimes makes the other person have fewer beliefs about that something. I learn something new everyday, to say that I mean what I believe in now may change tomorrow. I always say to myself "You can do whatever you set your mind to" which comes from a belief. As I've grown, some things I believed in then I don't believe in now. And some of those things changed because of what I surrounded myself around, or what I witnessed. Beliefs tend to be the first thing humans turn to when they feel that something isn't going the way it should be going etc. My parents have formed me into believing some of the things I believe in now.
Such as "Respect your elderly" or "When you walk into a room you should always speak". But, the crazy thing is now that I am older I don't fully agree with the statement " When you walk into a room you should always speak", and I don't fully believe in that because I feel as though why should I always have to speak first, so what if I walked into a room, those people seen me also and didn't say anything.
I feel that I think that way because I've experienced it personally so that's now my "new belief" on that. I've came by my beliefs from different people and things. Most of my beliefs comes from my parents, I believe parents are the introduction of childhood and what we learn and our beliefs. But also, I've came by my beliefs from my great grandmother whose 97 years old and still living as of today.
She's taught me so much and gave me a better understanding on why and how things are today and in the past. Not saying that I agree with everything she says and all of her beliefs, but for the most part I do. I've also came by my own beliefs I try to introduce myself to new things everyday. Because, what one person believe in or thinks is right, may not be right for me or I may not believe in. Some of my beliefs comes from church and the bible also.
I believe that some people don't take what others think into consideration. For example when you are under the age of 18 you have to do what's told by your parents, but when you are older than 18 you don't have to do what your parents say to do. Parents, sometimes don't understand that what you believe is right may not be right to them, that's why parents should allow the child to take risk and learn from their mistake. Parents are not always right all the time and neither are children, but you live and you learn.
Related Topics