Reporting practices and ethics paper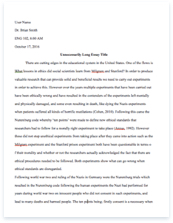 The whole doc is available only for registered users
A limited time offer! Get a custom sample essay written according to your requirements urgent 3h delivery guaranteed
Order Now
The United States Securities and Exchange Commission, Financial accounting, Standard board. The Securities and Exchange Commission was established in 1934. This guarantee that the market would be protected. The elements of financial management are planning, controlling, organizing, directing and decision making rolls that the financial manager takes in order to ensure the success of the business. Planning objectives are laid out by the health care organization and they are identified. During this process it clears a path for all to follow. Controlling is part of where the financial manager must manage the resource organization. The process of this is organizing and directing when looking at the four elements of financial management. Decision making occurs during this process. During this process something has to be continually executed along with other elements of the financial management.
The four elements of financial management are very important and it serves a purpose. There are also elements that need to be considered vital skills are necessary to keep a healthcare organizations running smoothly. Accepting accounting principles and general financial ethical standards. This process measures cost and performance related to cost and objects. During and accepting accounting principles are a requirements in the healthcare organization. Accounting practice is a disclosed or established accounting method or technically accounting system. The organization and procedure whether automated or not stand-alone. It accumulates and reports consistent and reliable information.
In today's world industry there are many topics for debate. Issues such as implementation of patient's protection affordable care act. (PPACA). Issues of ethical practices of healthcare finances and proper reporting. Corporate compliance is well established defining ethical behavior fraud, and abuse in healthcare organization. There is a conduct of financial professional. During this process they have a direct effect on the reputation of the profession. If any organization has a good reputation they earn a continuing basis of performing a business competence. However appropriate confidentiality, integrity by complying with the laws and regulations. Financial professionals do have an obligation to several people. Their employers, co-workers, customers, Shareholders. They have to maintain the highest standards of conduct and encourage the healthcare organization and their peers.
American Medical Association code of medical ethics "a physician has a duty to support access to medical care for all people. (Zonana, 2001, p.1). The principle of this is an ethical dilemma. As we all know in our currently divided system insurance is not provided the same access to healthcare as those who have healthcare insurance. Healthcare providers are obligated to balance the increasing need for cost and appropriate allocation of medical resource with ethical obligation to making clinical decision. (Levine, Wynia&Schyve, 2007).
Mangers in a healthcare organization have three views, financial, process and clinical. These managers will be influenced by the view they are accustom to. Managers work with finances on a daily basic's, reporting function is required as part of their responsibility and perform much of the strategic planning for the organization. Mangers work with the system organization and could hold the responsibility for data accumulation and are also affiliated with the information system of the healthcare organization. In this organization there are many things that come to the front of the healthcare organization for the CEO and the owners of the company to revise and make better decision.
However sometimes dealing with healthcare reporting practice and ethics there will be things stated that people in the healthcare organization will not agree with nor will they believe it. It is up to the everyone, such as Register nurses, LPN's and everyone that is associated with the healthcare organization to run the company in a professional manner to assure that every patient and employee is getting the business that they need. Patient care and patient wellbeing is the responsibility of everyone of authority in the healthcare organization. However sometimes there are problems with this process. There are trials and errors in the healthcare organization.
REFERANCES
Www. Levine, Wynia&Schyve, 2007.edu
Www. Zonana 2001 p.1.com
Related Topics