Reporting Of Injuries, Diseases And Dangerous Occurrences Regulations 1995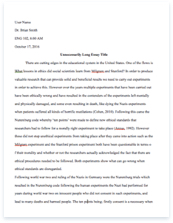 The whole doc is available only for registered users
Pages: 4
Word count: 964
Category: Accident
A limited time offer! Get a custom sample essay written according to your requirements urgent 3h delivery guaranteed
Order Now
When there is an accident connected with work to either an employee or a member of the public, which involves death or being taken to hospital, then the employer must notify health and safety Executive (HSE) without delay. A completed accident form must follow this within 10 days. Failure to carry out these requirements is a criminal offence and may lead to prosecution. There is a long list of reportable diseases injuries and dangerous occurrences, but these include;
-Acute illness requiring medical treatment where there is reason to believe that this resulted from exposure to a biological agent, its toxins or infected material
-Certain poisonings, including mercury
-Electrical short circuit or overload causing fire or explosion
-Accidental release of any substance which may damage health.
The employer must keep a record of the event, which must include the date and method of reporting, the date, time and place of the event, personal details of those involved and a brief description of the nature of the event or disease.
These health and safety regulations produce site regulations within the organization, some of these site regulations are:
-Exit doors should not be blocked or egresses impeded from a space.
-Required exit doors must swing in direction of exit travel.
-Door wedges or items to hold open a door that is intended to be closed to prevent the spread of fire should not be used.
-Doors or objects that either swing or protrude into a hall, corridor or aisles shall not diminish the hall, corridor or aisle by more than one half its width.
-Tenant and rated fire walls shall be made smoke-tight up to the underside of roof deck.
-Maintain clear store aisle width at all times.
-Stock should not be placed closer than 18″ from the bottom of a sprinkler head (any stock or shelves or displays).
-Maintain exit and emergency lighting in working condition (bulb replacement, identifying current breakers).
-Provide a properly sized and working fire extinguisher (minimum size in most cases 3A4OBC), with current inspection tag.
-Do not use unapproved or undersized extension cords.
-Do not improperly store flammable liquids and maintain MSDS forms (Material Safety Data Sheets) on site and submit copies to local fire department.
-Provide owner or staff with proper safety training.
-Employers have an adequate inspection and maintenance program
-Employers use only qualified workers for escalator and elevator repair and maintenance.
-Proper fall protection must always be used if there is a fall hazard
-Employers Provide appropriate fall protection equipment to all workers who may be exposed to a fall hazard.
-Employers Insure holes in walking/working surfaces are protected by covers.
-Establish a procedure that prevents unauthorized access to the pit areas of elevators.
-Have the elevator service company develop procedures for isolating the power source of elevators that protects employees from contact with hazardous energy when entering pit areas.
-Have all elevators inspected and serviced regularly by a licensed elevator technician.
-Evaluate their current safety program (s) and incorporate specific training procedures emphasizing the importance of recognizing and controlling hazards in the workplace. The procedures should include, but not be limited to, conducting hazard evaluations before initiating work at a job site and implementing appropriate controls.
-Identify areas that may be hazardous to personnel, and restrict or prohibit the use of or access to these areas.
-Have only properly licensed employees working at a site performing complicated operations that require licensed personnel.
-Allow only qualified employees whose duties are required to be present during elevator repair work.
-Have a standard operating procedure that gives specific safety instructions on accomplishing hazardous tasks such as hoisting pistons.
Precautions must also be taken in case of a fire, these are named as the fire regulations, the fire regulations are as followed. (a) Provide and maintain threat in efficient order and condition such fire protection and fire fighting equipment including fire escapes, stairways and ramps, as shall be recommended by the fire brigade board in whose area the nursing home is located and approved by the chief health officer; and (b) Ensure that the date of inspection of all such fire fighting equipment shall be marked there on. (c) Ensure that curtains and screens installed in the nursing home are of such material that can be treated for fire retardation.
The Management of Health and Safety at Work Regulations [made in 1992 and revised in 1999] require employers to identify hazards and to undertake the assessment, management and control of risks to both persons at work and others who may be affected by work activities. Every organization must have a risk assessment to reduce the number of risks. Risk assessments identify the main hazards and reduce accidents.
-All Kone maintenance activities are subject to continuous EHD (Elevator Hazard Data) audits which identify hazards
-Full Risk Assessments are also carried out as required
The requirements for general risk assessments are maintained and it is made clear that where a review of a risk assessment shows that changes are required, these changes must be carried out. The ACOP defines the nature and purpose of risk assessments in greater detail than previously. It provides a clearer indication of what constitutes a suitable and sufficient assessment. Risk assessments should identify the period of time for which they will remain valid. They should take account of the views of employees and safety representatives. They should
-identify the hazards,
-identify who might be harmed and how,
-evaluate the risks from the identified hazards,
-record the significant findings in a retrievable form, and
-Provide for review and revision.
Related Topics