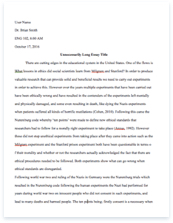 The whole doc is available only for registered users
Pages: 2
Word count: 391
Category: Problems
A limited time offer! Get a custom sample essay written according to your requirements urgent 3h delivery guaranteed
Order Now
A. Background of the Study (paragraph form) –history of the company
BASED ON OBSERVATION~
1. Describe the existing conditions –Summary ng business process nila.
2. Justify the chosen topic
3. Citations from existing facts – compare with others.
B. Theoretical Framework
-come up with existing theories/FACTS that has something to do with your research (reference)
THINGS ABOUT THE COMPUTER SHOP
sample: Arnis Simulation
C. Conceptual Framework
COMBINE EXISTING SIMILAR
CFL.. Virtual Simulation
Explain Game Sensor
-are abstracts/ideas *IPO
-combination of research in theoretical framework
D. Statement of the problem — Specify the problem you hope to solve
-draw out appropriate information in order to work out problems seen
-questions should be interconnected/somewhat connected
MINIMUM OF 3 QUESTIONS
*e.g.
Specifically, the study sought to answer the ff:
1. What are the possible causes of system delay?
2. How will this affect the overall company performance?
3. What will be the outcome if the problems were not solved?
What are the possible factors to solve the problem in terms of:
a. Man Power
b. Management
c. Data/Information
E. Objectives of the study –purpose of why making the research
1. General – main purpose why making the research
*The researcher aims to create an Online Registration System for ABC Company in order for them to have an …
2. Specific – has to have a connection with the Statement of the Problem
-TENTATIVE ANSWER to the Statement of the Problem
F. Scope and Limitation(paragraph form)
– COVERAGE of the study
a. Population (in the company)
b. Time frame
c. Other variables and methodology
*DON'T GET TOO BROAD/SPECIFIC.
1. Scope –
*The study covers blah blah blah.. the chuva are not included because..
2. Limitation
G. Significance of the Study(paragraph)
-How important is the study and who will benefit from it.
-In Paragraph form, explain WHY.
*For the company, this study will help them… For the employees,blah blah For the proponents, blah blah.. RESEARCHERS are mentioned last. (optional) future researchers.
LEVELS of DFD
1. Context (Summary)
2. Level 0 (Block Diagram)
3. Level 1 (Detailed Sub-processes)
Related Topics