Reflection on the article of Carr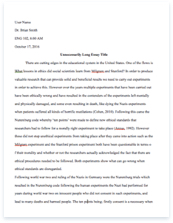 The whole doc is available only for registered users
A limited time offer! Get a custom sample essay written according to your requirements urgent 3h delivery guaranteed
Order Now
In May 2003, Harvard Business Review (HBR), a magazine mainly addressed to business people in general such as managers, analysts and strategists etc., and IT constituencies in particular such as vendors, researchers, engineers etc., published a revolutionary article written by Nicholas Carr entitled "IT doesn't Matter". This article has created a huge debate within the IT industry, from opponents and proponents the opinions differ considerably. So in order to understand the debate better, we will start in a first part to reflect on the arguments Carr presented to support his thesis, then we will have a closer look on what other scholars think about the article before concluding in the last part by giving our personal opinion.
Carr is known as an independent writer and editor who has a good knowledge about the IT field and has written and guided many works about it; due to these status and reputation, Carr's main idea which is quite simple took rapidly a huge magnitude worldwide (Hackathorn, 2003). He stated that IT is very essential to businesses but does not provide them with competitive advantages anymore. Knowledge in general and information in particular are commonly considered as power (Davies, 1994). Knowing what others don't know especially when they may need to know it, gives you certainly more power over them and a competitive advantage you may benefit from a lot.
However, with the increase of information technologies, especially the Internet, the access to information is becoming easier and its availability increases continuously with time which make the information worth less and of no strategic value. The financial market is the best example to better understand this idea. In fact within these kind of markets, information and its interpretation are the two main drivers of success and thus generators of higher profits. When information concerning a specific company or any financial asset is of limited access to only few investors, they will have a clearer vision so to take better decisions that will enable them to expect huge returns. This idea of ubiquity is what pushed Carr to the conclusion that IT doesn't matter anymore.
Their very power and presence have begun to transform them from potentially strategic resources into commodity factors of production. They are becoming costs of doing business that must be paid by all but provide distinction to none.
(Carr, 2003)
In fact, IT is an essential element within the good functioning of the business but does not provide it with a competitive advantage anymore since it has lost all what used to make it unique, its scarcity. According to him, companies should then consider this clear ubiquity as a wake-up call to change their management of IT by spending less. It is undeniable that investment in IT has considerably increased from less than 5% in 1965 of the capital expenditure to approximately 50% in the early 2000's and this is because of the benefit it offers to the companies adopting it and using it effectively (Carr, 2003). This importance means that IT is nowadays a necessity to be at equal level with competitors and a condition to stay in the market but also means that supply of IT increased with time which has surely resulted in a reduction of its price.
He considered IT as the latest world-changing technology following a series of technologies such as railroads, telegraphs, telephone etc., that have been commoditized with time. For him, alike these technologies, IT's pattern is already known and determined. The clear distinction of the different stages of technology's building into the industry is very crucial in its management. In the first stage, technology is rare and very difficult to obtain. Wisest companies, which notice its usefulness within their company and identify the competitive advantage it will provide from far, are the first to invest in it. They are aware that this investment, even if in this particular stage is protected, very hard to replicate by competitors, has a costly price, and needs specialized trainings and that's what increases its scarcity and thus its strategic value.
There are many example of these one-of-a-kind innovative companies, such as Airtel, Amazon, Walmart, Fedex, Cisco, Apple, Google, RyanAir etc., which took the risk of investing in IT in early stages have been rewarded properly and have also as Keen said influenced the used practices at the time and encouraged others to the same — in other words, they have encouraged commoditization — (Keen, 2010). This commoditization will take us to another stage within which the technology is demanded and therefore supply should respond to it; overestimation of demand due to either bull-whip effect or other factors may push the price to decrease and make the technology more available in the market.
The decrease in price due to commoditization pushed Carr to differentiate between two kinds of technologies: proprietary and what he called infrastructural technologies. In fact, he defines the proprietary ones as the protected, hard to obtain technologies that make a clear distinction in the functioning of the business by providing it a competitive advantage. To illustrate this idea, he gives the example a pharmaceutical company that is the only one to possess a patent for a component essential to the production of a series of drugs. On the other hand, infrastructural technologies are according to him the ones which are essential to the whole industry's operations and which only potential benefit may be cost reduction. Electric power is one of the best example he gave to support his argument, since this technology has at the beginning differentiated its adopters from others by decreasing both the time of production and effort whereas its power outlets are now integrated as an obvious feature within all buildings. In addition, he claimed that this kind of technology that is essential to the business but with no strategic value, creates more risks than benefit which is explained by the fact that if technology works well, the business will be running normally but when there is an anomaly in its workability, the damages it causes may be devastating for the company.
This differentiation may then be accentuated by the idea of the buildout stages explained before and that all technologies may be considered as proprietary at their introduction in the market due to their unique characteristics and start to fall into the infrastructural category during the commoditization process. This was a huge deception for companies that did their best to protect their IT at its early stage and thought that the competitive IT provided them with is infinite. Therefore we should understand why IT is not a proprietary technology anymore and this is due to several reasons. First, IT is nowadays not more than a simple mean of transportation of information, it enables information to be delivered in quicker time and to all concerned parties. Replication of IT is becoming more possible than never, the competition within IT fields is strong and therefore similar technologies may be produced by different companies and finally all this leads IT prices to confront an important downward pressure represented by low or even ridiculous prices which makes IT affordable and accessible to all. According to him, those are signals that inform the business world that, unfortunately, this is just the beginning of the decline of IT since it is only a matter of time for these previous reasons to be clearer and for the history to repeat itself.
Carr is then warning business people about the upcoming completion of the commoditization process of IT in order for them to hedge from the catastrophe this may cause and reduce their loss to the maximum level by adapting their strategy concerning IT. He favors a boring IT management that will result in less IT spending. Previous studies proved that companies which invest the most in IT get the lowest financial returns; in 2002, a study done by Alinean showed that the 25 companies that delivered the highest returns have only spent 0.8% of their revenues on IT. Since IT is becoming more a commodity, companies should then recognize their essential IT spending so to not waste money buying what is of no use or worst what may create risk and cause loss. Leading companies have understood today that it is preferable to take time analyzing IT and to let competitors adopt the technology first to observe its performance and to diminush their risk before taking any regretable decision as Carr said companies today should " follow, don't lead"!
The fact that IT is becoming more homogenized makes the probability of benefitiating from being the first to adapt an IT smaller and smaller ; therefore, waiting may be the best practive to be able to measure what IT will provides you with even before investing in it (Andresen et al, 2004). These may be opportunities companies should consider but according to Carr is it now preferable to focus on vulnerabilities and try to prevent the companies from its consequenses. Companies should then focus on how to protect themselves by having contracts with their third parties that will guarentee them a long run generation of benefit and prevent them from IT technical or security disruptions since these third parties aim goal is to sell and do not care about the company's faith or performance (Andresen et al,2004).
References:
Keen, P.G.W., and El Sawy, O.A. (2010). Engaging in CIO-CxO "Conversations that Matter": An Interview with Peter Keen. Retrieved October 12, 2012, from https://www.aui.ma:444/Mail/SBA/EE480517.nsf/0/F7201BD3B5097B6700257A9E0063C667/$File/CIO%20CxO.pdf?OpenElement&FileName=CIO%20CxO.pdf.
Carr, N. G. (2003). IT Doesn't Matter. Retrieved October 23, 2012, from http://www.proxios.net/pdf/ITDoesn'tMatter.pdf.
Davies, S. (1994). Introduction: Information, Knowledge and Power. Retrieved October 23, 2012, from http://www.ids.ac.uk/files/dmfile/davies252.pdf.
Hackathorn, R. (2003). IT Doesn't Matter. Retrieved October 22, 2012, from http://www.information-management.com/issues/20031101/7622-1.html.
Andresen, T., Tallaksen, M., Proitz, U., Harsjoen, A. (2004). Second deliverable. Retrieved October 23, 2012, from, http://www.uio.no/studier/emner/matnat/ifi/INF5210/h04/prosjekt/oblig2/Obl2grpA.pdf.
Wybolt, N. (n.d.). Some Thoughts on IT Doesn't Matter. Retrieved October 24, 2012, from, http://www.infoed.com/Open/PAPERS/Some%20Thoughts%20on%20IT%20Doesnt%20Matter.pdf.
Related Topics