Radisson Hotel SWOT Analysis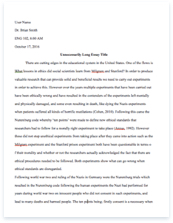 The whole doc is available only for registered users
A limited time offer! Get a custom sample essay written according to your requirements urgent 3h delivery guaranteed
Order Now
Luxury brand positioning – Starwood Hotels & Resorts Worldwide Inc's strategy focuses on the development of lifestyle brands at a leisure price point supported by innovative marketing that makes an emotional connection with customers. Strong pipeline development – Starwood Hotels & Resorts Worldwide is aggressively pursuing a growth strategy to further consolidate its presence in foreign markets and capitalise on the booming travel and tourism industries of emerging markets in Asia-Pacific, Middle East and Africa and Latin America. Individuated experience – the growing consumer demand for an individuated travelling experience is generating potential for hotel operators to develop distinctive brands, properties and services. The launch of aloft and Element by Starwood Hotels & Resorts Worldwide is set to further capitalise on this trend. Hotel ownership – Starwood Hotels & Resorts Worldwide is focused on selling off its owned, leased and consolidated joint venture hotels, often in return for long-term management contracts.
Such a strategy has worked well, helping it to endure the economic upheaval and quickly expand its portfolio.Loyalty programme – The Starwood Preferred Guest programme is well-recognised in the travel and tourism industry. It continuously enhances the benefits of its members to boost overall brand loyalty and increasingly attract new customers. IT solutions – Starwood Hotels & Resorts Worldwide is upgrading its properties with technology that not only creates multipurpose, multi-functional interiors but also entertains travellers. A good example of this relates to the introduction of Microsoft Surface at Sheraton Hotels. The new technology offers guests a virtual concierge and entertainment experience. Weaknesses
Domestic market focus – espite international expansion, Starwood Hotels & Resorts Worldwide remains heavily reliant on the US, making it sensitive to the changing fortunes of its domestic market. Luxury brands – mid-scale and upscale hotel brands leave Starwood Hotels & Resorts Worldwide vulnerable to any potential global economic downturns, particularly given that economy travel accommodation is gaining increased penetration in major destination markets. Opportunities
Dynamic growth in emerging markets – improving economic conditions, developing infrastructures, the development of the urban middle class and growing foreign tourism are driving strong growth in emerging markets such as India and China – key target markets for Starwood Hotels & Resorts Worldwide. Diverse target market – facing maturity and intense competition in key markets, most notably the US, is forcing travel accommodation operators to diversify their consumer base beyond the business travellers and attract a wider range of travellers. This coupled with the fact that consumers have less and less time to spend quality time with family led Starwood Hotels & Resorts Worldwide to develop a programme entirely dedicated to families in 2008. Accessible luxury – in the midst of such an unstable economic environment, the aloft brand presents an opportunity for Starwood Hotels & Resorts Worldwide to offer accessible luxury to travellers.
Threats
Consumer confidence – general economic and business conditions which adversely impact the income levels of potential travellers coupled with a rising lack of confidence in strong markets like the US, can have a negative impact on Starwood Hotels & Resorts Worldwide's operations, particularly given its strong presence in North America. Luxury spending may be the first thing to be cut back, which would hurt the company as its brand portfolio has more luxury hotels than mid-priced ones. Potential downturns in travel – rising fuel prices, environmental concerns, political instability, terrorist threats and economic downturns all have the potential to dampen the performance of tourism flows and, consequenlty, the performance of travel accommodation as a whole.
Credit crunch – there is a fear that the global travel and tourism industry will see a corresponding slowdown in revenue as consumers spend and travel less in the short term. Starwood Hotels's holiday ownership business is dependent on the availability of consumers willing to enter into credit agreements, and, therefore, a general spending reduction will result in a drop in revenue. This also applies to potential investment from prospective hotel owners and franchisees looking to fund construction, renovations and investments.
Radisson
Internal Marketing Environment Analysis
Radisson current marketing goal is one hundreds percent of guest satisfaction. Radisson Hotel provides training program to employees, which called "Yes, I can!" It means if clients are not satisfied with something, they can let one of Radisson staff know during them stay and Radisson's staff will make it right or clients won't pay.
Radisson current marketing strategy: "Carlson sets new marketing strategy for its Radisson brand: new guest room concepts, new restaurant concepts and new service concepts. As one of the world's leading brands, Radisson is being positioned to deliver vibrant, contemporary and engaging hospitality characterized by the Yes I Can! Service philosophy. The positioning is being supported by a series of innovations including new room concepts, new restaurant concepts and a series of new service concepts focused on the guest experience. The strategy for Radisson will entail an investment program of up to USD 1.5 billion in North America, focused on establishing flagship hotels in key U.S. cities and on upgrading the existing portfolio."
Radisson current objective: It aims to expand its portfolio by at least 50 percent by 2015 to more than 1,500 hotels in operation. Ambition 2015 will focus on four priority growth initiatives including: Expanding Radisson as a powerful, globally consistent first-class brand. Accelerating the growth of Country Inns & Suites By Carlson in four key markets: United States, Canada, India and Mexico. Growing Park Inn as a winning mid-scale brand across theaters in key countries. Continuing to grow in key emerging markets, with greater emphasis on mid-scale.
Radisson current performance: Service quality performance metrics is provided by Radisson to make a significant contribution to helping Radisson achieve these goals. Radisson uses four services quality performance metrics based on room comment cards solicited from hotel guests: 1. Willingness to return — percent of customers who indicate that they are willing to return. 2. Percent advocates — percent of customers who indicate a willingness to recommend Radisson Hotels to others. 3. Percent defectors — percent of customers who indicate that they are unwilling to return. 4. Percent complaints — ratio of complaints to room nights.
"Radisson announced that its major property improvement, renovation and investment strategy, as well as overall brand positioning for hotels in the U.S. and Canada, is nearing completion with 75 percent of hotels renovated and the remaining 25 percent on track for completion by the end of 2014" (Carlson report, 2014).
Internal culture of Radisson: "Creating a safe, respectful and culturally rich work environment, Carlson Hotels Worldwide continuously builds trusted and inclusive relationships with the following stakeholders, which make up our five pillars of diversity which are people, customers, community, partners, and suppliers" (About Radisson).
Related Topics