Race and Gender in the American West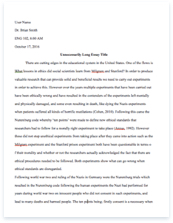 The whole doc is available only for registered users
A limited time offer! Get a custom sample essay written according to your requirements urgent 3h delivery guaranteed
Order Now
Ideas regarding what the American west is and where it is located have been widely argued since the time of Frederick Jackson Turner in in the 1890's. Is the west a place? A process? Turner believed that the frontier was a process of expanding westward and developing civilizations. Those who support the Boltonian school of thought believe that Turner's western history was lacking, and borderlands history helps to fill in the gaps. As we progress forward in time, ideas in the west have changed and evolved. Just as the ideas of the west have changed, so have the ideas regarding racial and gender identity as gender fluidity and women's power in intermarriages and trader have challenged traditional beliefs.
Frederick Jackson Turner set the foundation for the Turnerian view that the west was a process rather than a region. "To Frederick Jackson Turner and his followers in conventional history, the frontier (and, by extension, the West) was a process, not a place; a concept, not an actual geographical location", quotes Walter Nugent. This expansion westward, Turner states, defines American development. "This perennial rebirth, this expansion westward with its new opportunities, its continuous touch with the simplicity of primitive society, furnish the forces dominating American character." According to Turner, the frontier promoted nationality for Americans and developed a national government.: Walter Nugent, 'Where Is The American West?'
These Turnerian ideas of the west were expressed in his paper "The Significance of the Frontier in American History", which was presented at the meeting of the American Historical Association in Chicago in 1893. He concludes his paper by saying that after four hundred years since America was founded, the frontier is gone and the first period of history has closed. These ideas regarding the frontier and the west in America were long held by many and were still prevalent among historians as late as the 1960's. "It became the most familiar model of the American past, the one taught in school, extolled by politicians, and screened at the movie theater each Saturday afternoon."
Recently, the American west has begun to be redefined. By 1993, historians believed the field of western history was "stuck in a Turnerian rut", but Turner's spirit still lives on. Over the last 3 decades, the history of the American west has been reimagined. Some historians believe "that western history hardly stopped in 1890 or 1893 or any other year; that it has been marked less by "progress" than by "conquest" and conflict, that the West is a place where this conquest has taken place, a definite place on the map, rather than the process that Frederick Jackson Turner stated was essential to the frontier idea". This school of thought, which is known as borderlands history can be linked back to the 1920's with historian Herbert Eugene Bolton. Borderlands are everywhere, they are where power is contested. Borderlands history is not traditional frontier history. mobility, situational identity local contingency, and the ambiguities of power".
In the recent past, borderlands history has become increasingly more popular and it is seen as a way to fill in the gaps of other histories. Borderlands history focuses on openness, rather than closure of the frontier, and "broadening the scope of American history" instead of bringing it back to the center as Turner did. There were two lines of thoughts within borderlands history by the end of the twentieth century and one of these lines took a more native-centered approach. "Borderlands joined the concepts of frontier, middle ground, new world, and contact point as metaphors for areas of cross-cultural interaction at the edges of empires and world systems". Rather than focusing solely on westward expansion, European power and American exceptionalism, borderlands history dives deeper into indigenous history and draws attention to the power and influence Indians had on Early America.
In his article "Borderlands in a World at Sea", David A. Chang studies three different villages: one at Wushi in Xiangshan, China, another at Irish Creek in El Dorado Country, California and a third at Waiakea in Hilo, Hawaii. Chang states that each of these three places is a borderland. Examining the connections between them can reveal the usefulness of the term, and can show how studying borderlands shifts our focus towards meetings places in history that have been forgotten and makes us aware of the complex social relations of these areas. Studying these areas can also point out that focusing too heavily on nation-states in borderland history may lead to "obscuring the histories of indigenous peoples whose lands who had been colonized or were at risk for colonialization, such as nineteenth-century American Indians and Kanaka Maoli…".
At the time of the gold rush in California, El Dorado County was a place that many competed for space, not just American Indians, Mexicans and white settlers as the discovery of gold brought in people, mostly men, from all over the world, like Hawaii. A census from 1860 showed there was a settlement of Kanaka Maoli from Hawaii, known as the Sandwich Islands, near Irish Creek in El Dorado County.
The Kanaka Maoli were also connected with the local Indians. This connection can be seen with the Concow Indians, whose lives were severely disrupted by the newcomers who had arrived in search of gold. These gold seekers began settling in already inhabited areas, pillaged foods and other goods, and raped, enslaved and killed many native Indians.
The population of Indians in California fell about 80 percent between 1848 and 1860. The American Indians in the Central Valley of California were not the only Native communities who felt the negative effects of newcomers. In the late 1500's and 1600's newcomers, including the Spanish entered the Carolina Piedmont. This area faced attacks against Indians, held the women hostage and enslaved the natives. They European newcomers also brought with them diseases such as smallpox. A smallpox epidemic would also later break out in Central California.
The "genocidal violence" against Indians during the time of the gold rush in California created a significant displacement for the natives. Those who survived the vicious newcomers were "forced to seek shelter in distant, unreachable places, or, more often, with other displaced Indian people in existing Indian communities, or among Native Hawaiians", like Lakaakaa. Lakaakaa, an impoverished Concow American Indian, began to frequent the Kanaka Maoli settlement by 1854. The Kanaka Maoli adopted her and made her kin, gave her a Hawaiian name, Waiulili, and by 1857, she was married to G.H, Kamakea.
She followed this adoption practice later with her son, extending kinship bonds again and the family still maintained relations with other Concow people. These intermarriages and adoptions between the Concow and Maoli established networks. Kamakea died in 1859, and Waiulili remarried to Mahuka, had a daughter. The family crossed into Nisenan territory and moved to the Kanaka Maoli village there. By taking a Hawaiian name and moving to the Kanaka Maoli territory, they were able to avoid the Round Valley Reservation, which was meant to be a solid border to separate Indians from Whites
In the story of these two nations, the Cancow and the Kanaka Maoli, the "the word "border" privileges two state actors that are admittedly important but hardly the most crucial reference points, while it obscures the fact that border regions are also frequently the homeland of an indigenous people and the place of settlement of many other people from elsewhere".
Waiulili's story took place not just in Concow and Nisenen territory , but can also be traced back to her first husband Kamakea in Hilo Hawaii, which was home to several hundred Chinese in the 1870's. The Chinese and Kanaka Maoli also intermarried to establish networks and gain advantages. "This fits a pattern not only by Chinese on the fringes of the Chinese empire, in Hawaii, and elsewhere in the Pacific, but also by European and white American traders among Native Americans in North America". By intermarrying with Native Hawaiians, American Indians were able to gain protection by adopting Hawaiian kinship, and therefore could escape being confined to settlements.
However, in the Central Valley, they did not develop a mixed-race society. Instead, there was fluidity in racial identity among the Hawaiian Indians as they were typically labeled as "Black" on census records, but could identify as "both fully Indian and fully Hawaiian, sometimes simultaneously, sometimes alternatively". In contrast, other offspring of interracial marriages among American Indians and non-Indians claimed the identity of being mixed-race. For example, in the Great Lakes region, there were several towns comprised of mostly mixed-race people, known as "Metis". They created a separate identity. One of the reasons they were able to achieve this is through their "monopolization of the middle occupational rungs of the fur trading system".
These ideas of the fluidity within race and ethnicity contrast to popular belief that race is fixed and unchangeable. However, those of mixed-race could use this fluidity in identity to cause different outcomes as each could be advantageous in different ways. These ideas regarding race in Early America show that racial identity was situational and there is no one true definition. "Different identities can be asserted in different situations. It is certainly not the case that a "true answer" can be found."
American Indians not only intermarried with Native Hawaiians but also with fur traders in California and elsewhere in America. For example, Indian women established relationships with members of John Sutter's New Helvetia Colony, which was established in the early 1840's. By 1841, nearly half of the population was composed of native women who were in a cohabitational relationship of some kind. Intermarriage was advantageous for both the white settlers and the American Indians. Women were providers and were able to take care of the settlers. This intermarriage also ensured trade networks for them. Natives were highly important to the fur trade, as it was in part an "indigenous colonial creation". For women, intermarriage provided help for their communities in time of crises and were able to be the household leader without the interference of in-laws.
Women had the freedom when it came to making decision about marriage and could choose a husband based on preference. This was in contrast to the more traditional European views of women. In the Objibwa tribe from the Great Lakes region, women also played a crucial role in trade relations, though many accounts women played an "adjunct role". For example, women often traded canoes, supplies and food, and it may be that they were involved in direct trade more often than men. By marrying traders, women could "serve as a vital link between their communities and European traders".
These roles of women in Native societies challenge long held beliefs about gender roles. In many historical contexts, femininity represented characteristics such as helplessness, weakness, and passivity, however, that does not seem to be the case with these native women. Gender was also previously seen as a way to signify power in relationships, but American Indian women in early America were not merely passive figures in relationships with non-Indians.
As historian's view of the west and the frontier have shifted so have the ideas of racial and gender identity. From the end of 1890's until recently, the Turnerian view that the frontier was a process of growth and westward expansion rather than a place was the dominating theory. However, in the last several decades, historian have begun to rethink early American history and borderlands history has become more mainstream. There is a widely accepted view that ethnicity is stable, however in many intermarriages with American Indians and non-Indians, ethnicity was fluid and could be changed based on different advantages. It was also believed that a woman's place was in the house and that men should do all the work. Despite this idea, accounts of women's roles in indigenous societies in early America challenge these concepts of gender.
Bibliography
Bartlett, Robert. 'Medieval and Modern Concepts of Race and Ethnicity.' Journal of Medieval and Early Modern Studies 31, no. 1 (February 26, 2001): 39-56. doi:10.1215/10829636-31-1-39.
'Catawba Coalescence and the Shattering of the Carolina Piedmont, 1540-1675.' In Mapping the Mississipian Shatter Zone: The Colonial Indian Slave Trae and Region Instability in the American South, 115-41. Lincoln, NE: University of Nebraska Press, 2009.
Chang, D. A. 'Borderlands in a World at Sea: Concow Indians, Native Hawaiians, and South Chinese in Indigenous, Global, and National Spaces.' Journal of American History98, no. 2 (2011): 384-403. doi:10.1093/jahist/jar250.
Faragher, John Mack. 'The Frontier Trail: Rethinking Turner and Reimagining the American West.' The American Historical Review, February 1993. doi:10.1086/ahr/98.1.106.
Hamalainen, P., and S. Truett. 'On Borderlands.' Journal of American History 98, no. 2 (2011): 338-61. doi:10.1093/jahist/jar259.
Meyerowitz, Joanne. 'A History of 'Gender'.' The American Historical Review 113, no. 5 (December 2008).
Nugent, Walter. 'Where Is The American West?' The American West, 1992, 2-23. doi:10.2307/j.ctt200604c.7.
Peterson, Jacqueline. 'Prelude to Red River: A Social Portrait of the Great Lakes Metis.' Ethnohistory 25, no. 1 (1978): 41. doi:10.2307/481164.
Riley Sousa, Ashley. 'Trapped?: The Fur Trade and Debt Peonage in Central California'.
Riley Sousa, Ashley. 'Unsifted: Hawaiian Indian Coalescence in Central California, 1864-1970.'
Riley Sousa, Ashley. '"An Influential Squaw": Intermarriage and Community in Central California, 1839–1851′.' Ethnohistory, October 2015. doi:DOI 10.1215/00141801-3135306.
Turner, Frederick Jackson. 'The Significance of the Frontier in American History.' 1893.
White, Bruce M. "The Woman Who Married a Beaver: Trade Patterns and Gender Roles in the Ojibwa Fur Trade'.' Ethnohistory 46, no. 1 (Winter 1999).
Related Topics