Purpose and benefits of planning work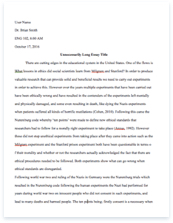 The whole doc is available only for registered users
A limited time offer! Get a custom sample essay written according to your requirements urgent 3h delivery guaranteed
Order Now
Explain the purpose and benefits of planning work, and being accountable to others for own work. When you plan your work beforehand, you can get a rough idea of how long it will take to do each task so that you don't fall behind. It allows you manage your time effectively so that you can meet any deadlines that you have been set. This enables you to manage your own performance and complete tasks to a high standard. Explain the purpose and benefits of negotiating realistic targets for work and ways of doing so. Targets are a great way to plan your work. They give you a goal to aim for so that you can maximise your potential and achieve as much as possible. The SMART test can be used to make sure that the targets you set are achievable: Specific- Tells you precisely what needs to be done
Measureable- You can prove you have reached them
Achievable- It is possible to reach them
Realistic- They are practical
Time-related- You have a deadline to work towards
It is important to negotiate realistic targets so that you can get the tasks done in a reasonable about of time. If you don't negotiate, you may find that you don't meet the targets set or that you find yourself under extreme pressure. Describe ways of prioritising targets and setting own timescales for work. It is vital to always prioritise your workload, this is so that if you do run out of time, all of the urgent and important tasks have been completed. It is also a good idea to put task that take more time towards the top of the list so that you can negotiate an extended deadline if needed.
Once you have set your targets and deadlines, it is important to order them so that urgent tasks and tasks that take a while are at the top. You can diary these so that you can easily see how much time you have left.
Describe the types of problems that may occur during work, and ways of dealing with them. There are various different problems that can happen during work. When a technical issue arises such as a computer crashing, you can attempt to fix this yourself. If you don't have any luck, there may be an IT technician to hand. If all else fails, your boss may wish to call someone in to fix the problem. Another problem that might occur is that a colleague has not been able to complete their tasks in a given time. Working in a team may mean that you wish to help them with their workload so that the company can run smoothly and efficiently. Finally, Social issues can occur when working in a team which can affect the work being done. You may want to tackle this head on. It's always best to sit down with someone who might have negative feeling towards you to try and resolve the issue. If it isn't resolved, you might want to sit down together with your manager to get the problem sorted out. Explain the purpose and benefits of keeping other people informed about the progress.
It is important to keep people informed about your progress because it helps them to know what targets they need to achieve and whether they have reached them. Also it helps to outline and set out objectives and targets for achievements. It also helps with motivation. Explain the purpose and benefits of letting other people know in good time if work plans need to be changed. If work plans need to be changed, it's vital to let other people know so that each person can reach their individual and group targets. If you didn't let anyone know, you may fall behind on important deadlines. Explain the purpose and benefits of recognising and learning from mistakes. The purpose of learning from mistakes is that we don't repeat these errors in future. This means that we take responsibility for our own actions so that we can recognise where we went wrong and then begin to rectify the problem. Then we can make sure that we don't make the same mistakes again.
Explain the purpose of guidelines, procedures and codes of practice that are relevant to own work. The reason we need to have guidelines, procedures and codes of practice in place is so that we know what has to be done and how it has to be done. This means that everything is done to a high standard and that there is a set of rules to adhere to. If we didn't have these in place, it may mean that work would get sloppy and be unfinished.
Related Topics