Public Sector Employment Relations in the News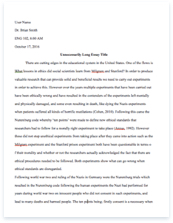 The whole doc is available only for registered users
A limited time offer! Get a custom sample essay written according to your requirements urgent 3h delivery guaranteed
Order Now
JIM THORPE, Pa.—Government workers all over the country are getting layoff notices, but not in Carbon County in eastern Pennsylvania. Workers there are getting bonuses.
For the first time in eight years, the county's nearly 370 nonunion workers are getting a holiday bonus—anywhere from $100 to $200, depending on whether they work full time or part time.
Commissioner William O'Gurek says Carbon County found itself with an extra $2.1 million in its budget, so they are giving part if it back—approximately $60,000 total to the people they say made the surplus possible.
The commissioners are also eliminating the occupational working tax for county residents.
Carol Malatak, who works in the county's Tax Assessment Office, says, it's "nice to be valued and appreciated."
Summary and Analysis
            The above newspaper article reports on how Pennsylvania County is rewarding its civil servants for contributing to achieving budget surplus for the first time in eight years. The county executives had just discovered there is about $2 millions surplus funds in the budget for the upcoming year. The over 300 County employees are going to receive about $ 300 during this festive season. County residents would also benefit from the elimination of occupational tax. He bonus provided to employees would leave them motivated, especially when they come back to work in January after the festive season. The workers would indeed embark on working hard like they have done this year, withy hope of delivering even greater revenue and continued reduction of costs. By eliminating occupational taxes, the County executives did the workers a favor because of the improved working environment with residents.
People would be thankful to county employees who have made tax elimination possible let alone doing a good job in running local administration affairs. Providing the money as bonuses during the festive period is more welcome to workers during these tough times of the struggling American economy. Surprising workers with the bonus would leave them withy greater motivation. Labor relations between the County administration and workers would be boosted to higher levels in the coming years. To begin with, leaders within the county would be ready to listen to workers concerns, and consequently meet their needs. Employees would, on the other hand, feel free to express themselves to their superiors. The bonus is therefore mutually beneficial: County workers would be more motivated to continue working hard, executives would be confident of leaving workers alone while concentrating on other more pressing issues, and residents would benefit from better services given the positive collaboration in running County affairs by the other two stakeholder groups.
References
THORPE, J. (2008). Pa. county gives workers bonuses, not pink slips. Retrieved December 8, 2008, from http://ydr.inyork.com/ci_11146078
Related Topics