Promote communication in health and social care settings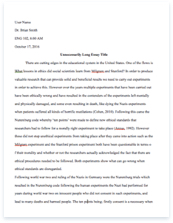 The whole doc is available only for registered users
A limited time offer! Get a custom sample essay written according to your requirements urgent 3h delivery guaranteed
Order Now
Introduction. Within this assignment I will describe the importance of communication in working with service users. To do this I will answer the following criteria. (1.1). Identify the different reasons people communicate. (1.2). Explain how communication affects relationships in work settings. (2.2). Describe the factors to consider when promoting effective communication. (3.1). Explain how people from different backgrounds may use and/or interpret communication methods in different ways. (3.2). Identify barriers to effective communication. (3.5). Explain how to access extra support or services to enable individuals to communicate effectively. (4.1). Explain the meaning of term confidentiality. (4.3). Describe the potential tension between maintaining an individual's confidentiality and disclosing concerns.
(1.1). There are many different reasons that people communicate, with 2 types of communication. These may be either verbal communication or non-verbal communication. People communicate to give and receive information, express needs and feelings, affirm one another, share thoughts and ideas, make and develop relationships. (1.2). The ability to communicate well is a key skill that enables you to work efficiently with others. Case Study. Roy is a service user that I support. His is a paranoid schizophrenic that has recently been discharged from hospital following a recent operation. Although the operation appears to be a success his wound that has been stitched has broken down and has now become infected. Roy states that the infection gives of a very pungent smell and he becomes embarrassed when out in the community. As a result of this he is showering frequently (2 or 3 times a day).
Roy is supposed to have his dressing changed every three days at the local clinic. As Roy is showering so frequently his dressing is becoming wet and unattached. It is necessary for me to communicate with the clinic staff on a daily basis to relate information as to whether Roy needs his dressing changed or not. This also leads to communication with his CPN, other support workers and management on any negative effect to Roy's mental health and his well-being. The clients name has been changes to protect his identity. Without relating this information and communicating with the relevant people within the work settings the individual may not receive the required care. (2.2).
When communicating with others the content of the message needs to be clear and spoken in a clear way. When receiving messages it is important to be alert of not only verbal messages but also non-verbal (body language). Factors listed below can aid communication although there is no one combination which provides the ideal way to communicate. It will differ according to the message, the recipient and the situation. Environment. (location). Are noise levels to high? Would privacy be preferred? Proximity. (physical distance). Closeness can encourage sharing. Positioning chairs at angles as appose to side by side can make it easier to communicate with another person. Sitting opposite can sometime be deemed as more formal and can make individuals uncomfortable. An object in between people communicating can help people feel protected.
Orientation (body positioning). Leaning forward can come across that you are interested, although leaning to close could invade an individual's personal body space. Turning away could show lack of interest. Standing directly opposite someone can be to direct, where being at an angle can provide a helpful space. Posture (behaviour). Folded arms can look defensive and discourage communication. We often mirror the other person's posture during conversations. Standing over a person who is seating may make an individual feel patronised or threatened. Sitting back and looking relaxed can promote positive interaction. Touch. (type and appropriateness). A light touch on a person's arm or hand could show caring and understanding. Although sometimes touch can feel threatening or intrusive.
Touch is a safe guarding issue and we must never impose ourselves physically on a venerable person. (3.1). Differences in communications do arise; these can be due to a person's Cultural backgrounds, individual personality, level of confidence and competence in communication skills. Cultural differences refer to family background, peer groups, religion and ethnicity. If an individual comes from a family that usually makes decisions through noisy and heated discussions, this individual may find it hard to accept a prompt or an order without question. Although we have personality traits with others, we all have own personality is unique to ourselves. An individual may be quiet and reserved another enthusiastic and bubbly. Both of these would affect the way each communicates and responds to communication. All communication requires a certain amount of confidence.
Confidence builds up over time yet can be knocked down in seconds through thoughtless or an unkind response. Literacy skills refer to a person's competence reading, writing and speaking in a particular language. (3.2). There are many different barriers that can effect positive communication. We not only communicate face to face but also through telephone, email, text or by letter. All these types of communication would be effective if the sender and receiver speaks different languages. Whilst using a telephone the sender may not be able to speak very well or the receiver may not be able to hear well. A message sent by email may not be opened by the receiver or may not even reach the receiver due to incorrect email address or equipment malfunction. Messages often sent by text are often abbreviated especially by a younger person.
This recipient receiving the text may not understand the meaning of the message. Communication through letters can sometimes take a long time to arrive or may not even arrive at their required destination. (3.5) There is a range of support available to enable effective communication between ourselves and the individuals that we support. Communication support tends to include the following categories. Speech and language services, translation and interpreting services, language service professionals (LSP) and advocacy services. All these services are accessible through local authorities such as the NHS and adult social departments. The Citizens advice Bureau is a good source of advice to find projects that may be operating in the local area. Other information may be advertised in local health centres, community centres or a local library.
Communication with fellow support workers, management and social services could also lead to services unknown by oneself. (4.1) Confidentiality is the term for requirement's to keep personal information private and only shared with those who need to know. It is a legal requirement for organisations to manage and safeguard personal information correctly. This will not only develop trust with the individuals within our care but also safeguard any safety issues that could arise due to misuse of disclosing personal or private information. (4.3) Potential tension can arise between ourselves and the people we support over our reasons to disclose personal information that an individual may feel was irrelevant. Case study. Peter, a 28 year old male service user who is supported by my self finds it hard to manage his finances.
Peter understands that bills need to be paid and with the support from myself and other support workers lives within his budget. Peter has a girlfriend that is also a service user. Recently his girlfriend's brother has been making regular visits to Peter's home in order to visit both Peter and his girlfriend. Peter has been asking for more money on a daily basis and states that the extra money is to accompany his girlfriend's brother's visits. Although Peter denies that there is any financial abuse to himself I reported this issue to my line manager and his CPN. Peter stated that as he had stated to myself that he was not being financially abused the issue should not have been reported. The name on this case study has been changed to protect my client's identity.
Related Topics