LoNGPEST Analysis of the Airline Industry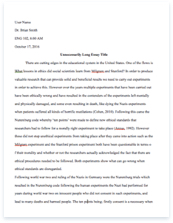 The whole doc is available only for registered users
Pages: 5
Word count: 1014
Category: Industry
A limited time offer! Get a custom sample essay written according to your requirements urgent 3h delivery guaranteed
Order Now
The airline industry has recently seen a huge decrease in profits. This report will endeavour to look at the external factors that have unleashed such an unexpected phenomena.
The external environment can have a huge effect on a business, an analysis that can be used to asses this is called PEST. PEST separates these external factors into 4 main categories: Political, Economic, Socio-cultural and Technological, it then assesses the individual elements looked at in each category (Appendix 1) (Mullins, 2002).
A second dimension to PEST analysis, divides the categories further. These levels are Local, National and Global (LoNG). The local level relates to the immediate area in which the organisation operates, the national level is the country in which the headquarters is based, and global meaning anything outside the above levels e.g. worldwide. If an organisation has global external influences, it is correct to say that it operates in more than one country. When a company is operating in more than one country or continent, the rules and regulations increase dramatically. Not only is the company regulated by domestic laws it must comply with trading regulations within the countries which it operates (Capon, 2000).
Since September 11th, the aviation industry has seen a huge blow to their profits and credibility. The global repercussion from the terrorist attack and the ongoing fear and unpredictability of further violence has been phenomenal. Understandably, the fear of crowded airports with inadequate security measures and aeroplanes with little or no means of dealing with difficult or violent passengers has increased dramatically, but this is not the only reason why the industry is facing such huge problems.
Political Influences
The most obvious factor to affect the airline industry, locally nationally and globally is the current conflict underway in Iraq. According to the International Air Transport Association (IATA) all parties involved in air transport have now put into place contingency plans to make sure that there is little inconvenience if anything were to happen. Plans have developed and been agreed by IATA, ICAO (International Civil Aviation Organisation) and national governments, and have been coordinated by national authorities that are involved. There are temporary routes that will divert flights away from any military activity (www.iata.org. Accessed 02/03/03).
Another political influence affecting the airline industry is the plan for an overflow airport to be built in Cliffe, Kent. Not only does this plan affect the airline industry locally, due to a huge uproar by the local residents and the constant stream of 'twitchers' who frequent the areas natural bird reserve, but it also affects the industry on a national level, due to competition it will create. The 'Royal Society for the Protection of Birds' (RSPB) are heavily involved in the protest, as Cliffe is protected under national and international wildlife laws (www.rsbp.org.uk. Accessed 15/03/03).
Economic Influences
The subject of airline economics has become an increasingly debatable subject. The forces of deregulation and liberalisation have made it more accessible to new enterprises. This has created room for price wars, more competition and a resulting drop in bottom line profits. Two major events have had an impact on the economic environment in Europe. The first is the terrorist attacks on September 11th, and the second is the introduction of the single currency (Euro).
The world economy is now recovering and passenger numbers, although increasing, are still low. British Airways (BA) annual report 2001/02 states that although the numbers are now escalating, the figures show that the passenger numbers were 10% down compared to the previous year.
Having a single currency introduced to Europe is likely to bring more business to airline companies, as international barriers are opened and consumers can use one currency throughout (www.britishairways.com. Accessed 16/03/03).
Fuel prices did decline after September 11th, contributing to the airlines ability to recover financially. Prices did stabilise for a time, but have now risen sharply due to the conflict with Iraq. This will have a negative effect on all aviation companies, due to the extra costs. Airlines have dramatically tried to cut internal costs, with external costs rising, due to the mandatory introduction of greater security measures. (www.iata.org. Accessed 03/03/03)
Socio-cultural Influences
There are many external social influences, the main one being again, September 11th. People are reluctant to fly, and feel extremely venerable and unsafe. Airlines have had to reduce ticket prices in order to get the passenger numbers up, leading to huge financial problems for some companies, some being unable to maintain training e.g. Swiss Air (www.iata.org. Accessed 09/03/03).
Trends and fashion have a huge affect on where people want to go on holiday, which can lead to an increase in competition. Low cost airlines such as easyJet and Ryan Air have seen a huge increase in passenger numbers (www.easyJet.com. Accessed 10/03/03) (Appendix 2). Probably due to the fact that they fly to popular destinations such as Spain, Portugal and Tenerife, which are popular holiday destinations. Although BA do operate short haul flights, they charge more and are not perceived as value for money when the budget airlines charge considerably less.
Technological Influences
The main technological influence on the airline industry is the ever increasing use of e-commerce. Major airline companies such as Virgin and BA have an internet sites where you can purchase tickets direct. Although the costs to maintain internet sites are expensive, overhead savings would be tremendous. EasyJet simplifies its working practice by embracing the concept of the paperless office. They believe it makes them more flexible as tickets can be purchased through secure servers anywhere in the world (www.EasyJet.com. Accessed 17/02/03). Customers also have the flexibility to shop around and compare prices charged for seats on the same flights.
This report has endeavoured to apply LoNGPEST analysis to the aviation industry. The devastating effects of the terrorists attack of September 11th and the ease in which numerous aeroplanes were hijacked has rocked all areas of the industry resulting in massive losses on bottom line profits. Only through greater guarantees of safety whilst in the air and a perceived 'value for money' service will the paying public entertain a return on mass to the airways, but security costs and only time will tell whether it will be successfully achieved.
Related Topics