Policy Streams Theory And Sexual Harassment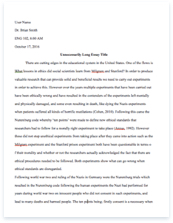 The whole doc is available only for registered users
A limited time offer! Get a custom sample essay written according to your requirements urgent 3h delivery guaranteed
Order Now
John Kingdon's Policy Streams theory describes policy formation as the result of the flow of three "streams," the problem stream, the policy stream, and the politics stream, and when they all come together, a policy window opens which allows for the facilitation of policy change. Those who advocate and push for this change are deemed policy entrepreneurs. Kingdon fathered the approach that deems policy as the driver of change. He notes that the problem stream is large, it regards public matters requiring attention, this stream is nearly infinite. Because not all problems are addressed, those who seek to solve problems will search for solutions which is where the policy stream comes in, referring to proposals for change. Then the politics stream makes up political concerns such as which party is in office, where money is coming from, etc. All three of these independent streams must be on the same page for a policy window to open – there must be a problem with advocates (or entrepreneurs), a solution must be available, and the political climate must be apt for change.
Many critiques of this model exist. Three, four, and five stream models have been tested by political scholars who posit that the metaphor of a stream is less helpful than thinking about policy making as a sequence – something that happens in stages. In this theory, the convergence of problem, policy, and politics would still occur, but this would be the starting point as opposed to the end point. This convergence would be less of a window and more of a tornado where things happen behind closed doors and policies are drawn up numerous times. Another aspect that may be missing is the emphasis on interest groups and their ability to signal and influence policy decisions.
One aspect that this policy stream approach may be missing is how activism plays into cultural and political change – although maybe that is just all a part of a broader "political stream" when discussing the political climate being willing and able to pass through these changes – especially activism and social media's role. Blum and Mickey emphasize the grassroots organizing behind the push for Title IX enforcement. They argue that the activism from students, especially from 1978 to 1980, was instrumental in the fight to combat sexual harassment and utilize Title IX as a weapon. This notion buys into a social movements theory developed and explained by Keck and Sikkink in Activists Beyond Borders, which emphasizes that legal changes arise from grassroots organizing and network building. It could be argued that the political climate was apt because of the social activism present around the globe at the time.
Karma Chavez describes a time such at that as a 'coalitional moment,' because it is a time when multiple political issues coincide with one another in the public sphere in order to allow for the reimagining of the issue entirely. We are at a moment in time in which everyone is talking about sexual violence and how to end it. Sexual harassment and assault is a widespread, prevalent issue perpetuated by power dynamics and taught behavior – there is little education surrounding consent and healthy relationships which, when combined with taught toxic masculinity bred through systems of entitlement, results is violence against women. This has been one of the most important aspects of feminist advocacy regarding this issue; coining terms like "rape culture" and "sexual harassment" were instrumental in framing this issue as a societal one.
Drawing on the work done by feminist family science scholars, the most comprehensive analysis of student activism regarding campus sexual violence puts forward a new plan for how to take part in feminist research when studying campus sexual assault. Scholars such as Krause outlined how little work had been done to analyze student efforts for change even in the face of massive change occurring because of student-led initiatives. Initiatives such as Take Back the Night rallies, events during Sexual Assault Awareness Month, Know Your IX, End Rape on Campus, SurvJustice, and Survivors Eradicating Rape Culture are just a few examples that illustrate the immense student efforts in redressing assault in order to empower peers and hold institutions accountable.
Coverage of student activism is common in popular national news sources but nearly impossible to find in academic and scholarly work. Hunting Ground began working to change this – placing survivors at the forefront of dialogue regarding activism, but still most scholarship on the issue is not set up in the framework of activism – there is much literature on Title IX, on prevention programs and their successfulness, but little on the work done on the ground by students whose lives are affected daily. This focus on the institution ignores how frustration with Title IX and the handling of rape charges by universities is what led to and continues to breed grassroots unrest.
Social media has opened up more opportunity to showcase the pervasiveness and universality of gender-based sexual violence, especially for women in college. #MeToo was effective in changing views on power dynamics because it was obvious how many people on your news feed had experienced violence. Take Back the Night works in a similar way but for providing a space for survivors to share their stories, feel empowered, and make other survivors feel more welcome and less alone. These events and hashtags are the work of students on the ground, fed up with universities that are complicit in the assault of their students.
The third key component to analyze will be the historical development in the court system. In 1980, the first sexual harassment case was filed until Title IX. Alexander v. Yale was ultimately dismissed, but the court accepted the legal reasoning: that a university's failure to adequately confront a hostile climate of sexual harassment could represent a Title IX violation in itself. That case was the first of its time, with the legal recognition of sexual harassment as a form of sex discrimination not occurring until 1986 with the decision Meritor Savings Bank v. Vinson which said sexual harassment could violate Title VII if it created a hostile work environment.
The most recent scholarly work published on this shift in Title IX is written by R. Shep Melnick. He argues that sexual harassment regulation was able to get into the hands of higher education through three main factors: publicity, congressional action, and Supreme Court Rulings. Specifically, the publicity on harassment broadly occuring during the 1990s due to the Hill-Thomas hearings and popular press putting the spotlight on harassment, then on the Violence Against Women Act enacted in 1994 by congress, and then the 1992 ruling in Franklin v. Guinnett County Public Schools which held that a student subjected to sexual misconduct by a teacher could sue the school district under Title IX.
Related Topics