Infringement of the Author's Intellectual Property Rights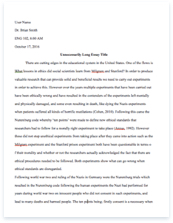 The whole doc is available only for registered users
A limited time offer! Get a custom sample essay written according to your requirements urgent 3h delivery guaranteed
Order Now
Plagiarism is the act of taking someone else's work without giving them credit.It has been a huge problem in school and universities; search engines makes it easy to copy and paste information from an author. Plagiarism may not be a criminal or civil offense but it is illegal. According to "LegalZoom", "plagiarism is illegal if it infringes an author's intellectual property rights, including copyright or trademark. For example, the owner of a copyright can sue a plagiarizer in federal court for copyright violation. The plagiarist in turn may have to pay the copyright owner of the plagiarized works the amount he or she actually lost because of the infringement, in addition to paying attorney's fees." If it is a student plagiarism they could fail the assignment, make a lower grade, or even course failure. It can also destroy your public and professional reputation due to the unethical act. According to "iThenticate", "The consequences of plagiarism can be personal, professional, ethical, and legal.Plagiarism allegations can cause a student to be suspended or expelled. Once scarred with plagiarism allegations, an academic's career can be ruined." The government handles plagiarism by detecting and preventing it. The government can set up websites that will detect and take done any plagiarised work.
Piracy is copying a purchase software and it is illegal because of the copyright infringement. "Quora" stated, "Piracy is illegal because it is copyright infringement, which is the unauthorized distribution of copyrighted materials." When you commit the act of piracy you will also break copyright infringement so you be looking at fines and jail time. According to "Symantec", "Copyright infringements can be punishable by up to five years in prison and $250,000 in fines. Repeat offenders can be imprisoned for up to 10 years." The government is partnering with other resources to decrease the act of this crime. The "FBI" stated, "The Department of Justice (DOJ) recently announced a new strategy that involves partnering more closely with businesses in an effort to combat these types of crimes more effectively. The FBI—working with its investigative partners at the National Intellectual Property Rights Coordination Center (NIPRCC)—will play an integral part in this strategy." The government can also improve this situation by adding more obstacles when copying or downloading the information.
Non-delivery of merchandise is a scheme on the internet where the seller sells an item but does not ship it to the buyer. According to "FBI", "Non-delivery of merchandise is a scheme most often linked to Internet auction fraud, in which a seller on an Internet auction website accepts payment for an item yet intentionally fails to ship it. Sellers like these sometimes will relist the item and attempt to sell it again through a different username." There are many ways you can prevent buying merchandise that the seller may not be trustworthy. According to the text, "Make sure you are purchasing merchandise from a reputable source. Do your homework on the individual or company to ensure that they are legitimate. Obtain a physical address rather than simply a post office box and a telephone number, and call the seller to see if the telephone number is correct and working. Send an email to the seller to make sure the email address is active, and be wary of those that utilize free email services where a credit card wasn't required to open the account. Consider not purchasing from sellers who won't provide you with this type of information. Check with the Better Business Bureau from the seller's area. Check out other websites regarding this person/company." Non-delivery merchandise is illegal because it is considered fraud. "Complex" stated, "Devising any scheme to defraud, or for obtaining money or property by means of false or fraudulent pretenses, or promises, and using the Internet for the purpose of executing the scheme." The government helps protect buyers by alarming to user if the site is safe for shopping. The government could improve by shutting down accounts and websites known for non-delivery merchandise.
Blackmail is using a threat against someone for your own use or demand. According to "Complex", "Using the Internet to threaten to cause damage with the intent to extort from any person any money or other thing of value.Hackers threatening to expose damaging or embarrassing information in exchange for money face a hefty fine of up to five years. Be sure to keep your anti-virus updated and don't click that weird video link in your email." It is illegal because it exposes someones information to the public. According to "USlegal", "Blackmail Law and Legal Definition. Blackmail is the crime of threatening to reveal embarrassing, disgraceful or damaging information about a person to the public, family, spouse or associates unless money is paid to purchase silence. It is a form of extortion." If you are caught blackmailing you may suffer the consequences of imprisonment, fine, or probation. You can prevent blackmail by not providing information to untrusting people or websites. According to "BBC", "If you're being blackmailed or threatened tell someone you trust. It doesn't matter how embarrassing it is or if you've done something you wished you hadn't. Collect the evidence. Keep the threatening emails and take a screenshot." The government handles the situation with privacy rights.
Phishing is a practice of sending emails to get others credible information for their own desire. Phishing is illegal because it can lead to identity theft. According to "Criminal defense Lawyer", " Phishing is really just one type of a broader category of crime known as identity theft. Identity theft covers any instance where someone attempts to use someone else's personal information in a fraudulent or illegal manner, though phishing scams are very common. For more on identity theft, see Identity Theft Laws." The government is handling the situation by warning the users of the website if it is not safe to use.
On the internet there are many dangers and you as a user can be the victim of the schemes or you could be the one doing it. You may not think of it as a big deal when you copy something for school without citing the writer but it illegal just like you blackmailing someone.     
Related Topics