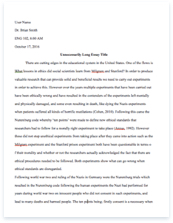 The whole doc is available only for registered users
Pages: 4
Word count: 913
Category: Conflict
A limited time offer! Get a custom sample essay written according to your requirements urgent 3h delivery guaranteed
Order Now
In any organization conflicts are bound to occur. If handled efficiently and effectively they can serve as a deterrent of repeat behavior, but if left unresolved they can have the potential of doing great harm to the productivity level of the organization. Why conflicts occur, how they affect the individual and the organization, what the manager can do and how proactive strategies can be implemented to reduce conflicts, and the resources employed to aid in handling these issues are all crucial factors to reflect upon in order to facilitate the growth and success of the organization and its employees. Conflicts can occur for several reasons. They can be internal or external. The typical workday in an office environment can be stressful.
Sometimes differences can occur when employees feel that the burden of the work is not equally distributed. Undefined and unclear job responsibilities along with the lack of sensitivity of what is going on in the organizations varied departments are usually the culprits of many disagreements amongst co-workers. Workplace conflicts can and do impact productivity. Lack of cooperation between workers could eventually harm the whole practice or organization. What started off with just one or two employees could quickly escalate and unintentionally add more co-workers and drop the productivity level of the entire organization. Employees become less tolerant and less flexible of each other.
Oftentimes, group attitudes are formed and finger-pointing begins. Increased bickering can increase the lack of cooperation between individuals, groups, and departments. Unfortunately teams and sides are picked and allies are formed. If these conflicts go unresolved and this lack of cooperation increases between co-workers it will definitely result in decreased productivity. What is even worse it when this bickering and unresolved conflicts begin to affect those who are not directly involved such as the patients or the family members, and other outside business personnel like delivery people or marketing representatives from pharmaceutical or medical manufacturers. Managers must step in and recognize when co-workers are not getting along.
Turning a deaf ear or a blind eye to the situation will only result in the conflict intensifying beyond reason. "An effective manager will note the slightest tension between employees or staff and will not ignore it in the hopes that the issue will correct itself. Instead he will address it promptly and give the conflict the attention and the time it deserves" (Stop the Medical Office Bickering, 2007). Walking away from a minor issue involving just one or two employees could eventually worsen or heighten the issues of the conflict and make the conflict go from bad to worse. The manager can reduce and resolve organizational conflicts by having clear and well defined job responsibilities.
When employees are knowledgeable about what they are supposed to do and where and how they are supposed to do it, less chances of confusion and misunderstanding will tend to occur. An effective manager can ensure that the conflict remains contained to the department involved and does not affect the other departments and thus the whole organization. He should watch what the employees are saying and how they are saying it (body language), and be sure that there are no hidden agendas within the conflict. The manager should actively listen to all sides of the story, not form an opinion, not take sides, and not involve external or extra people in the resolution of the conflict.
If a manager wants to resolve an issue successfully, then he can not be accusatory or point fingers. He should be positive, objective and open-minded. He should not make any assumptions and his decisions should be based on factual information and his leadership style should set an example for others to emulate. "Some basic strategies a manager can use to prevent or reduce organizational conflicts are to endorse open, clear and effective communication patterns" (Stop the Medical Office Bickering, 2007).
Effective communication is the glue that binds the organization together. An open forum for group communication, having people working together as a team, connecting the various departments so the organization is represented as a unified whole, holding everyone accountable to the same standards, and treating others like they would their family and friends are just the beginning of many ongoing and innovative strategies a manager can incorporate within the organization.
Running an organization is a team effort and involving people to work collectively and function harmoniously will be beneficial for all employees as well as the organization as a whole. In order to resolve conflict issues successfully, an organization must have resources available to handle the concerns. "Known policies and rules, sufficient orientation and training of employees, distinct authority-responsibilities guidelines, clear chain of command and open communications, along with recognizing problems with burnout" are all factors which foster cooperation and mutual expectation and the promote the reduction of undue conflict (Liebler & McConnell, 2008, P. 366).
Conflicts are inevitable. The consequences of organizational conflict are felt by all members of the workforce. However if handled effectively by experienced managers, "conflicts tend to energize an organization, forcing it to keep alert to plan and anticipate change, and to serve clients in more effective ways" (Liebler & McConnell, 2008, P. 357). Management must acknowledge and address conflicts w/strategic professionalism.
References
Liebler, J. & McConnell, J. (2007). Management principles for health professionals (5th ed.). Sudbury, MA: Jones and Bartlett.
Stop the Medical Office Bickering. (2007). Retrieved on December 10, 2011 from http://www.soundpractice.net/article.cfm?id=317.
Related Topics