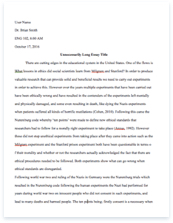 The whole doc is available only for registered users
A limited time offer! Get a custom sample essay written according to your requirements urgent 3h delivery guaranteed
Order Now
Introduction
            Observing people or 'People Watching' as I like to call it is a fun way to past the time. Public places like parks, malls, and mass public transportation are prime spots for people watching. A lot of things can be learned or inferred from people just by looking at what they wear and the things they carry around.
Streets, Bus, and the Workplace
            I have to walk a few blocks before I can reach the bus stop, by then people are already everywhere, scrambling to their work places. The first person I saw on the street was a young professional. I can tell because he was dressed like one. He was wearing a blue long sleeved shirt and a nice pair of black pants and polished shoes. He had a lot of things with him, a black backpack, and a leather laptop bag. He also had a headset stuck in his left and appeared to have started work even before he reached the office. He was indeed a busy man. The next person that I noticed was the lady in front of me inside the bus. She wasn't as nicely dressed as the previous person but I can tell that she also works in probably the same level as the professional man described earlier.  It wasn't particularly cold today but the lady put on a grey sweater as soon as she had established her position inside the bus, which tells me that she works somewhere that have cooler air conditioning units.
Either that or she's just not as tolerant to the cold like most people. Her hair was still wet when I saw her, she probably lives nearby and is most likely a neighbor of mine that I have not seen before. She looked she was running late because she did not have time to dry her hair. And finally my co-worker in the office, I know she's coming when I hear thumping sounds of heels on the floor slowly creeping near my desk. She always dresses in corporate attire even if there is no dress code in our line of work. She might want her family to be assured that she had a formal job in the big city. She came in with her iPod earphones plugged to her ear. Like most of us, she enjoys music. I can still hear the music coming out of the small earphones, and we're not exactly seated together. But she has yet to change her music to genre that I might actually enjoy.
Friends
            Friends are rarely observed because they are, well, our friends. We don't scrutinize our friends from head to foot. We know them already. But once in while, it's fun to reflect on how they project themselves. One of my closest friends always carry around with her at least one book. Mostly books about the Christian faith, her favorite are books of C.S Lewis and books about C.S Lewis. She qualifies as Lewis' biographer. Carrying books is almost always a sign that one is a bookworm. Besides her book, she's always carrying an umbrella, even on perfectly fine days. She always has this fear of uncertainty that it would rain.
Conclusion
            The way we dress and the things we carry around gives clues to the people around us. It is a way to advertise our interests and our personality, and sometimes our economic status. People today are weary by how they present themselves to the public. They clearly make conscious efforts to express themselves through the clothes that they wear or the things they have. Though some does not care about their "public image" It is important to be conscious about it. As harsh as it sounds, people judge others by the way they look and the things they have with them.
Related Topics