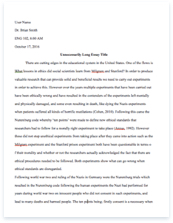 The whole doc is available only for registered users
A limited time offer! Get a custom sample essay written according to your requirements urgent 3h delivery guaranteed
Order Now
1. Introduction
In Malaysia the weather is always hot like summer, and therefore most people do experience body odour. A way to reduce body odour is by using deodorant. A deodorant is defined as a substance that destroys body odour. Deodorants are applied to the body to take off body odour that is caused by the bacterial breakdown of perspiration. There are many different types of deodorants available in the markets, such as sprays, gels and liquids types. Deodorants contain aluminium chloride, aluminium hydroxyl and aluminium sulphate. These aluminium salts may hold back sweat production and form an obstructive hydroxide gel in the sweat ducts. (Mosby's Medical Dictionary 2009) The objective of our assignment is to examine the marketing strategy of a product. Our group has decided to choose deodorant for our assignment topic.
We have chosen the brand, NIVEA, which is a German brand belonging to Beiersdorf AG, Hamburg, Germany. The product that we are going to study in this assignment is NIVEA Fresh Active Roll-On deodorant as shown as figure 1 ( hereafter referred to as 'NIVEA roll-on') contains ocean extracts and offers the real confidence of a 24 hours effective regulation of perspiration providing a fresh feeling. It is the combination of reliable antiperspirant protection and NIVEA's mild care. This product is free from alcohol, colourants and preservatives. Besides that, it is also skin tolerance dermatologically proven. (NIVEA 2010) In our assignment, we will be discussing about the SWOT analysis, product analysis, segmentation and positioning strategy and consumers behaviour.
Figure 1
2. SWOT Anaysis
SWOT analysis is used to analyse the business environment externally and an organization internally. It is a very important step that supports marketers in focussing on key issues. SWOT comprises four major parts, which are strengths, weaknesses, opportunities, and threats. Strengths and weaknesses are part of internal factors. On the other hand opportunities and threats are external factors. In order to carry out the SWOT analysis accurately we have to first analyze the opportunities and threats and than proceed to strengths and weaknesses. A business's strengths are abilities and its resources that can be used as a base for developing a competitive benefit. NIVEA is a global skin and body-care brand that means to hold a unique position. When NIVEA started the deodorant business, the strength of its name influenced the deodorant sales and it is helping the company to maintain its number one position in the global deodorant business. Besides that, its cost leadership strategy is to offer the product at a price that is competitive as compared with other competitors such as Adidas Sports, Game Spirit Body Spray and Rexona Man Power whilst keeping its cost advantages.
Consistent and high quality services and products are significant strengths of the company. The product position of NIVEA in the deodorant market is strong and unique. Since there are not many competitors, as very few companies provide similar products and services, this contributes significantly to NIVEA deodorant products performance. The absence of certain strengths may be viewed as a weakness. Weaknesses can be related to previous difficult situations that have contributed to the present positions under the current marketing environment. Perhaps truthful or unreal in any observation is reality for the marketer. For example, the logo of the NIVEA brand looks old fashioned and has not been changed for a long time. This may cause the perception that NIVEA is too old-fashioned as compared with other competitors such as Adidas Sports. Besides that, the brand focuses mainly on women. Since deodorant are more favourite amongst the women users, therefore the company concentrated more on women. As a result most of the advertisement and promotion targetted mainly on women. The lack of business alliances with others is a significant weakness for NIVEA. The analysis of the external environment might expose certain novel opportunities for growth and profit.
The company could capitalize on short-term future opportunities. When there is a growth in demand for deodorant, this presents an opportunity for the company to grow its sales. On the other hand, with the younger generation being more fashion conscious the brand should take on a more modern look to appeal to this potential consumers. Making this change in the brand image presents a opportunity to the company. The deodorant market is quite sensitive to the economic cycle as evidenced by the Danish report on its deodorant market. (Deodorants in Denmark 2009) Since the economic environment is currently quite uncertain, the company may have to examine two scenarios on whether the economy is heading for a double dip recession or whether the economy is about to experience growth. The former scenario would be a threat whilst the latter would be an opportunity.
Examining social trends, with the younger generation being more conscious of the body odour in social settings such as the office, this would present an opportunity for the product. Changes in the external environmental also may present threats to the firm. Rexona Man Power, Game Spirit Body Spray and Adidas Sports are the main competitors to NIVEA. The actions of competitors could be a significant threat. For example, if competitors develop new technologies or increase their workforce to meet demand. If the competitors' products are more appealing and cheaper, this could pose a threat to NIVEA. Lastly, there are various substitute products available such as perfume and body cologne which could be a major threat to NIVEA products. 2.1 Direct and Indirect Competitors
Competitors of NIVEA deodorant can be divided direct and indirect competitors. For example, Adidas Sport, Game Spirit Body Spray and Rexona Man Power, being the direct competitors, are aggressively increasing their participation in the deodorant market. This could create volatility for NIVEA's products sales. Another source of direct competition could arise from other NIVEA products such deodorant sticks, other rolls-on and sprays, which could act as substitute products. On the other hand, indirect competition is more complicated. Typical indirect competitors of deodorant are other product substitutes such as perfume, shower cologne and some aromatic spray. Previously most people tended to use perfume and shower cologne before there were product improvements to deodorants. Hence a study of these direct and indirect competitors can help NIVEA identify potential opportunities and threats.
3. Product Analysis
According to the norm of marketing, every product that is offered in the market has its stages of life cycle. The product life cycle is divided in four stages. They are the introduction stage, growth stage, maturity stage and decline stage.
The deodorant market is in the growth, progressing to maturity stage. With the growing success of NIVEA, this would create additional demand for its products which would mean more sales, as more retailers become interested in carrying its products. In this respect, NIVEA developed more expertise and specialize more in skin care, rather than the whole deodorant market. In doing so, this created more expansion opportunities in the skin care segment. NIVEA targets to control this area, rather than to control the market as a whole, and to become the number one skin caring Deodorant in the market. Size of the UK Deodorant market, dominating the skin caring segment, which accounts for nearly 20% of the market, can be as rewarding such as being the leading brand in a smaller market. (The times newspaper Ltd 2010) 3.1 Core Benefit
The Core Benefit is meant to satisfy what a customer expects from a good or service. In this case, the customer expects the NIVEA product to get rid of body odour. 3.2 Actual product
Actual product is defined as a tangible product which is consumable such as the brand name, quality, services or idea which customers are buying. Our choice of product which is there are also many deodorant of brands such as Adidas Sports, Game Spirit Body Spray , Rexona Man Power, Calvin Klein, Playboy, Axe, Gatsby, Old Spice and NIVEA. Because of its name, NIVEA deodorant is the most well known brand for men's deodorant. For example, when men deciding to buy a deodorant for the first time will choose a famous brand such as NIVEA even if they have little information about the product. Price and safety consideration become secondary as they trust the NIVEA brand. This is so because the NIVEA brand has a long history since 1911. In terms of quality, NIVEA's deodorant offers a comparatively higher quality and lower price than other brands leading to customers' preference. (Review centre 2010) 3.3 Augmented Product
Augmented product is defined as the non-physical part of the product or value-added services such as a warranty is given when one purchases goods such as a car or maybe electronic appliances. As for NIVEA's deodorant for men, it gives them added confidence, for example in an office setting. In a more intimate social setting such as a date, this product it serves to enhance their attractiveness. To accomplish this, NIVEA Fresh Active Roll-On deodorant contains ocean extracts and offers the real confidence of a 24 hours effective regulation of perspiration providing a fresh feeling. It is the combination of reliable antiperspirant protection and NIVEA's mild care. This product is free from alcohol, colourants and preservatives. (NIVEA 2010)
4. Segmentation and positioning strategy
4.1 Market Segmentation and Targeting
Based on our product which is the NIVEA Fresh Active Men's deodorant, The company has segmented the buyer market as a whole into smaller markets which will enable more effective fulfillment of needs by the specific markets. Among many factors involving the effectiveness of the product to the users, the company has segmented the market to three main segments which consists of "Climate"," Age" and "Gender". Based on the geographic segmentation, NIVEA has identified climate as a segment to target for customers. This segment which is chosen and identified is due to the factor that deodorant is a product which is preferred based on climate. For users who live in hot
climates, it is the heat that causes body odour. This would motivate them to purchase the product to eliminate the odour. In hotter and more humid regions of the world, the product would be promoted to last long and also give a more cooling feel when applied. On the other hand, other regions of the world would prefer a milder fragrance and also a long lasting effect. Another segment which is identified by the company is the age of the users. Based on the demographic segmentation, age is an important factor of segmentation as different age groups have different perceptions and also uses for the product.
Different brands would target different age groups, as different age groups would have different needs and expectations. Substitutes of deodorants such as perfumes will also affect the need for deodorant in certain age groups. Lastly , NIVEA company has identified gender as a main factor in the market segmentation of the product. Based on the demographic segmentation, gender is known to have a major impact on the segmentation of markets as users (both male and female) vary in need. Females would prefer mild, refreshing, floral and sweet fragrances while the males on the other hand would prefer heavier, stronger and more unique scents. Based on the market segmentation, the company has analyzed and studied the needs and wants of users and has decided to target three main markets for the product. The targeted market consists of the markets in the tropical and equatorial countries in Asia, Teen to Young adult market and lastly the male market. Firstly the Asian market is analyzed to be an attractive market for the product.
The demand for the product is higher in the Asian region as compared to other regions due to the climate. The climate in Asia region is normally hot and humid causing people to sweat more and let off unpleasant body odour therefore creating a high need and want for deodorant. The product would satisfy the needs of users by getting rid of the body odour and help the user to stay fresh and pleasant smelling through the day. Secondly, the teen to young adult market is viewed to be an attractive market due to the usage and wants of users. The targeted market would consist of individuals of the age of fifteen years to twenty-four year olds. The targeted age group consists of individuals which are students from high school and also college students which are looking for products which does not cost too much as they are majority unemployed.
The product would help the users to stay fresh and pleasant smelling after a day of going to school or after a sports game satisfying their wants and also needs therefore creating a value for them. Finally, the last targeted market is the male market. The male market is considered an important targeted segment as it is composed of the attractive segment in the market. Males have very specific wants in deodorants as they run a more active lifestyle and therefore need a more lasting fragrant. Males also have specific preference in scent as they do not want to smell sweet and have a unique scent. The company's product would fulfill the needs and wants of males as the product satisfies their wants and needs.
4.2 Market Positioning
NIVEA been has promoted and positioned themselves through using communication channels such as advertising. Through advertising information about the product can be conveyed clearly and each attribute would adjust the perceptions that customers have of the brand. On the topic, NIVEA has set their current position as low price, affordable, but also good value for money types of goods. Through adjustments to the product, marketing communications would emphasize these attributes and differentiate the deodorant products from retailers across their brands' positioning. Marketing communications would be used ways to position brands, namely to position a brand either functionally or expressively. NIVEA has identified several competitive advantages over rival brand Adidas Sports, Game Spirit Body Spray and Rexona Man Power, as they target similar markets as NIVEA.
Our product has competitive advantage over our rival in several aspects such as versatility of the product. The product our company offers does not target specific users where as our rival brand's product is more focused on sports therefore giving us an advantage on wider range of users which would use the product. Other then that, our product has "24 hour effective regulation of perspiration" function which keeps users fresh for a long period of time, this function would give our product an edge over Adidas's product. Lastly this product is also more affordable as compared to the Adidas product therefore our product would always be in contention when a new deodorant is being sought for. So in overall, NIVEA offers better a value proposition to our users compared to the Adidas Sports, Game Spirit Body Spray and Rexona Man Poweras we provide a better value for their money and also it comes with a more affordable price.
5. Consumers Behaviour
Research suggests that customers will go through a five-stage decision-making process in any purchase of product. The 5 stages comprise of need recognition, information research, and evaluation of alternatives, purchase decision and post-purchase behaviour. However, in more routine purchases, customers often skip or reverse some of the stages. When a need is recognized, the consumers start information research from personal sources – friends, commercial sources – advertising, public sources – newspaper, and lastly experiential source – examining product. Nevertheless, general 'word of mouth' stands the strongest source therefore a marketer job is highly important to change a person's choice. For example, the benefits of using NIVEA deodorant are known from families and friends. Moving on is the evaluation of alternatives. At this point, consumer will group up the few choices and compare the product, such as comparing NIVEA brand with others. Ranking of importance is also a pre-requisite of the product.
After evaluation the consumer will make product purchases that accommodate the need. Forth step is where consumer proceeds on buying the most preferable brand. Fewer than two determinant buyer decisions will change which is attitude of others where people discourage you to pursue your choice and unexpected situational factors meaning. Lastly is the post-purchase behaviour can be defined as whether the product manage provides sufficient satisfaction to the consumer. If the performance greater than consumer expectation, it shows the product manage to satisfy consumer. As we're doing deodorant as our product the first step would be a consumer find out he has body odour and his underarms easily get sweaty during hot weather or after sport. He wants something that can apply to the body that stays fresh. Second step, he searches for more information about deodorants, which can prevent odour and reduce sweat produced by parts of the body. He gather the information about deodorant through friends (experiential, using the product), advertisement from TV, sources from internet, and etc.
Third step, he will make a comparison, our product and competitor's product. To find out which one is better and more suitable for him. Fourth step, he will pick one brand and purchase, decision might affected but others and unexpected situational factors. Lastly, if he is satisfied and this meets his expectations, there is higher chance that he will purchase NIVEA Roll-on again. (Tutor2U ) Undeniably, there are roles be played during customer buying process. Cultural factors have a big impact on consumer behaviour. It is the learning of behaviour, perceptions, and values from family or other sources. Marketers usually have difficulty changing consumers' cultural values. In this NIVEA Men Fresh Active deodorant, friends and family will shape an impact on the purchase. If his friends and family enjoy the product, it stands a higher chance of him purchasing it. Next role is sub-cultural. This is where people who undergo same life experience and shared values together. Consumer's surrounding is people who always uses NIVEA instead of other brand and this will lead him acknowledge it more. (Rutgers). Next would be the personal category.
There is age, occupation, personality and lifestyle. This particular man is in his twenties and is a cyclist, his lifestyle will make him perspire, to overcome this, he would need a deodorant to stay fresh and he can use the deodorant aroma according to his personality. The third category is social influences. It can be measured as a blend of job and salary. The cyclist teammate uses deodorant to prevent bad odour and maintain freshness. He would upgrade his deodorant brand when he has a better income. (Kotler 2010). Lastly is the psychological factor. A person needs to fulfil all the Maslow Hierarchy Needs which starts from physiological, safety, social, esteem and self-actualization. Motivation is important as it stimulates a person to pursue his or her satisfaction. In this case, the cyclist personally has a hygienic attitude thus he will try to achieve his satisfaction even when he is doing sports by applying the deodorant. (Udel ) There are four types of buyer's decision behaviour undertaken. Complex behaviour is the kind of behaviour encountered when customers are highly motivated in a purchase and they perceive significant differences among brands.
For example, NIVEA Roll-on as compared to its competitor brands Adidas Sports, Game Spirit Body Spray and Rexona Man Power. Dissonance – reducing behaviour. In this behaviour, consumer will try to reduce their regret after purchases such as buying a laptop. Besides, there is habitat buying behaviour which means consumers have low involvement and there are little significant brand differences. Last but not least, the answer for this NIVEA Roll-on is a variety seeking behaviour. It is a low involvement yet significant brand differences. Due to the competitive market such as Adidas Sports, Game Spirit Body Spray , Rexona Man Power and NIVEA Roll-on has to produce a good quality yet affordable price to the market. NIVEA Roll-on also faces competition from its own company. There are different product such as NIVEA Men Dry Impact, Menergy Rebellious and not forgetting spray and stick kind of deodorant.
6. Recommendations
Earlier we have identified some weaknesses. Firstly, the logo is old fashioned. In order to address this, we recommend that the company review its logo to be more in line with its target market, which is the teen to young adult market shown at figure 2. Hence the company will have to commission a marketing agency to do this. Besides that, its advertisement seems to focus more on women. The company could address this by giving more focus on men, since this is the target market.
Another area to consider is the lack of business alliances with other companies. In this respect the company can examine similar companies in the industry in which it can collaborate to produce products with stronger branding or better product appeal. Since the company is facing keen competition in its market it can consider developing a range or related products to its target market. For example, a better product offering could include shaving foam, perfume, shaver and lotions. This can be implemented in collaboration with companies which are strong in their respective products in the given range. Another area is technology. The company can renew or purchase new machines to help the company produce better products. For example, a new machine can help company to produce more of the product in a shorter time.
Figure 2
7. Conclusion
The following are the key findings in our study.
In the SWOT analysis, it was found that the NIVEA brand was strong in its marketing strategy in positioning itself as low priced and good quality. Furthermore it is also a well known and well established brand. However, its weaknesses are its perception of being old fashioned and a lack of collaboration with other companies to strengthen its product offering. Since the sale of deodorants is sensitive to the economic cycle, opportunities for the company could arise from better sales if the economy improves. It was also found that this is a very competitive market with strong competition from brands like Adidas Sports, Game Spirit Body Spray and Rexona Man Power. Its also faces competitive pressure from substitute products like perfume, shower cologne and some aromatic spray. In the product analysis it was established that the product is in the growth to maturity stage of the product life cycle.
Its core benefit is customer expects the NIVEA product to get rid of body odour. The actual product is NIVEA's deodorant offers a comparatively higher quality and lower price than other brands leading to customers' preference. Whilst the augmented product is NIVEA's deodorant for men, it gives them added confidence. In the market segmentation, there were three segments that were identified that are climate, age and genders and its target the market consists of the markets in the tropical and equatorial countries in Asia, teen to young adult market and lastly the male market.It was found that NIVEA positioned its product to be low price, affordable, but also good value for money to this market segment. In the consumers behaviour is NIVEA Men Fresh Active deodorant, friends and family will shape an impact on the purchase. We also addressed NIVEA's weaknesses and threats by making recommendation that we hope will contribute to the improved marketing success of NIVEA.
References
Deodorants in Denmark (2009), SWOT analysis, [online] available from: http://www.euromonitor.com/Deodorants_in_Denmark [Accessed 29th July 2010]
Elsevier (2009), Definition of deodorant, Mosby's Medical Dictionary 8th edition [online] available from: http://medical-dictionary.thefreedictionary.com/deodorant [Accessed 22nd June 2010]
Kotler, A (2010), Consumer markets, influences on consumer behaviour [online] available from: http://referaty-seminarky.sk/consumer-markets-influences-on-consumer-behaviour/ [Accessed 24th June 2010]
Kotler, P (2003), Market segmentation, Marketing Management An Asian Perspective, pg 268-293
Kotler, P. And Armstrong,G(2010) Principles of Marketing – Global Edition, 13th edition, Pearson Education.
NetMBA (2002-2010), Product lifecycle, Business knowledge centre [online] available from: http://www.netmba.com/marketing/product/lifecycle/ [Accessed 5th July 2010]
NIVEA for men (2010), Fresh active deodorant, [online] available from: http://www.NIVEAformen.com/products/freshactive.html#product352 [Accessed 9th June 2010]
NIVEA sun case study n.d., Market segmentation, The times 100, [online] available from: http://www.thetimes100.co.uk/downloads/NIVEA/NIVEA_11_summary.pdf [Accessed 8th June 2010]
The times newspaper Ltd [1995-2010], product cycle stages, MBA Publishing [online] available from: www.thetimes100.co.uk/downloads/…/beiersdorf_10_full.doc [Accessed 22nd June 2010]
Tutor 2U n.d., Buyer behaviour, decision making process, [online] available
from: http://tutor2u.net/business/marketing/buyingdecisionprocess.asp [Accessed 6th July 2010]
Review centre (2010), Actual product, [online] available from: http://www.reviewcentre.com/reviews57105.html [Accessed 7th July 2010]
Rutger n.d., Cultural and subcultural influences on consumer behaviour, [online] available from: http://crab.rutgers.edu/~ckaufman/ConsumerbehaviourCultureSubculturenotes.html [Accessed 19th June 2010]
Udel n.d., Types of consumer behaviour, [online] available from: http://www.udel.edu/alex/chapt6.html [Accessed 18th June 2010]
Related Topics