New Possibilities For Safety On The Roads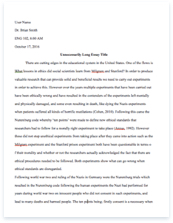 The whole doc is available only for registered users
A limited time offer! Get a custom sample essay written according to your requirements urgent 3h delivery guaranteed
Order Now
In the U.S, an average 37,000 die on road accidents each year, and another 2.5 million come out disabled in various parts of their body. However, this could all be prevented through the proper use of magnets in vehicles. Through this, it can reduce the societal impact such as the amount of money we spend on insurance and etc., and as well drastically reducing the damage of the impact, ultimately preventing the future deaths of many possible victims of an accident. Simply put, it could be the end of spending $10,000 or more for something that could have been averted through this experiment of implementing magnets in cars.
Car crashes cost the U.S an average $230.6 billion per year which may consist of societal factors such as hospital bills. Of the very high population of people who do end up in the hospital after an accident, an average cost of $10,000 or more may be ready to vanish from your savings depending on the severity of the injury. However, with a magnet in the car, this could be prevented and eliminates the need to withdraw such a large sum of money. Another example of a societal impact could be the reduction in traffic delay since there would be fewer hold-ups due to car accidents along with the consequential waste of gas. In other words, more money would be conserved, and not wasted along well as the lives of others.
Another major reason for the integration of magnets arises from its life saving factor. In most cases, the cars are travelling so fast that the passengers instantly get squished due to not being able to withstand such force. Although in that same collision, if the speed of either of the cars is reduced by even milliseconds, the maximum damage severely reduces. Therefore, the passengers have a greater chance of surviving the incident. This can be caused by installing a magnet in the front of each car, and then having the magnets repel each other as the cars become nearer to one another. Subsequently as they repel, their speed decreases and brings it down to a speed where all the passengers will survive, and paying any additional hospital fees will be erased from the equation.
In conclusion, car accidents can happen anytime when we least expect it and we live in a day and age, where we can develop technology to expect the unexpected. In this case, the unexpected would be getting into a collision, and if we survived that ordeal, we would be greeted by the accompanying costs of bills and possibly life-changing injuries. The continuation of this experiment is important to prevent or at the very least lessen these outcomes. For now, this experiment will consist of the use of toy cars with magnets attached to them, and the measurement of their force from colliding at different speeds. This experiment is intended to open new possibilities for safety on the roads.
Related Topics