National Hockey League Paper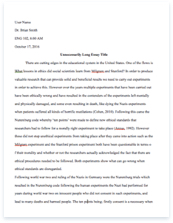 The whole doc is available only for registered users
Pages: 7
Word count: 1631
Category: Hockey
A limited time offer! Get a custom sample essay written according to your requirements urgent 3h delivery guaranteed
Order Now
National Hockey League was established as a non-profit entity in 1917 by 26 teams to govern the league. They had been very successful over the past 75 years with very little exposure. They have thrilled fans and provide financial returns for their owners. Their primary goal is to take hockey to a next level and makes it more popular. They are not worried about competition and are only concerned with overall growth for the sport, the owners, the players and the fans. Due to a recent labour dispute, all the NHL stakeholders lost a lot of money and this coupled with the need to increase the audience let to a lot of confusion between decision makers about what means to choose for creating exposure. The proposed solution is to use an effective mix of mass media/advertising and fan development activities. They are both very good options and choosing between them is not feasible as both have their share of advantage and disadvantages. With a few proposed changes mentioned in the strategic options, in the current implementation of these two options, NHL should see a definite increase in its exposure. PEST ANALYSIS
POLITICAL- Escalating player salaries and unprofitability of several teams led to the owners' demanding a salary cap on player salaries. Salary caps were a common occurrence in other sports like basketball and football. However, The Players Union was not very happy with this development and resisted the proposal. This confusion eventually led to a major labour dispute which resulted in monetary loss for almost all the stakeholders. ECONOMIC- There are barriers to entry for the participating teams in the league as not everyone can be a part of the league. There were salary caps on player salaries to curb increasing expenditure. Profitability also depended on the size of the market and smaller markets, especially small Canadian markets, struggled despite having devoted hockey fans. SOCIAL- A major social change occurred when NHL slowly but surely started replacing NBA's fan-following. Some reasons behind this shift were the retirement of NBA's star player Michael Jordan and the criticism it received by sports commentators. Hockey is a fast, hard-hitting sport which holds a natural appeal for the youth. This worked well in favour of the advertisers and sponsors as that was the age-group they were targeting. Young Americans are considered hip, fast and powerful just like the sport. TECHNOLOGICAL- Some technological innovations that worked in the favour of the sport were the production of the telecast with innovations like the goal camera inside the net. 3 C's
CUSTOMER- The people who qualified as customers for NHL were mostly ardent hockey fans. Their customers were mainly residents of North America and were people who had enough spare time to be able to follow the sport regularly. Hockey being a fast-paced, hard-hitting, hip and powerful sport aroused interest among younger people who identified with these attributes. The older generation were not considered as NHL customers as they were already loyal towards other sports and would have found it hard to keep up with the fast pace of hockey. One of NHL's goals is to increase their customer base and appeal to a larger audience as currently 35% of their customers were in their target demographic of 18-34 years of age. COMPETITION- Major League Baseball (MLB), National Basketball Association (NBA) and National Football League (NFL) were all NHL's competitors; however, NBA was its strongest competitor because their season timings clashed making them seasonal rivals. They all have more TV/radio, stadium and total average revenue per team than NHL. NHL on the other hand, has regular good-looking athletes in good shape as compared to the Basketball giants or the wide bodied football players.
They are generally down-to-earth people in whom radio and television executives find a refreshing change after dealing with pampered athletes from other sports. Another factor that sets NHL apart from NBA is the fact that they position the hockey experience as entertainment, specifically family entertainment. The locations, merchandise, cheerleaders, music, rental tapes, and logos add to the whole hockey experience making it more than just a sport. COMPANY- NHL has a great product, thrilled fans, and provide financial returns for their owners. The Stanley Cup was the most popular trophy awarded for a century to North America's best hockey team. By the 1990's there was a shift from pure hockey to a hockey experience with a variety of entertainment added to increase the appeal of the game. To create exposure, new recruitments were also made. NHL's strength lied in its strong partnerships with firms like NIKE, Coca-Cola and Anheuser-Busch. NHLs' achieved great success with little exposure so with the right support and exposure they can grow their fan base considerably. VALUE PROPOSITION
Hockey is not a tangible product to increase the popularity of which they can add or modify some features, hence complicating things a bit. It's a sport, so all they can work on, to make it more popular among the audience is to make the experience of watching the game worth-while. The product offered by NHL is great. They have young, good-looking, well- built athletes who are generally from small towns and hence, are shy and without any frills. The sport is thrilling and competitive and the results are refreshingly unpredictable. It's also innovative, as there is a goal camera inside the net. The inclusion of entertainment in the game, in the form of contemporary music, cheerleaders, rental tapes, attractive logos, stylish arenas, and so on helped make the whole product more attractive. Their ties with television channels like ESPN, FOX and Molstar also helped increase exposure. STRATEGIC OPTIONS
The major problem that needs attention is the marketing and exposure of NHL. The only way to create value is to increase the fan base; however, there are more than one ways to create value.  First option: As suggested by Stephen Solomon, focusing on mass media/advertising as the growth driver is a good idea. This option is a good way of externally generating a new audience for NHL. Public reliance on media and advertisements is increasing with each passing day and so a proper investment in this area should prove to be profitable in the long run. Currently their TV rating is quite less as compared to NFL's or NBA's. To increase these ratings and popularize hockey amongst other age groups, they need to come up with fresher and more attractive advertisements. They need to make different advertisements depending on the age group they are targeting, for example, they can have different advertisements for kids and adults. They can make use of their players and get them to attend PR events and do TV commercials. The disadvantage of just relying on mass media and advertisements is that its coverage is not so wide as to cover all the people they intend to reach. Also, some people might not like a sport just because it's popular and might like it only if they like playing it. So therefore, they need to generate interest internally as well.
Second Option: This is how we come to our second option, whereby growth can be achieved by nurturing a young, grassroots fan base as suggested by Rick Dudley. This is a very effective way of generating interest internally. They can focus on developing their fans instead off attracting them. This would also make the fan base broader and more diverse and increase the general understanding of the game by participation. NHL already has some good grassroots programs, it could work on expanding these programs to places beyond North America to increase the fan base and make it popular globally. The disadvantages of just focusing on this option are that it is slow as people cannot start playing and understanding a game overnight. Also, its reach is not as widespread as the first option. TACTICAL PLAN (4 P'S)
The best option for NHL is to use a combination of both the external and internal interest generator. Both the options have their advantages and disadvantages; to not make use of the advantages would be unwise and as far as the disadvantage are concerned, combing both the options together would help combat their respective disadvantages. The first option is a faster but less permanent means of creating exposure and the second option is a slower but more permanent means of creating exposure. NHL should expand its media and advertising budget and alliance while allocating money for fan development. PRODUCT- NHL's product is a package comprising of its game, players and entertainment. Their product is good and does not need any changes. They just need to concentrate on marketing the product in an efficient manner by using a mix of both the options.
PRICE- NHL's product is very costly as they spend a lot of money on player salaries and exposure. Their main source of revenue was gate receipts, media revenues, stadium revenues and licencing and merchandising. At $33.66 the NHL had the highest average ticket price. NHL can use these funds to increase exposure both internally and externally. PLACE- NHL operates in North America, namely in U.S and Canada. NHL needs to grow its fan base by not just popularizing the game in North America but also elsewhere and make the game more globally famous. PROMOTION- As mentioned before, NHL needs to use a combination of both the above mentioned options in an effective manner. They need to opt for both media and advertising and for fan development to tend to both short and long term issues. They need to spend efficiently in both the options to reap the maximum benefits out of it. They need to spend on redoing their advertisements and expanding their fan development activities beyond their current location.
Related Topics