My Way to Become more Responsible and Mature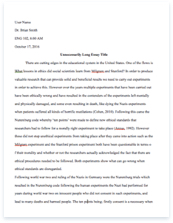 The whole doc is available only for registered users
A limited time offer! Get a custom sample essay written according to your requirements urgent 3h delivery guaranteed
Order Now
We all know that we are blessed with a wonderful gift, which is life. It feels so wonderful to look back on your life. There are thousands of events in everyone's life small and big, sad and happy. They make use a person that we are today. It is great to write on your legacy and stories.
There are many beautiful and worst events of my life that I want to share, but I have to write on just one event of my life. I am a very hardworking student from the school. I take more time to learn and understand anything than other students. Regular learning and repeatedly learning of the same thing is so important for me even still now. I had faced many difficulties in my academic period because of my weird habits. I have easily trusted anyone and get emotional in small situations.
I was in school when an event happened to me, which changes my life. My school life was so amazing with a lot of memories. I have a group of friends, with whom I usually spend time, go for lunch and shared many gossips. They all were such brilliant students and toppers of the class. One of them was my best friend from the start of the school. She made me in her group and after spending time with them they all became my friend. I was so much close to my best friend. We were always together and did a lot of bad things in class. Like shouting, sleeping at the floor, bunk the classes and miss behave with professors. Every teacher was so much disturbed with our bonding and love.
She always wished me on my birthday and gave surprises to me. Whenever we planned to go on the hangout, she was responsible for getting permission from my mother. My mother also loves her and she always allows me for anything in which she was with me. On the weekend I usually go to her place for a night stay and we do dance, watch movies and a lot of exciting things.
We always make fun of boys and the couples whenever we see them sitting together. We both hate those love stories and boyfriends at that time. We both had decided that we would never fall in love with anyone. And we will do arrange a marriage with our parent's selection. But unfortunately, it all gets vanished when my best friend falls in love with the most handsome boy in our class. I told her not to do this, but she got mad when he approached her and told her about his feelings about her. From there all the misunderstanding were started between my best friend and me. She started avoiding me and spending more time with her boyfriends except me. No late night chats, fun and night stay. All got finished.
At the end of the course, our teacher has assigned course projects to the class. It was based on the two members in one group. And from the start of the project, we have to submit the project proposal. I didn't pay much attention in-group making because I knew my partner already, my best friend.
When just one week was left on the deadline of the proposal submission, I have my best friend for the topic. Then she told me that she is not doing a project with me because her group partner is her boyfriend. It was so hurting. It didn't say anything to her after that and left the place after saying okay to her. It was the first time when she didn't make a group with me just because of her boyfriends.
Just one week was left for the submission. I didn't find anyone free that can make a group with me. I left alone, but no one cares or bothers. All other students laugh that I as everyone know that she left for her boyfriends. My class group friend gets surprised on her act. She already knew that I would come to her for a group, but she didn't bother and left me alone. I asked my teacher to make my group with some student who is left, but he didn't find anyone.
That project was so important to me to pass the annual term. I was left with less time to prepare the proposal. My other friends asked her to do a project with me and left that left, but she refused by saying that, I didn't tell her that I want to do that project with and her boyfriend asked her first for team up. I got so much hurt and started weeping in front of them who told me. Then I had decided that I will not talk to her again, the friendship is over. I trust her, but she broke my heart. Whenever I saw her laughing and enjoying with her boyfriend, I get jealous. And that jealousy brings me to cry at night. All fun and cheer from my life got finished.
I made my proposal by myself without any help from any classmate or teacher. And then submitted it. I was worried because according to the requirement we would not do individual or without any partner. It was the requirement of two members in a group. I was tensed that maybe my proposal got canceled and I got failed in annuals — so much bad thinking is happening in my brain at that time. But my mother was always there to support me and encouraged me.
And at the result, it happened on which I was afraid. My proposal was rejected and I got failed in that course. It was the worst day of my life when I get to know about the rejection of my proposal just for no group member. I go to my consulters and teachers, but no one helped me after the result. I was not appeared in the project and even not perform any presentation.
It was my mistake to dependent just upon a single partner. I should ask her on that day when the project was assigned. I should not delay it by asking her, as I know that she is ignoring me. If I approach any other class fellow on time, then I will never get failed. It was happened because of my non-serious attitude.
I know it's a bad habit in me that I always get so much attached with my friends and start trusting them. And even after getting ignorance or fight I always go forward to forgive them. My angry is just for some hours or a day and after that I get normal. I have survived my course because of this.
That day made me strong and I have learned to do my things by myself to not get dependent on anyone. And not to trust anyone, as we don't know on which point the other left you. And don't delay your work to end because we don't know at the end what will happen to us. So do your work before time. I should become more responsible and mature. But it is true that I still miss my friend. I already forgive her. She got engaged with her boyfriend, but she didn't tell me that good news. I think I was just a time pass option for her, as she didn't care about me. But I miss that wonderful time spend with her.
Related Topics