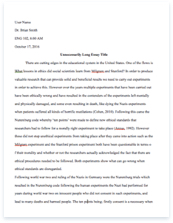 The whole doc is available only for registered users
A limited time offer! Get a custom sample essay written according to your requirements urgent 3h delivery guaranteed
Order Now
Every student has an intrinsic motivation that is crucial to their identity. Personally my motivation stems from my parents. Even though they have not had formal education themselves they still encourage me to do my best, however I believe that my pursuit in academics has been strongly influenced by my parents. I try my hardest to do my best and get the highest grades I can so that I can go to college and continue my education, which will eventually lead to a higher paying job. Although my parents were not as fortunate in continuing their education, I plan to be successful in my future. As a result of my parents low education they could not receive well paying jobs. Even though they are able to get by steadily, they remind me everyday how much education is important in order for me to have a good future. Behind every student there is a story and mine is crucial to my identity.
Thanks to the decisions my parents have made in the past, now i am informed about what life has to offer. Since my family is mainly blue collar workers I have seen the effects it can have on a family. The fact that my parents were not as successful as they may have wanted to be has influenced my motivation to succeed in whatever I do. Only a handful of students who come from a family like mine find the motivation to push themselves 100% in their academics. Many students who come from families with parents who don't have professional jobs do not see a need to thrive in academics and to get good paying jobs. In my case it has made me more inclined to do well and have a better life. One of my favorite quotes is "We can't choose where we come from, but we can chose where we go from there." By Stephen Chbosky. I live by this quote because it relates to me so much, it is a constant reminder that my future is in my own hands and that I choose my own path.
Being a college student has been my dream ever since I can remember. Because of my parents lack of education and seeing other family members go to college I was instantly inspired. Although my education has been strongly motivated by them, my motivation to be a better college student is even stronger. Since i have learned so much from my parents mistakes, i do not know which direction my life would be going in without them. Being the first person in my immediate family to dream of having a career that requires a college education has influenced my grades and success. I am thankful that until this point my parents have supported me, and I plan to continue to make them proud throughout my life.
Related Topics