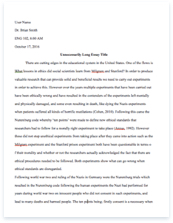 The whole doc is available only for registered users
Pages: 5
Word count: 1195
Category: Music
A limited time offer! Get a custom sample essay written according to your requirements urgent 3h delivery guaranteed
Order Now
Music has always been a part of different cultures across the world. It is a form of self-expression and freedom, and in a way is almost another language. To provide children the gift of music, they need to know about the instruments that make music and be allowed to freedom to express through singing and dancing their own emotions about the music.
In the word of Montessori, "…success [in music education] is bound up with the need for the production of plenty of music around the child, so that there is set up an environmentcalculated to develop musical sense and intelligence."(The Discovery of the Child)
Montessori believed that the age of 2.5 to 6 years is the most crucial for a child's development and interest in music. It is during this age that the child shows greatest sensitivity towards music and any learning provided during this time would be retained longer and would have a longer lasting impact on the child's developmental years ahead. The child should be provided with the appropriate materials and support to aid his musical development and language skills.
Development
Montessori designed materials to set the foundations for the child's musical journey. She believed that music had a three-fold contribution to a child's constructive years. Musical literacy has numerous beneficial effects on the following aspects of a child's development: Physical: the physical development occurs in the form of refinement of auditory senses and improved coordination of body movements. This begins with the concrete musical instrument creating a musical sound, that translates into an abstract note of a specific pitch, tone and color, which rouses the bodily movement in the form of a response based on its rhythm.
This entire synchronization of listening to music and responding with a dance action entails a complete cycle of physical development process. For example, the popular rhyme "head, shoulders, knees and toes" is a great way to use music as a way of enhancing muscular movements and coordination of body movements. The children dance to the rhythm while touching various parts of their body , also simultaneously learning the names of each.
Intellectual: Music helps development of the child's mathematical mind due to its logical structure. A study of music helps develop the minds:
Math skills – counting, mental maths, recall skills
Improved memory, concentration, attention- as the children develop enhanced listening skills, it influences their overall literacy
Enhanced self discipline, creativity and imagination
Playing an instrument enhances coordination of mind and body
Instruments also aid team building and effective listening
Intellectual and emotional balance
Building on better vocabulary by listening to beautifully rhymed melodies
Language skills are developed as children hear songs in different languages
Exploring different instruments and musicians is also enrichment for historical knowledge .Emotional: The very famous Indian musician A.R. Rahman once said, "music is all about transporting people, speaking a language, which languages fail to express." (internet source). This quote clearly sums up the contribution of music to a child's emotional development. When children are too young to verbally express what their innermost feelings are, music provides the key to self expsression. Music calls to the inner soul of a child and leads him on a journey of self-refinement. A child can express various emotions such as joy, fear, sadness, anger, disgust, all through the medium of musical melodies.
Music is extremely essential for its therapeutic benefits. It provides a natural relaxant for children who may be feeling over burdened by the lessons or family related issues. It provides an outlet to the child to feel at peace and lose himself completely in a tranquil world where he is immersed deeply with only his thoughts and ideas. Exposure to happy music and melodies creates contented children who grow up to appreciate music and are able to truly enjoy their own company with music.
In a Montessori classroom Music is integrated in several aspects of the lesson. Some examples of exercises used to prepare a child for study of music are discussed below:
"listening sessions" organized to allow children to feel the music. Formal sessions are prepared in accordance to the child's age and they are exposed to sounds of different musical instruments, composers, songs from various cultures, different moods and themes.
"singing" is an important musical activity that provides freedom of expression and develops a habit of enjoyment and fun. The songs can be of wide variety ranging from classical, folk, ethnic, foreign, multi lingual, nursery rhymes etc. children start from humming simple nursery rhymes and are gradually progressed towards complex harmonies and melodies. "playing percussion instruments" is another fun filled activity, that allows children of different ages to create music in harmony and a rhythmic discipline. "free body expression" or dance movements inspired by music provide a spur to the child's physical and emotional development. A child who daces without any inhibitions expresses himself freely experiencing self-confidence and self-fulfillment in his personal feelings.
Children are trained to "walk on the line", as they move their bodies to different rhymes and melodies, while maintain delicate balance of body parts. They associate their movements with the beats and notes and develop an aptitude for different moods and rhythms. Several singing and dancing games are incorporated as part of the Montessori classroom, providing them the opportunity to absorb music through the melodies.
Montessori designed a set of grading bells as part of sensorial materials, meant to teach children about discernment of sound. These bells are set in pairs and make sounds of high and low tones. The children are required to pair up similar tone bells and gradually develop a deep understanding of the differences of each note by striking the bell. Apart from auditory refinement, it also enlightens them to progression of musical tones.
The sound boxes as part of sensorial materials are key to introducing children to recognition of different sounds. As part of this exercise, children shake sound boxes softly or loudly, to refine their auditory senses and pair similar sounds together. They are further invited to guess the objects making the sounds and experiment with different objects and what sounds they would make.
Children are provided books with cd's along with head phones and radio, to freely play music of their liking. Several different types of instruments are introduced in the classroom, and children are invited to try them out themselves. Professional musicians are invited to hold special piano lessons and train children who show a keen promise for music.
Conclusion
To summarize I quote a professional musician and Montessori educator Frank Leto, "When music is brought into a child's environment they are encouraged to participate in musical activities. Bringing music into a child's environment gives him or her the opportunity to acquire a musical vocabulary of rhythms, melodies and songs" (Internet source). The most effective way to reach out to a child's soul is through music. It is a magical way to enchant the child onto a learning journey. When a child listen to music, not only is he enjoying the melodies and dancing to the rhythm, he is unknowingly expressing his innermost joys and experiencing utmost pleasure and satisfaction. All children equally deserve to be provided an opportunity to express themselves through music as a language common to all mankind.
Bibliography
1. Montessori, Maria The absorbent mind
Kala Kshetra Publications 2006
2. Montessori, Maria The Discovery of the Child 3. Internet https://www.wishberry.in/blog/8-quotes-by-famous-musicians-that-will-inspire-you-on-your-musical-journey/#/articlewww.frankelto.comhttp://www.rway.com/commserv/mlc/articles/music.htm
Related Topics